Now Playing Onstage in Connecticut - Week of 7/13/2014
View All Show Listings for Connecticut
Click Here to View BroadwayWorld.com Connecticut Calendar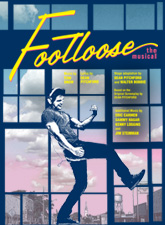 FOOTLOOSE
Camp Chateaugay
7/18-7/18/2014
One of the most explosive movie musicals in recent memory bursts onto the live stage with exhilarating results. When Ren and his mother move from Chicago to a small farming town, Ren is prepared for the inevitable adjustment period at his new high school. What he isn't prepared for are the rigorous local edicts, including a ban on dancing instituted by the local preacher, determined to exercise the control over the town's youth that he cannot command in his own home. When the reverend's rebellious daughter sets her sights on Ren, her roughneck boyfriend tries to sabotage Ren's reputation, with many of the locals eager to believe the worst about the new kid. The heartfelt story that emerges is of a father longing for the son he lost and of a young man aching for the father who walked out on him. To the rockin' rhythm of its Oscar and Tony-nominated top 40 score (the soundtrack album reached number one on the Billboard charts and has sold over 15 million copies!) and augmented with dynamic new songs for the stage musical, FOOTLOOSE celebrates the wisdom of listening to young people, guiding them with a warm heart and an open mind.Music by
Tom Snow
; Lyrics by
Dean Pitchford
; Stage Adaptation by
Dean Pitchford
and
Walter Bobbie
; Based on the original screenplay by
Dean Pitchford
; Additional Music by
Eric Carmen
,
Sammy Hagar
,
Kenny Loggins
and
Jim Steinman
Click Here for More Information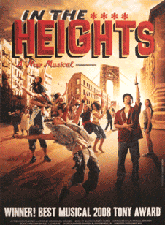 IN THE HEIGHTS
Bijou Theatre
7/11-7/19/2014
IN THE HEIGHTS tells the universal story of a vibrant community in New YorkMusic and Lyrics by
Lin-Manuel Miranda
; Book by Quiara Alegr
Click Here for More Information
LES MISERABLES
MIDDLETOWN STAGE COMPANY
7/17-7/19/2014
This international smash-hit may be the most popular musical in the world. In 19th century France, Jean Valjean is released from 19 years of unjust imprisonment, but finds nothing in store for him but mistrust and mistreatment. He breaks his parole in hopes of starting a new life, initiating a life-long struggle for redemption as he is relentlessly pursued by police inspector Javert, who refuses to believe Valjean can change his ways. Finally, during the Paris student uprising of 1832, Javert must confront his ideals after Valjean spares his life and saves that of the student revolutionary who has captured the heart of Valjean's adopted daughter. His world-view shattered, Javert commits suicide, and Valjean at last attains the peace he has sought for so long.Epic, grand and uplifting, LES MISÉRABLES packs an emotional wallop that has thrilled audiences all over the world. The sung-through pop opera is ideal for a cast of exceptional singers and overflows with melodies that are already standards. A spectacle on Broadway and in London, LES MISÉRABLES is equally effective with a minimal set; it is its powerful affirmation of the human spirit that has made LES MISÉRABLES a popular masterpiece.
Click Here for More Information
THE 25TH ANNUAL PUTNAM COUNTY SPELLING BEE
PLAYHOUSE THEATRE GROUP INC
6/11-7/20/2014
Six young people in the throes of puberty, overseen by grown-ups who barely managed to escape childhood themselves, learn that winning isn't everything and that losing doesn't necessarily make you a loser.THE 25TH ANNUAL PUTNAM COUNTY SPELLING BEE is a hilarious tale of overachievers' angst chronicling the experience of six adolescent outsiders vying for the spelling championship of a lifetime. The show's Tony Award winning creative team has created the unlikeliest of hit musicals about the unlikeliest of heroes: a quirky yet charming cast of outsiders for whom a spelling bee is the one place where they can stand out and fit in at the same time.
Click Here for More Information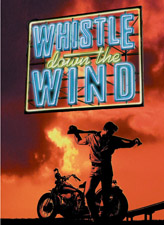 Andrew Lloyd Webber
) in Broadway" border="0" bheight="100" width="100" align="right">
WHISTLE DOWN THE WIND (ANDREW LLOYD WEBBER)
Rocky Hill Theatre/Rocky Hill Parks and Recreation
7/11-7/20/2014
Based on the novel by Mary
Hayley Bell
and subsequent
Richard Attenborough
-produced film, Whistle Down the Wind follows the fortunes of a fugitive caught between the prejudice of adults and the innocence of the young.
Andrew Lloyd Webber
and
Jim Steinman
, together with
Patricia Knop
and
Gale Edwards
(co-book writers with
Andrew Lloyd Webber
) reset the original story in Louisiana in 1959. Whistle Down the Wind revolves around the time and place where the word teenager was invented. Swallow, a 15 year-old-girl growing up in America?s deep South in the fifties, discovers a mysterious man hiding out in a barn. When she asks who he is and the first words he utters are ?Jesus Christ?, it?s as if all her prayers have been answered. Swallow and the town?s other children vow to protect the stranger from the world that waits outside ? the townspeople who are determined to catch a fugitive hiding it their midst. As fantasy and reality collide, Swallow is torn between the two and begins to discover who she is and where she is going.
Andrew Lloyd Webber
?s emotive score combines hauntingly beautiful love songs and explosive rock music with lyrics by acclaimed rock?n'roll songwriter
Jim Steinman
. The score contrasts the relentless influence of the modern world with the traditional values of the old days ? something which the community at the heart of Whistle Down the Wind yearns to return to. After successfully playing at the
Aldwych Theatre
in London for over two years, Whistle Down the Wind undertook two UK tours as well as touring the USA from 2007-2008.Lyrics by
Jim Steinman
; Music by
Andrew Lloyd Webber
; Book by
Patricia Knop
&
Andrew Lloyd Webber
&
Gale Edwards
Click Here for More Information
DISNEY'S THE LITTLE MERMAID JR
MANDELL JEWISH COMMUNITY CENTER
7/17-7/20/2014
In a magical kingdom fathoms below, the beautiful young mermaid Ariel longs to leave her ocean home to live in the world above. But first, she'll have to defy her father King Triton, make a deal with the evil sea witch Ursula, and convince Prince Eric that she's the girl with the enchanting voice. Adapted from Disney's 2008 Broadway production, Disney's THE LITTLE MERMAID JR. features the hit songs "Part of Your World," "She's in Love," and the Oscar-winning "Under the Sea."
Click Here for More Information
GYPSY: A MUSICAL FABLE
Connecticut Repertory Theatre
7/10-7/20/2014
Gypsy July 10 - July 20, 2014 Book by
Arthur Laurents
Music by
Jule Styne
Lyrics by
Stephen Sondheim
Harriet S. Jorgensen Theatre GYPSY tells the story of the "ultimate stage mother" Rose and her dream to raise her daughters to perform on the vaudeville stage. Mama Rose has become arguably the greatest female role in musical theatre due to its emotion, complexity and powerful songs. Starring Tony and Emmy Award winning actress,
Leslie Uggams
, and filled with an incredible score by
Jule Styne
and lyrics by
Stephen Sondheim
, musical theatre lovers will be enthralled by the songs "Some People," "Rose's Turn," "Let Me Entertain You" and, of course, "Everything's Coming up Roses." It is no wonder that GYPSY has been called "one of the top contenders for the title of Best Musical Ever" by
Terry Teachout
in The Wall Street Journal.
Click Here for More Information
NEXT TO NORMAL
The Brookfield Theatre for the Arts
7/4-7/26/2014
book & lyrics by
Brian Yorkey
music by
Tom Kitt
Directed by Michael Burnett Produced by Meg Jones and Janice Gabriel July 4-26 SHOWS: THURS., FRI., SAT. @ 8PM with matinees SUN. 7/13 & 7/20 @ 2PM Group Tickets (20+) and Gift Certificates are available by contacting press@brookfieldtheatre.org. Pulitzer-Prize winning rock musical NEXT TO NORMAL, with book and lyrics by
Brian Yorkey
and music by
Tom Kitt
, explores how one suburban household copes with crisis and mental illness. NEXT TO NORMAL tells the story of a mother, Diane Goodman, who struggles with bipolar disorder and the effect that her illness has on her family. This contemporary musical is an emotional powerhouse that addresses such issues as grieving a loss, ethics in modern psychiatry, and suburban life. With provocative lyrics and a thrilling score, this musical shows how far two parents will go to keep themselves sane and their family's world intact. STARRING Juliette Garrison Koch - Diana Chuck Stango - Dan Luke Garrison - Gabe Sydney Coelho - Natalie Matt Madden - Henry Keith Guinta - Dr. Madden
Click Here for More Information
Ivoryton Playhouse
7/2-7/27/2014
Click Here for More Information
JASON ROBARDS THEATER:
Westport Country Playhouse
7/15-8/2/2014
Nora
Ingmar Bergman
; dir:
David Kennedy
.
Click Here for More Information
MARY POPPINS
LANDMARK COMMUNITY THEATRE
7/19-8/3/2014
Click Here for More Information
FIDDLER ON THE ROOF
GOODSPEED OPERA HOUSE
6/27-9/13/2014
In the little village of Anatevka, Tevye, a poor dairyman, tries to instill in his five daughters the traditions of his tight-knit Jewish community in the face of changing social mores and the growing anti-Semitism of Czarist Russia. Rich in historical and ethnic detail, FIDDLER ON THE ROOF has touched audiences around the world with its humor, warmth and honesty. The universal theme of tradition cuts across barriers of race, class, nationality and religion, leaving audiences crying tears of laughter, joy and sadness.The show features a star turn in Tevye, among the most memorable roles in musical theatre. Original director/choreographer
Jerome Robbins
' staging is legendary, and available from MTI in a comprehensive choreographic guide. Its celebrated score by
Jerry Bock
and
Sheldon Harnick
, features songs loved the world over: "Sunrise, Sunset," "If I Were A Rich Man" and "Matchmaker," to name a few. FIDDLER ON THE ROOF is simply Broadway at its very best.
Click Here for More Information
View All Show Listings for Connecticut
Click Here to View BroadwayWorld.com Connecticut Calendar
Related Articles
From This Author BWW