Now Playing Onstage in Connecticut - Week of 6/01/2014
View All Show Listings for Connecticut
Click Here to View BroadwayWorld.com Connecticut Calendar
DISNEY'S THE JUNGLE BOOK KIDS
GLASTONBURY YOUTH SERVICES
4/15-6/6/2014
The jungle is jumpin' with jazz is this exciting Disney classic! Join Mowgli, Baloo, King Louie and the gang as they swing their way through madcap adventures and thwart the ferocious tiger, Shere Khan. Specially adapted from the beloved film, this musical includes all your favorite Disney tunes, like "The Bare Necessities," and "I Wan'na Be Like You." With colorful characters and that toe-tapping jungle rhythm, Disney's THE JUNGLE BOOK KIDS is sure to be a crowd-pleaser for audiences of all ages.
Click Here for More Information
PIPPIN
CHOATE ROSEMARY HALL SCHOOL
5/29-6/7/2014
Once upon a time, a young prince longed to discover the secret of true happiness and fulfillment. He sought it in the glories of the battlefield, the temptations of the flesh and the intrigues of political power (after disposing of his father King Charlemagne the Great). In the end, he found it in the simple pleasures of home and family. PIPPIN is a hip, tongue-in-cheek, anachronistic fairy tale that captivated Broadway audiences and continues to appeal to the young at heart everywhere (the show has become a staple on high school and college campuses). The energetic pop-influenced score by three-time Oscar®-winning composer/lyricist
Stephen Schwartz
(GODSPELL, CHILDREN OF EDEN, and the animated films Pocahontas, The Hunchback Of Notre Dame and The Prince Of Egypt) bursts with one showstopping number after another, from soaring ballads to infectious dance numbers. Featuring a strong ensemble cast and a show-stealing song-and-dance narrator, PIPPIN is equally effective as an intimate, black-box production (as envisioned by the authors) or as original director/choreographer Bob Fosse's splashy, dance-driven spectacle, which included some of the most brilliant staging in Broadway history.
Click Here for More Information
LITTLE WOMEN
NEW CANAAN HIGH SCHOOL
6/5-6/7/2014
Based on
Louisa May Alcott
's own family experiences (and novel), LITTLE WOMEN, follows the adventures of Jo, Meg, Beth and Amy March as they grow up in Civil War America. The beloved story of the March sisters is timeless and deals with issues as relevant today as when they were written. Now, this wonderful narrative has been brought to life as an exhilarating new musical filled with glorious music, dancing and heart. LITTLE WOMEN embodies the complete theatrical experience, guaranteeing a night filled with laughter, tears, and a lifting of the spirit. This powerful score soars with the sounds of personal discovery, heartache and hope -- the sounds of a young America finding its voice. In years to come, we are sure that hundreds of productions by schools and theatres throughout the world will make this stage adaptation of the American classic novel a classic musical theatre treasure in its own right.
Click Here for More Information
MILLION DOLLAR QUARTET
Palace Theater
6/6-6/8/2014
Million Dollar Quartet is the electrifying new musical inspired by the famed recording session that brought together rock 'n' roll icons
Elvis Presley
,
Johnny Cash
,
Carl Perkins
and
Jerry Lee
Lewis for the first and only time. On December 4, 1956, these four young musicians gathered at Sun Records in Memphis for what would be one of the greatest jam sessions ever. Million Dollar Quartet brings that legendary night to life, featuring a score of rock hits that includes "Blue Suede Shoes," "Fever," "That's All Right," "Sixteen Tons," "Great Balls of Fire," "Walk the Line," "Whole Lotta Shakin' Goin' On," "Who Do You Love?," "Real Wild Child," "Folsom Prison Blues" and "Hound Dog." This thrilling musical captures the singular moment when four major talents came together to become a red-hot rock i¿½n' roll band. Don't miss your chance to be a fly on the wall of fame... at Million Dollar Quartet.
Click Here for More Information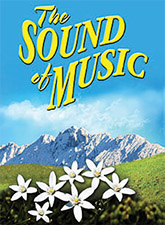 THE SOUND OF MUSIC
Castle Craig Players
5/30-6/8/2014
The final collaboration between Rodgers & Hammerstein was destined to become the world's most beloved musical. When a postulant proves too high-spirited for the religious life, she is dispatched to serve as governess for the seven children of a widowed naval Captain. Her growing rapport with the youngsters, coupled with her generosity of spirit, gradually captures the heart of the stern Captain, and they marry. Upon returning from their honeymoon they discover that Austria has been invaded by the Nazis, who demand the Captain's immediate service in their navy. The family's narrow escape over the mountains to Switzerland on the eve of World War II provides one of the most thrilling and inspirational finales ever presented in the theatre. The motion picture version remains the most popular movie musical of all time.Music by Rodgers, Richard; Lyrics by
Oscar Hammerstein
II; Book by
Howard Lindsay
&
Russel Crouse
; Suggested by
Click Here for More Information
SEUSSICAL JR
TOWN OF KILLINGLY PARKS AND RECREATION
6/5-6/8/2014
A delight for children to perform, SEUSSICAL is now one of the most-performed shows in America! In this fantastical, magical, musical extravaganza, Tony winners
Lynn Ahrens
and
Stephen Flaherty
(LUCKY STIFF, MY FAVORITE YEAR, ONCE ON THIS ISLAND, and RAGTIME) have lovingly brought to life all of our favorite
Dr. Seuss
characters, including Horton the Elephant, The Cat in the Hat, Gertrude McFuzz, lazy Mayzie and a little boy with a big imagination--Jojo. The colorful characters transport us from the Jungle of Nool to the Circus McGurkus to the invisible world of the Whos.The Cat in the Hat tells the story of Horton, an elephant who discovers a speck of dust containing Whos, including Jojo, a Who child who gets in trouble for thinking too many "thinks." Horton faces a double challenge--not only must he protect the Whos from a world of naysayers and dangers, but he must guard an abandoned egg, left to his care by the irresponsible Mayzie La Bird. Although Horton faces ridicule, danger, kidnapping, and a trial, the intrepid Gertrude McFuzz never loses faith in him. Ultimately, the powers of friendship, loyalty, family, and community are challenged and emerge triumphant!SEUSSICAL JR. is fun for the whole family! Young performers will be excited to portray the characters from the familiar
Dr. Seuss
fables. This musical provides wonderful creative opportunities in terms of set design, lighting, and costuming.Note: for this version, certain
Click Here for More Information
BLEEDING LOVE
Spirit of Broadway
5/7-6/8/2014
In a wacky,
Tim Burton
-esque world where everything is frozen and nothing grows anymore, a cloistered teen cellist must find a live rose in order to thaw the heart of the rebel punk next door. An eclectic score ranging from Broadway to classical to rock, beats in the heart of this wickedly demented musical comedy.
Click Here for More Information
THE SOUND OF MUSIC
Almira F. Stephan Memorial Playhouse
5/30-6/8/2014
The beloved musical returns to the Castle Craig stage after almost sixteen years! Featuring Do Re Mi, My Favorite Things, Climb Every Mountain and all the songs you remember, this is a timeless show worth reintroducing to your family again and again! Rodgers & Hammerstein's final collaboration tells the classic story of how the stern Captain Von Trapp discovers a new love for his children when the free spirited, Maria, brings laughter and music back into their lives!
Click Here for More Information
A CHORUS LINE
Connecticut Repertory Theatre
6/5-6/14/2014
Music by
Marvin Hamlisch
. Lyrics by
Edward Kleban
. Book by
James Kirkwood
&
Nicholas Dante
. Conceived by
Michael Bennett
. A Chorus Line, winner of the Pulitzer Prize for Drama, tells the story of the unsung heroes of the Broadway musical-the dedicated, talented and overworked chorus dancers. The drama of their competition for a part in the chorus of a new musical will grab you from the first number. This nine-time Tony-Award winning musical and dance spectacular brings to life the dream, the thrill and the hope of the Broadway audition.
Click Here for More Information
GHOST THE MUSICAL
Bushnell Center for the Performing Arts [Belding Theater]
6/10-6/15/2014
Set in modern day New York City, Ghost The Musical is a timeless fantasy about the power of love. Walking back to their apartment one night, Sam and Molly are mugged, leaving Sam murdered on a dark street. Sam is trapped as a ghost between this world and the next and unable to leave Molly, who he learns is in grave danger. With the help of a phony storefront psychic,
Oda Mae Brown
, Sam tries to communicate with Molly in the hope of saving and protecting her.
Click Here for More Information
DAMN YANKEES
GOODSPEED OPERA HOUSE
4/11-6/21/2014
Faust meets professional baseball in the Broadway classic DAMN YANKEES. Middle-aged baseball fanatic Joe Boyd trades his soul to the Devil, also known as Mr. Applegate, for a chance to lead his favorite team to victory in the pennant race against the New York Yankees. As young baseball sensation Joe Hardy, he transforms the hapless Washington Senators into a winning team, only to realize the true worth of the life he's left behind. Joe ultimately outsmarts Applegate, returns to his former self, and shepherds the Senators to the World Series.Light, fast-paced and devilishly clever, DAMN YANKEES is a home-run hit featuring all-American subject matter and an irreverent sense of humor. The perfect choice for a high school's spring musical or community theatre production, DAMN YANKEES is sure to please.
Click Here for More Information
BLOODY BLOODY ANDREW JACKSON
RIDGEFIELD THEATER BARN
6/6-7/5/2014
BLOODY BLOODY ANDREW JACKSON creators
Michael Friedman
and
Alex Timbers
cook up an alternate universe (and draw parallels to today's political/populist landscape) with their musical about the seventh U.S. president, reinvented as an "emo" rock star. BLOODY BLOODY ANDREW JACKSON tells the story of America's first political maverick. A.J. kicked British butt, shafted the Indians and smacked down the Spaniards all in the name of these United States--who cares if he didn't have permission?An exhilarating and white-knuckled look at one of our nation's founding rock stars, BLOODY BLOODY ANDREW JACKSON recreates and reinvents the life of "Old Hickory," from his humble beginnings on the Tennessee frontier to his days as Commander-in-Chief. It also asks the question, is wanting to have a beer with someone reason enough to elect him? What if he's really, really hot?This wildly entertaining 90-minute show is perfect for comedic actors and singers, with minimal dancing required. BLOODY BLOODY ANDREW JACKSON is an actor driven rather than design-dependent musical; it encourages breaking the fourth wall, audience participation, and rocking out!
Click Here for More Information
View All Show Listings for Connecticut
Click Here to View BroadwayWorld.com Connecticut Calendar
Related Articles
From This Author BWW