Now Playing Onstage in Connecticut - Week of 5/25/2014
View All Show Listings for Connecticut
Click Here to View BroadwayWorld.com Connecticut Calendar
ROALD DAHL'S WILLY WONKA JR
ST JAMES SCHOOL
5/1-5/30/2014
Roald Dahl
's timeless story of the world-famous candy man and his quest to find an heir comes to life in this stage adaptation of Charlie and the Chocolate Factory, which features the songs from the classic family film Willy Wonka and the Chocolate Factory.
Roald Dahl
's WILLY WONKA JR., featuring a memorable score by
Leslie Bricusse
(JEKYLL & HYDE, DOCTOR DOLITTLE) and
Anthony Newley
, follows enigmatic candy manufacturer Willy Wonka as he stages a contest by hiding five golden tickets in five of his scrumptious candy bars. Whoever comes up with these tickets will win a free tour of the Wonka factory, as well as a lifetime supply of candy. Four of the five winning children are insufferable brats: the fifth is a likeable young lad named Charlie Bucket who takes the tour in the company of his equally amiable grandfather. The children must learn to follow Mr. Wonka's rules in the factory--or suffer the consequences.This scrumdidilyumptious musical is guaranteed to delight everyone's sweet tooth. With this show's flexible cast size, featuring roles for all ages, your production will take audiences on a fantasy ride into the land of pure imagination!
Click Here for More Information
THE LAST FIVE YEARS
LONG WHARF THEATRE
5/7-6/1/2014
THE LAST FIVE YEARS is a contemporary song-cycle musical that ingeniously chronicles the five year life of a marriage, from meeting to break-up... or from break-up to meeting, depending on how you look at it. Written by
Jason Robert Brown
(PARADE, SONGS FOR A NEW WORLD), THE LAST FIVE YEARS is an intensely personal look at the relationship between a writer and an actress told from both points of view. This intimate musical is perfect for small theatre companies and black box venues. With its two-person cast, acting stamina is a must.
Click Here for More Information
DISNEY'S THE JUNGLE BOOK KIDS
GLASTONBURY YOUTH SERVICES
4/15-6/6/2014
The jungle is jumpin' with jazz is this exciting Disney classic! Join Mowgli, Baloo, King Louie and the gang as they swing their way through madcap adventures and thwart the ferocious tiger, Shere Khan. Specially adapted from the beloved film, this musical includes all your favorite Disney tunes, like "The Bare Necessities," and "I Wan'na Be Like You." With colorful characters and that toe-tapping jungle rhythm, Disney's THE JUNGLE BOOK KIDS is sure to be a crowd-pleaser for audiences of all ages.
Click Here for More Information
PIPPIN
CHOATE ROSEMARY HALL SCHOOL
5/29-6/7/2014
Once upon a time, a young prince longed to discover the secret of true happiness and fulfillment. He sought it in the glories of the battlefield, the temptations of the flesh and the intrigues of political power (after disposing of his father King Charlemagne the Great). In the end, he found it in the simple pleasures of home and family. PIPPIN is a hip, tongue-in-cheek, anachronistic fairy tale that captivated Broadway audiences and continues to appeal to the young at heart everywhere (the show has become a staple on high school and college campuses). The energetic pop-influenced score by three-time Oscar®-winning composer/lyricist
Stephen Schwartz
(GODSPELL, CHILDREN OF EDEN, and the animated films Pocahontas, The Hunchback Of Notre Dame and The Prince Of Egypt) bursts with one showstopping number after another, from soaring ballads to infectious dance numbers. Featuring a strong ensemble cast and a show-stealing song-and-dance narrator, PIPPIN is equally effective as an intimate, black-box production (as envisioned by the authors) or as original director/choreographer Bob Fosse's splashy, dance-driven spectacle, which included some of the most brilliant staging in Broadway history.
Click Here for More Information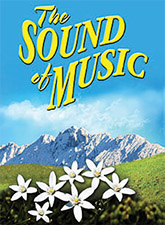 THE SOUND OF MUSIC
Castle Craig Players
5/30-6/8/2014
The final collaboration between Rodgers & Hammerstein was destined to become the world's most beloved musical. When a postulant proves too high-spirited for the religious life, she is dispatched to serve as governess for the seven children of a widowed naval Captain. Her growing rapport with the youngsters, coupled with her generosity of spirit, gradually captures the heart of the stern Captain, and they marry. Upon returning from their honeymoon they discover that Austria has been invaded by the Nazis, who demand the Captain's immediate service in their navy. The family's narrow escape over the mountains to Switzerland on the eve of World War II provides one of the most thrilling and inspirational finales ever presented in the theatre. The motion picture version remains the most popular movie musical of all time.Music by Rodgers, Richard; Lyrics by
Oscar Hammerstein
II; Book by
Howard Lindsay
&
Russel Crouse
; Suggested by
Click Here for More Information
BLEEDING LOVE
Spirit of Broadway
5/7-6/8/2014
In a wacky,
Tim Burton
-esque world where everything is frozen and nothing grows anymore, a cloistered teen cellist must find a live rose in order to thaw the heart of the rebel punk next door. An eclectic score ranging from Broadway to classical to rock, beats in the heart of this wickedly demented musical comedy.
Click Here for More Information
THE SOUND OF MUSIC
Almira F. Stephan Memorial Playhouse
5/30-6/8/2014
The beloved musical returns to the Castle Craig stage after almost sixteen years! Featuring Do Re Mi, My Favorite Things, Climb Every Mountain and all the songs you remember, this is a timeless show worth reintroducing to your family again and again! Rodgers & Hammerstein's final collaboration tells the classic story of how the stern Captain Von Trapp discovers a new love for his children when the free spirited, Maria, brings laughter and music back into their lives!
Click Here for More Information
DAMN YANKEES
GOODSPEED OPERA HOUSE
4/11-6/21/2014
Faust meets professional baseball in the Broadway classic DAMN YANKEES. Middle-aged baseball fanatic Joe Boyd trades his soul to the Devil, also known as Mr. Applegate, for a chance to lead his favorite team to victory in the pennant race against the New York Yankees. As young baseball sensation Joe Hardy, he transforms the hapless Washington Senators into a winning team, only to realize the true worth of the life he's left behind. Joe ultimately outsmarts Applegate, returns to his former self, and shepherds the Senators to the World Series.Light, fast-paced and devilishly clever, DAMN YANKEES is a home-run hit featuring all-American subject matter and an irreverent sense of humor. The perfect choice for a high school's spring musical or community theatre production, DAMN YANKEES is sure to please.
Click Here for More Information
View All Show Listings for Connecticut
Click Here to View BroadwayWorld.com Connecticut Calendar
Related Articles
From This Author BWW