BWW Review: SISTER ACT at Downtown Cabaret Theatre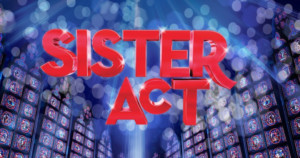 On Saturday, March 16, I had the pleasure of seeing SISTER ACT at the Downtown Cabaret Theatre in Bridgeport, CT. Having seen this musical on Broadway, before, I am qualified to say that this performance at the Downtown Cabaret Theatre is astronomically better than what I saw on Broadway! Given the consistent high quality that can always be expected at the Downtown Cabaret Theatre, this should not be a surprise. Director Marissa Follo Perry brings out the best in this amazing cast.
The music is written by Alan Menken with lyrics by Glen Slater. While the music is not any of the same music from the 1992 movie that this musical is based on, the storyline is very similar. The music is mostly, but not totally, in the disco and 1970s soul genre. The best song, in my opinion, is the ensemble number "Raise Your Voice," which explodes with energy and is wonderfully performed by this dynamic cast.
SISTER ACT tells the fictional story of Deloris Van Cartier who is a talented aspiring singer who witnesses a murder committed by Curtis (Kyle Riedinger), a married man who Deloris is dating. Deloris is therefore placed into a witness protection program where she poses as a nun in a convent, going by the name Sister Mary Clarence. It is just a matter of time before Deloris takes over leading the choir, and dramatically changes their musical style, in a controversial manner. Simone Palmer is phenomenal in this leading role of Deloris, selling every line, expression, and note. The Downtown Cabaret Theatre has far outshined Broadway in the casting of this central character around which this show revolves.
Suzanne Powers provides a strong performance in the role of Mother Superior who with extreme hesitation accepts the fact that Deloris is in her convent. Mother Superior becomes outraged by the manner in which Deloris changes the musical arrangements and choreography of the songs, even referring to it as "sacrilegious." She feels conflicted, however, on the grounds that Monsignor (excellently portrayed by Steve Sorrero) loves the way this new musical style has brought more people into the church, thus more money into the collection basket. The big question then becomes whether the performance of this new genre of music during Mass in some way violates a theological, doctrinal, or moral absolute or whether it is merely a deviation from man-made tradition. The show does an excellent job depicting the different perspectives on this matter, as it becomes the central area of conflict between Deloris and Mother Superior. The popularity the church is gaining with Deloris leading the choir is also risking exposure of Deloris' location to Curtis who is planning to kill her.
Berlin Charles gives a moving performance as Eddie, the once shy former high school classmate of Deloris. Eddie had a crush on Deloris in high school, a crush that has not gone away. Eddie has since become a police officer who is determined to protect Deloris during this time of danger.
Julia Lennon brings Sister Mary Robert to life in her powerful performance of this relatable character who wants to do what is right without missing out on the best things that life has to offer. Her song "The Life I Never Led," is one of the musical highlights, completely deviating from the disco style. Julia Lennon performs this number with believable feeling and emotion, generating a true audience connection with the character.
As always, the audience can expect to be fully entertained at all moments when Joe Cardozo is on stage. His commanding stage presence draws the audience towards him with eager anticipation as to what he will do or say next, stealing every scene that he is in, from the moment he enters the stage. He plays the role of TJ, the comically bumbling nephew of Curtis. Strong stage chemistry and dynamics are shown between Joe Cardozo, Kyle Riedinger, and Dominick Benjamin and Sergio Mandujano who brilliantly portray Curtis' other two toadies, Joey and Pablo, respectively.
Will Curtis find out where Deloris is hiding? Will Mother Superior ban Deloris from continuing to lead the choir the way she is leading it? Will the other nuns find out that Deloris is not really a nun? Will Deloris give Eddie a chance, romantically? Will Deloris have any desire to continue her experience with the choir, even if her time in the witness protection program comes to an end? If so, would she be welcome? Will Sister Mary Robert decide she wants to reject a life as a nun and follow Deloris on some other path? Come to the show to find out!
I highly recommend SISTER ACT which is scheduled to continue to run at the Downtown Cabaret Theatre in Bridgeport, CT through Sunday, April 7, 2019. For times and tickets, please go to https://dtcab.com/show/sister-act/.