Now Playing Onstage in Chicago - Week of 8/31/2014
View All Show Listings for Chicago
Click Here to View BroadwayWorld.com Chicago Calendar
BLACK ENSEMBLE THEATER CULTURAL CENTER:
Black Ensemble Theater
7/20-9/4/2014
The Story of The MarvelettesReginald Williams; dir:
Rueben Echoles
.
Click Here for More Information
Bob Stromberg
in Broadway" border="0" bheight="100" width="100" align="right">
BOB STROMBERG
Metropolis Performing Arts Centre
9/4-9/4/2014
For over thirty years
Bob Stromberg
has been entertaining audiences with his clean comedy. Bob travels the world performing his very unique and perfect blend of standup, story and shtick. He's the co-author and an original star of the megahit theatrical comedy Triple Espresso (A Highly Caffeinated Comedy), which has been seen by nearly two million people from San Diego to the West End of London. See this uplifting comedian that the Chicago Sun Times calls "...a mesmerizing physical comedian." Thursday, September 4, 2014 ? 7:30 P.M. Tickets $25, Stage Table $30
Click Here for More Information
PIERCE HALL:
Silk Road Rising
8/6-9/8/2014
TBA
Click Here for More Information
RAGTIME
PEORIA PLAYERS
9/5-9/14/2014
Called by Time Magazine "A triumph for the stage," and bythe International Herald Tribune "the best musical in twenty years," this acclaimedmusical won 1998 Tony Awards for Best Score, Book and Orchestrations, and wonboth the Drama Desk and Outer Critics Circle Awards for Best Musical and BestScore. RAGTIME is not only a powerful portrait of life inturn-of-the-century America,but a relevant tale for today. Written by the award-winning composer/lyricistteam of
Stephen Flaherty
and
Lynn Ahrens
(ONCE ON THIS ISLAND, SEUSSICAL and LUCKY STIFF), noted playwright
Terrence McNally
, (KISS OF THE SPIDER WOMAN, MASTER CLASS), and based on
E.L. Doctorow
's distinguished novel, the musicalintertwines the stories of three extraordinary families, as they confronthistory's timeless contradictions of wealth and poverty, freedom and prejudice,hope and despair, and what it means to live in America.The Tony-winning score by
Lynn Ahrens
and Stephen
Click Here for More Information
SHREK THE MUSICAL
CHILDRENS THEATRE OF ELGIN
9/5-9/14/2014
SHREK THE MUSICAL, based on the Oscar® winningDreamWorks film that started it all, brings the hilarious story ofeveryone's favorite ogre to dazzling new life on the stage. Ina faraway kingdom turned upside down, things get ugly when an unseemlyogre "" not a handsome prince "" shows up to rescue a feisty princess.Throw in a donkey who won't shut up, a bad guy with a SHORT temper, acookie with an attitude and over a dozen other fairy tale misfits, andyou've got the kind of mess that calls for a real hero. Luckily,there's one on hand...and his name is Shrek. Full of all-new songs, great dancing and breathtaking scenery, SHREK THE MUSICAL is part romance, part twisted fairy tale and all irreverent fun for everyone!**AVAILABLE FOR LICENSES FOR PERFORMANCES BEGINNING JUNE 2013**
Click Here for More Information
IS THERE LIFE AFTER FIFTY?
Conklin's Barn II Dinner Theatre
7/31-9/14/2014
Click Here for More Information
ALL SHOOK UP
Elgin Theatre Company
9/5-9/21/2014
Click Here for More Information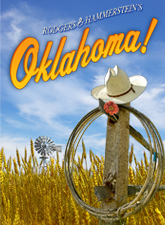 OKLAHOMA!
Beef and Boards Dinner Theatre
8/21-10/5/2014
Rodgers & Hammerstein's first collaboration remains, in many ways, their most innovative, having set the standards and established the rules of musical theatre still being followed today. Set in a Western Indian territory just after the turn of the century, the high-spirited rivalry between the local farmers and cowboys provides the colorful background against which Curly, a handsome cowboy, and Laurey, a winsome farm girl, play out their love story. Although the road to true love never runs smooth, with these two headstrong romantics holding the reins, love's journey is as bumpy as a surrey ride down a country road. That they will succeed in making a new life together we have no doubt, and that this new life will begin in a brand-new state provides the ultimate climax to the triumphant OKLAHOMA!Music by Rodgers, Richard; Book by
Oscar Hammerstein
II; Lyrics by
Oscar Hammerstein
II; Original Dances by
Agnes de Mille
; Based on the play `Green Grow the Lilacs` by
Lynn Riggs
Click Here for More Information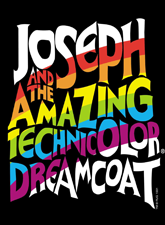 JOSEPH AND THE AMAZING TECHNICOLOR DREAMCOAT (MEGAMIX)
Amish Acres
9/9-10/19/2014
The Biblical saga of Joseph and his coat of many colors comes to vibrant life in this delightful musical parable. Joseph, his father's favorite son, is a boy blessed with prophetic dreams. When he is sold into slavery by his jealous brothers and taken to Egypt, Joseph endures a series of adventures in which his spirit and humanity are continually challenged. He is purchased by Potiphar where thwarting advances from Potiphar's wife lands him in jail. When news of Joseph's gift to interpret dreams reaches the Pharaoh (wryly and riotously depicted as Elvis), Joseph is well on his way to becoming second in command. Eventually his brothers, having suffered greatly, unknowingly find themselves groveling at the feet of the brother they betrayed but no longer recognize. After testing their integrity, Joseph reveals himself leading to a heartfelt reconciliation of the sons of Israel. Set to an engaging cornucopia of musical styles, from country-western and calypso to bubble-gum pop and rock 'n' roll, this Old Testament tale emerges both timely and timeless. This version of JOSEPH?DREAMCOAT features extended songs and dances. The Megamix is available as a separate rental with this version. Lyrics by
Tim Rice
; Music by
Andrew Lloyd Webber
Click Here for More Information
THE ADDAMS FAMILY
Mercury Theatre
9/4-11/9/2014
Click Here for More Information
COMPANY
MERCURY THEATER CHICAGO
9/4-11/9/2014
The clashing sounds and pulsing rhythms of New York City underscore this landmark "concept" show, considered by many to have inaugurated the modern era of musical theatre. COMPANY follows our anti-hero bachelor Robert as he makes his way through a series of encounters with April (the stewardess), Kathy (the girl who's going to marry someone else), Marta (the "peculiar" one), as well as with his married friends. On the night of his 35th birthday, confirmed bachelor Robert contemplates his unmarried state. In vignette after hilarious vignette, we are introduced to "those good and crazy people," his married friends, as Robert weighs the pros and cons of married life. In the end, he realizes being alone is "alone, not alive."An honest, witty, sophisticated look at relationships, COMPANY is as contemporary and relevant as ever (witness the recent hit revivals on Broadway and the West End). It features a brilliant energetic score containing many of
Stephen Sondheim
's best-known songs (including "Another Hundred People," "The Ladies Who Lunch" and "Being Alive").
Click Here for More Information
View All Show Listings for Chicago
Click Here to View BroadwayWorld.com Chicago Calendar
Related Articles
From This Author BWW