Now Playing Onstage in Chicago - Week of 12/15/2013
View All Show Listings for Chicago
Click Here to View BroadwayWorld.com Chicago Calendar
A WHITE CHRISTMAS HOLIDAY CONCERT
Metropolis Performing Arts Centre
12/16-12/16/2013
Inspired by the holiday classic White Christmas, this exciting concert is filled with spectacular costumes and favorite holiday songs performed by a dynamic group of performers. The concert begins with a performance for World War II troops, then moves to the glitz and glamour of a nightclub and ends in a small, charming New England town. This fun concert will warm your heart with favorites like "I Want You For Christmas," "Sisters," and "Baby It's Cold Outside."
Click Here for More Information
Glenn Miller
Orchestra in Broadway" border="0" bheight="100" width="100" align="right">
THE WORLD FAMOUS Glenn Miller ORCHESTRA
Metropolis Performing Arts Centre
12/17-12/17/2013
More than 70 years after
Glenn Miller
formed his orchestra, his legendary band and sound live on. They defined the sound of Big Band and swing, and the group cemented its place in history by earning the first ever Gold Record awarded for their unforgettable tune "Chattanooga Choo Choo." Don't miss this amazing show in Metropolis' intimate theatre, featuring enduring classics like "Moonlight Serenade," "Pennsylvania 6-5000" and "Rhapsody in Blue."
Click Here for More Information
Roald Dahl
'S WILLY WONKA JR in Broadway" border="0" bheight="100" width="100" align="right">
Roald Dahl'S WILLY WONKA JR
NORTHERN ILLINOIS SPECIAL RECREATION ASSOC.(NISRA)
12/18-12/18/2013
Roald Dahl
's timeless story of the world-famous candy man and his quest to find an heir comes to life in this stage adaptation of Charlie and the Chocolate Factory, which features the songs from the classic family film Willy Wonka and the Chocolate Factory.
Roald Dahl
's WILLY WONKA JR., featuring a memorable score by
Leslie Bricusse
(JEKYLL & HYDE, DOCTOR DOLITTLE) and
Anthony Newley
, follows enigmatic candy manufacturer Willy Wonka as he stages a contest by hiding five golden tickets in five of his scrumptious candy bars. Whoever comes up with these tickets will win a free tour of the Wonka factory, as well as a lifetime supply of candy. Four of the five winning children are insufferable brats: the fifth is a likeable young lad named Charlie Bucket who takes the tour in the company of his equally amiable grandfather. The children must learn to follow Mr. Wonka's rules in the factory--or suffer the consequences.This scrumdidilyumptious musical is guaranteed to delight everyone's sweet tooth. With this show's flexible cast size, featuring roles for all ages, your production will take audiences on a fantasy ride into the land of pure imagination!
Click Here for More Information
THE NORMAL HEART
Timeline Theatre Company
10/26-12/22/2013
The Pro:
Larry Kramer
; dir: Nick Bowling.
Click Here for More Information
A CHRISTMAS CAROL
Metropolis Performing Arts Centre
11/29-12/24/2013
This Dickens classic is an annual tradition at Metropolis. The tale follows the Cratchit family as they struggle to make ends meet and care for their ailing son Tiny Tim. Meanwhile, Mr. Cratchit's boss, miserly old Scrooge, has more money than he could ever need but no one to share it with. Find out what the true spirit of Christmas is all about as you travel through time with Scrooge as he is visited by the ghosts of past, present, and future. It's a holiday classic for the whole family.
Click Here for More Information
SHREK
WASHINGTON COMMUNITY HIGH SCHOOL
11/21-12/24/2013
SHREK THE MUSICAL, based on the Oscar® winningDreamWorks film that started it all, brings the hilarious story ofeveryone's favorite ogre to dazzling new life on the stage. Ina faraway kingdom turned upside down, things get ugly when an unseemlyogre "" not a handsome prince "" shows up to rescue a feisty princess.Throw in a donkey who won't shut up, a bad guy with a SHORT temper, acookie with an attitude and over a dozen other fairy tale misfits, andyou've got the kind of mess that calls for a real hero. Luckily,there's one on hand...and his name is Shrek. Full of all-new songs, great dancing and breathtaking scenery, SHREK THE MUSICAL is part romance, part twisted fairy tale and all irreverent fun for everyone!**AVAILABLE FOR LICENSES FOR PERFORMANCES BEGINNING JUNE 2013**
Click Here for More Information
WITNESS THE WEEKEND
Shanghai
Art Theatre
12/24-12/28/2013
How many plays they may have in a play space? Among the four people exactly how many kinds of characters? Unreal how much they may have with the real distance? Jon fell in love with the boss of the handsome young beautiful wife jienaite, crazy love makes his carefully planned out a murder, attempted to make their bosses disappear. Meanwhile, Jon, his wife Melinda is brewing is also a sinister killings. In numerous conspiracies, they had a complex relationship among changes, four people back and forth, and rack one ' s brains to ..., but always a trap by another trap to destroy ... ... It all happened at the bottom of your eyes, you are all witnesses of the conspiracy, you see, it must be true, right? Of the witnesses is the only one so far to Agatha. Kristy and the IRA. Levin, Brecht, involving. Paul. Sartre play skill neatly into one of the mystery dramas, fascinating! --The famous critic David Broadway. Pate
Click Here for More Information
IT'S A WONDERFUL LIFE: LIVE IN CHICAGO!
American Blues Theater
11/22-12/29/2013
Downstairs Mainstage:music:
Austin Cook
; dir: Marty Higginbotham.
Click Here for More Information
THE NUTCRACKER
The House Theatre of Chicago
11/8-12/29/2013
adapt: Phillip Klapperich, Jake Minton; book:
Kevin O'Donnell
; lyrics: Jake Minton; dir:
Tommy Rapley
.
Click Here for More Information
CHRISTMAS SCHOONER
MERCURY THEATER CHICAGO
11/27-12/29/2013
Take a ride on THE CHRISTMAS SCHOONER!This critically acclaimed holiday treat tells the true story of a Michigan shipping captain who braves the deadly winter weather to bring Christmas trees to homesick German American families in turn-of-the-century Chicago. His voyages become a yearly tradition despite his wife's misgivings-until a fateful voyage makes her realize the true importance of his mission.A timely and stirring tale of love and loss, THE CHRISTMAS SCHOONER reminds us of tradition, family, and responsibility. This delightful holiday musical requires strong male talent and a sensibility for classically inspired material.
Click Here for More Information
THE SECOND CITY'S HOLIDAYS IN THE HEIGHTS
Metropolis Performing Arts Centre
12/5-12/30/2013
The holidays are a time of giving and joy. A time of twinkling lights and mall Santas. A time of wrapping gifts and burning, I mean baking cookies. Of family parties, too much egg nog, marathon shopping trips, gray slush that used to be snow and itchy sweaters with jingle bells on them. That's right, everyone loves the holidays. Especially the Second City. Don't miss this hilarious send up of all the holiday activities we actually love, and the ones we love to hate featuring a phenomenal cast from Second City and their trademark comedy and improv.
Click Here for More Information
MARY POPPINS
MARRIOTT'S LINCOLNSHIRE
10/23-1/5/2014
Click Here for More Information
RAPUNZEL-THEATREWORKS USA VERSION
EMERALD
City Theatre Company
10/5-1/5/2014
This witty, tongue-in-cheek retelling of a perennial favorite gives us a possessive mother who happens to be a witch, a tentative young man who happens to be a prince and a strong-willed but naïve young girl with the longest hair you're ever likely to come across - not to mention a contemporary moral about parent-child relationships which will have young audiences rejoicing. With a book and lyrics by two creators of the hit television show Friends, rest assured this fairy tale isn't going to be business as usual!
Click Here for More Information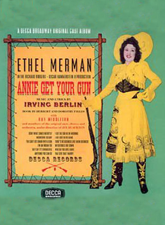 ANNIE GET YOUR GUN
Light Opera Works
12/21-1/5/2014
Annie Get Your GunAnnie Oakley is the best shot around, and she manages to support her little brother and sisters by selling the game she hunts. When she's discovered by Col. Buffalo Bill, he persuades this novel sharpshooter to join his Wild West Show. It only takes one glance for her to fall head over heels for dashing shooting ace
Frank Butler
, who headlines the show. She soon eclipses Butler as the main attraction which, while good for business, is bad for romance. Butler hightails it off to join a rival show, his bruised male ego leading the way, but is ultimately pitted against Annie in a final shoot-out. The rousing, sure-fire finale hits the mark every time in a testament to the power of female ingenuity.
Click Here for More Information
THE MERRY WIVES OF WINDSOR
Chicago Shakespeare Theater
12/3-1/19/2014
Courtyard Theater:
William Shakespeare
; dir:
Barbara Gaines
.
Click Here for More Information
DISNEY'S THE JUNGLE BOOK KIDS
ROUND LAKE AREA PARK DISTRICT COMMUNITY THEATRE
12/4-1/22/2014
The jungle is jumpin' with jazz is this exciting Disney classic! Join Mowgli, Baloo, King Louie and the gang as they swing their way through madcap adventures and thwart the ferocious tiger, Shere Khan. Specially adapted from the beloved film, this musical includes all your favorite Disney tunes, like "The Bare Necessities," and "I Wan'na Be Like You." With colorful characters and that toe-tapping jungle rhythm, Disney's THE JUNGLE BOOK KIDS is sure to be a crowd-pleaser for audiences of all ages.
Click Here for More Information
THE LITTLE PRINCE
Lookingglass Theatre Co
12/5-2/2/2014
Water Tower Water Works:
Rick Cummins
,
John Scoullar
; dir:
David Catlin
.
Click Here for More Information
TRIBES
Steppenwolf Theatre
Co
12/5-2/9/2014
Downstairs Theatre:
Nina Raine
; dir:
Austin Pendleton
.
Click Here for More Information
View All Show Listings for Chicago
Click Here to View BroadwayWorld.com Chicago Calendar
Related Articles
From This Author BWW