Now Playing Onstage in Charlotte - Week of 5/11/2014
View All Show Listings for Charlotte
Click Here to View BroadwayWorld.com Charlotte Calendar
OFFICE HOURS
Lee Street theatre
5/8-5/17/2014
Calling all playwrights! Lee Street theatre's 10-Minute Original Play Festival is one of the only of its kind in North Carolina! This year's theme is Office Hours. The play could take place in, around, or near an office of any kind. The play must be no more than 10 minutes, have a maximum of 3 characters, and be easy to stage. Whether you are a seasoned playwright or working on your bucket list, submit a play and it could be brought to life!
Click Here for More Information
MONTY PYTHON'S SPAMALOT
New Bern Civic Theatre
5/1-5/17/2014
Click Here for More Information
THE ADDAMS FAMILY
Maiden High School
5/16-5/17/2014
Click Here for More Information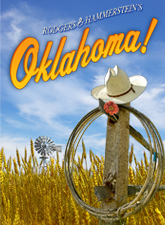 OKLAHOMA!
Smoky Mountain High School
5/16-5/17/2014
Rodgers & Hammerstein's first collaboration remains, in many ways, their most innovative, having set the standards and established the rules of musical theatre still being followed today. Set in a Western Indian territory just after the turn of the century, the high-spirited rivalry between the local farmers and cowboys provides the colorful background against which Curly, a handsome cowboy, and Laurey, a winsome farm girl, play out their love story. Although the road to true love never runs smooth, with these two headstrong romantics holding the reins, love's journey is as bumpy as a surrey ride down a country road. That they will succeed in making a new life together we have no doubt, and that this new life will begin in a brand-new state provides the ultimate climax to the triumphant OKLAHOMA!Music by Rodgers, Richard; Book by
Oscar Hammerstein
II; Lyrics by
Oscar Hammerstein
II; Original Dances by
Agnes de Mille
; Based on the play `Green Grow the Lilacs` by
Lynn Riggs
Click Here for More Information
TINTYPES
Old Courthouse Theater
5/1-5/18/2014
The growing pains of a nation are chronicled in this grand pageant of pre-World War I America--told in the exuberant words and music of the day. Like RAGTIME, this nostalgic revue takes us back to turn of the century America. The story of immigrants, new rights, the expansion of America and the changing times of 1890 to 1917 blaze to life in a tuneful, high-spirited brew of popular songs of the day.
Click Here for More Information
ALL SHOOK UP
Trinity High School
5/16-5/18/2014
Click Here for More Information
THE PHANTOM OF THE OPERA
The Peace Center
5/14-5/25/2014
Following an acclaimed sold-out tour of the United Kingdom,
Cameron Mackintosh
's spectacular new production of
Andrew Lloyd Webber
's phenomenal musical success, THE PHANTOM OF THE OPERA, sets out on a brand new North American Tour. Critics are raving that this breathtaking production is "bigger and better than ever before." This PHANTOM features a brilliant new scenic design by
Paul Brown
, Tony Award-winning original costume design by Maria Bjornson, lighting design by Tony Award winner
Paule Constable
, new choreography by
Scott Ambler
, and a new staging by director Laurence Connor. The production, overseen by
Matthew Bourne
and
Cameron Mackintosh
, boasts many exciting special effects including the show's legendary chandelier. The beloved story and thrilling score - with songs like "Music of the Night," "All I Ask Of You," and "Masquerade" - will be performed by a cast and orchestra of 52, making this PHANTOM one of the largest productions now on tour.
Click Here for More Information
ANGELS IN AMERICA
Carolina Actors
Studio Theatre
5/7-5/31/2014
CAST presents
Tony Kushner
's Pulitzer Prize- and two-time Tony Award winning play "Angels In America."
Click Here for More Information
View All Show Listings for Charlotte
Click Here to View BroadwayWorld.com Charlotte Calendar
Related Articles
From This Author BWW