LITTLE WOMEN Comes to The Hangar Theatre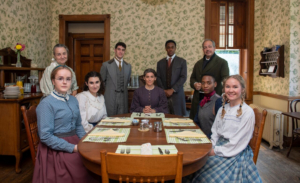 The Hangar Theatre Company continues its 45th season with a reimagined take on the classic story, Little Women. This adaptation by Kate Hamill runs August 8-17 with matinee and evening performances. Kate Hamill, a Lansing native and Ithaca College alumna, is currently one of the top five most-produced playwrights in the nation.
After premiering in fall 2018 at the Jungle Theatre in Minneapolis, and fresh from an off-Broadway run this past May, Hamill's Little Women makes its regional premiere at the Hangar. Raised in Lansing, NY, and an alumna of the Hangar's Next Generation School of Theatre and Ithaca College's Department of Theatre Arts, Hamill has crafted several adaptations of classic works for the stage including Sense and Sensibility, Vanity Fair, and Pride & Prejudice, the latter of which was presented at the Hangar last year. This spring, the Hangar Theatre Company hosted "An Evening With Kate Hamill," celebrating Kate's extraordinary artistic accomplishments through intimate conversations and an inside look at her series of work. Hamill has become known for her lively and spirited stage productions, and in the words of the Hangar Artistic Director Michael Barakiva, "with each new work she gets closer to the heart of the piece with fewer and fewer words from the source material."
In Little Women, Jo March doesn't want to be like other girls; in fact, she's not even sure that she wants to be a girl. Jo is ambitious and headstrong, and yearns for a future she can't yet articulate. As the nation is torn apart by civil war, the March sisters wrestle with adolescence, gender roles, growing up, and discovering who they are. The play is written through a modern lens, but stays true to the source material and original time period. In this loving and innovative adaptation, you'll find new life in these familiar characters.
In the script's notes, Hamill writes about the source material and rejects the notion of her play being a "re-creation" of the classic novel. "This is a re-telling, and in some ways a conscious explosion of these archetypes," says Hamill. "None of the characters are good, or bad. It is not polite. They are not always perfectly likable--and that's particularly important for young women, the freedom not to be "likable" at all times--but they are perfectly human."
Little Women is directed by Linsay Firman, a former member of the Hangar's Lab Company, a nationally recognized theatre training program. Firman returned to the Hangar to direct Nick Payne's Constellations at the Hangar in 2016. "At the heart of Little Women is a mother raising her daughters to make the world a better place," says Firman. "There is a lot to learn from these women and their stories."
In addition to direction by Firman, Little Women also features the work of scenic designer Nick Francone, costume designer Theresa Squire, lighting designer Deborah Constantine, sound designer Don Tindall, and production stage manager Jennifer Schilansky. The play features several local Ithaca actors: Sarah Chalmers (Marmie), a founding member of the Kitchen Theatre and Civic Ensemble for which she is an artistic director, and Catherine Weidner (Aunt March and others), chair of the Department of Theatre Arts at Ithaca College and former professor to Hamill. Like Hamill, Sandrinne Edström (Amy) and Michael Patrick Trimm (Laurie) are both Ithaca College graduates.
The Hangar is thrilled to continue its 45th season with this heartfelt reimagining, and would like to thank the Premier Sponsor of Little Women: Crown Construction, as well as the Associate Sponsor: Warren Real Estate; Media Sponsor: WVBR; Partners in Flight: CFCU Community Credit Union and Cayuga Radio Group, and Partner in the Arts: Ithaca College.
Free prologue discussions are offered 45 minutes before every performance.
Opening Night: includes catered post-show reception.
(Pay) What You Will: on the first Saturday matinee of Mainstage productions, some tickets are set aside for patrons to purchase at the price of their choice! These tickets are available on a first-come, first-serve basis starting one hour before curtain.
Tuesday Talkbacks: Members of the creative team share information about the performance after the show.
Cast List (in order of appearance):
Beth March: Sarina Freda~
Jo March: Ashley Bufkin*
Amy March: Sandrinne Edström#
Meg March: Rosie Yates#
Hannah/Mrs. Mingott/Aunt March: Catherine Weidner*
Marmie: Sarah Chalmers*
Theodore "Laurie" Laurence: Michael Patrick Trimm
John Brooks: Sideeq Heard#
Mr. Laurence/Mr. Dashwood/Robert March: Gilbert Cruz*
*Member of the Actor's Equity Association, #2019 Young Professional Company Member, ~2019 Hangar Theatre Lab Company Member

About the Hangar Theatre
The Hangar Theatre is located at 801 Taughannock Blvd., north of Ithaca on Route 89 on the shores of Cayuga Lake. The Hangar Theatre building, once part of the Ithaca Municipal Airport, is home to the Hangar Theatre Company and serves as a venue for a variety of performing artists and community organizations.
About the Hangar Theatre Company
Now in its 45th season, the Hangar Theatre Company offers professional theatrical productions throughout the year and a renowned education program. For more information please call 607.273.2787, or visit hangartheatre.org

Little Women runs from August 8-17 with matinee and evening performances. For tickets or more information about the rest of the Hangar's 2019 Summer Mainstage Season, please visit the Hangar Theatre box office, call 607.273.2787, or visit hangartheatre.org
Photo Credit: Rachel Philipson
Related Articles View More Central New York

Stories

Shows
More Hot Stories For You