Now Playing Onstage in Casper - Week of 11/04/2012
View All Show Listings for Casper
Click Here to View BroadwayWorld.com Casper Calendar
NEW PLAY PROJECT: THE BUTLER DID IT!
The Cheyenne Little Theatre
11/9-11/10/2012
The New Play Project is a program created by the Cheyenne Little Theatre Players to encourage, recognize and support playwrights in the seven-state region - Colorado, Idaho, Montana, Nebraska, South Dakota, Utah and Wyoming. Entries must be full-length plays that have not been performed previously; no film scripts or musicals are allowed. The winning stage play will receive a staged reading by CLTP during its 2012-2013 Season. Recommended for ALL AGES (Some adult humor, no language) A womanizing young cad is found stabbed to death in the kitchen of an old English manor. All evidence points to the butler having commited the crime. The other members of the household tie him to a chair while waiting for the police to arrive. The only problem? The butler didn't do it. And now he's got only half an hour to figure out who the real culprit is - while still tied to the chair.
Click Here for More Information
---
HONK!
The Cheyenne Little Theatre
11/8-11/10/2012
For more information, visit the website.
Click Here for More Information
---
EVITA
Casper College, McMurry Mainstage
11/2-11/18/2012
For more information, visit the website.
Click Here for More Information
---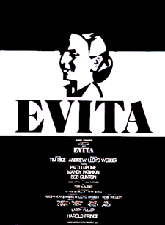 EVITA
Casper College
11/2-11/18/2012
Argentina's controversial First Lady is the subject of this dynamic musical masterpiece. As an illegitimate fifteen year old, Eva escaped her dirt-poor existence for the bright lights of Buenos Aires. Driven by ambition and blessed with charisma, she was a starlet at twenty-two, the president's mistress at twenty-four, First Lady at twenty-seven, and dead at thirty-three. Eva Peron 'saint to the working-class, reviled by the aristocracy and mistrusted by the military' was destined to leave a fascinating political legacy unique in the 20th century. Told through a compelling score that fuses haunting chorales with exuberant Latin, pop and jazz influences, EVITA creates an arresting theatrical portrait as complex as the woman herself.Lyrics by
Tim Rice
; Music by
Andrew Lloyd Webber
For more information on Casper College, click hereFor more information on Evita, click here
Click Here for More Information
---
LOST IN YONKERS
The Cheyenne Little Theatre
10/30-12/16/2012
Lost in Yonkers is a coming of age tale that focuses on brothers Arty and Jay, left in the care of their Grandma Kurnitz and Aunt Bella in Yonkers, New York. Their desperate father, Eddie, works as a traveling salesman to pay off debts incurred following the death of his wife. Grandma is a severe, frightfully intimidating immigrant who terrified her children as they were growing up, damaging each of them to varying degrees. Bella is a sweet but mentally slow and highly excitable woman who longs to marry an usher at the local movie house so she can escape the oppressive household and create a life and family of her own. Her brother Louie is a small-time, tough-talking hoodlum who is on the run, while her sister Gert suffers from a breathing problem which cause is more psychological than physical. Missing much of the sentimentality of the plays comprising Simon's earlier Eugene trilogy, Lost in Yonkers climaxes with a dramatic confrontation between embittered mother and lonely daughter that creates a permanent fissure in this highly dysfunctional family.
Click Here for More Information
---
View All Show Listings for Casper
Click Here to View BroadwayWorld.com Casper Calendar
Related Articles
From This Author BWW