Melissa Errico: Legrand Difference at Feinstein's/54 Below
Dates

6/12/2021 at 6:00 PM

Theatre


254 W 54th Street
New York,NY


Tickets Info

$45 - $90




"One of the most moving and even thrilling cabaret shows I've ever seen." That was The Wall Street Journal's Will Friedwald's verdict on Melissa Errico's autumn visit to Feinstein's/54 Below, singing Michel Legrand in celebration of the Warner Music release of her album Legrand Affair (Deluxe Edition). Now she's back!  But with a new and very different and even grander show.  Oh, she'll sing  Legrand's greatest hits – "Windmills of Your Mind," "The Summer Knows" – with her inimitable silver sound, but she's also expanded her vision and her voice to take in ever more of Paris, past and present, with Cole Porter and Stephen Sondheim, Charles Trenet, and maybe even a little dreamy Ravel. 
Expect emotion, excitement, witty talk, and Melissa's own special blend of lyrical eroticism. "She is the possessor of one of the world's most endearing personalities and enduring talents "another critic concluded of her last visit to Broadway's Living Room. No lover of music, or of Paris, will want to miss her new turn on Legrand-ism.
Take some advice from Broadway World: "Melissa Errico was like a glass of Veuve Clicquot, effervescent and intoxicating, always beatific and beautiful. Nobody is like Melissa Errico." Come have a glass!
---
Please note that all artists and acts are subject to change at any time.
News About Melissa Errico: Legrand Difference at Feinstein's/54 Below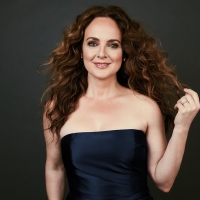 Melissa Errico Returns To Feinstein's/54 Below This May
February 24, 2020
After an acclaimed engagement last November, Tony Award nominated singer, actress and New York Times columnist Melissa Errico will return to Feinstein's/54 Below, May 28-30 with a?oeLegrand Difference.a??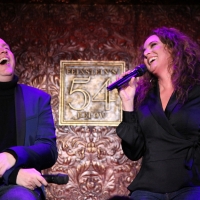 BWW Review: TUESDAYS AT 54 WITH ROBBIE ROZELLE Kicks Ass at 54 Below
January 15, 2020
The popular variety/game/talk show with Robbie Rozelle begins the end of its' run at 54 Below with the first of three final performances.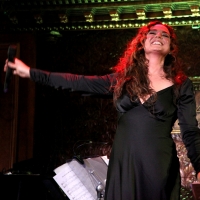 BWW Review: Melissa Errico Continues AN EVEN GRANDER AFFAIR With Throngs of Fans at 54 Below
November 10, 2019
The Tony Award nominated actress continues to dazzle audiences in the shows that have made her a worldwide sensation on the concert circuit