Cady Huffman, The Skivvies, And More Raise Awareness In SCHOOLHOUSE ROCK (THE VOTE)!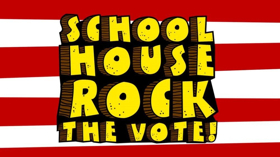 FEINSTEIN'S/54 BELOW, Broadway's Supper Club, and Broadway Celebrates Awareness of Women's Suffrage (BCAWS) present "Schoolhouse Rock (The Vote)!" - celebrating the 45th anniversary year of "Schoolhouse Rock!," the iconic, animated educational television series on Sunday, Nov. 4, at 9:30 p.m.
Among the show's highlights, Tony Award winner Cady Huffman (The Producers) will sing the Schoolhouse Rock classic, "I'm Just a Bill."

"Schoolhouse Rock! was a staple of my childhood," Huffman says. "I learned so much, because I loved the music so much ... Social responsibility was greatly encouraged in my home, and ["I'm Just a Bill"] was an eye-opener."

A number of the most popular "Schoolhouse Rock!" songs were written by Broadway legend Lynn Ahrens, at the beginning of her musical career. Several of her popular Schoolhouse Rock tunes will be performed: "A Noun Is a Person, Place, or Thing," "Interjections!," "Preamble," and "Interplanet Janet."

The evening will also emphasize the importance of voter participation, since Election Day will be less than two days away. Kirsten Wyatt is representing "Belt The Vote," a nonpartisan effort that is inspiring the American theater community to vote on Nov. 6.

Concert Director Lindsey Ruggles notes, "Elections allow us to make our voices heard, and change the future of our country through our votes, and this year's midterm elections epitomize that."

"We hope that the fun, informative, and familiar songs of Schoolhouse Rock! with a new and timely political angle will get our audience hopping in their seats on Nov. 4, and flocking to the polls on Nov. 6."

The cast includes: Ethan Carlson, Nick Cearley (The Skivvies), Laura Dadap (VOCA PEOPLE), Natalie Douglas (MAC Award winner), Cady Huffman (The Producers - Tony Award winner), Josh Lerner, Tara Llewellyn (Seams & Songs), Mary Claire Mitchell, Lauren Molina (The Skivvies), Olivia Oguma (Mamma Mia!), Nick Rehberger, Marissa Rosen (R.R.R.E.D.), Jennifer Sanchez (Pretty Woman), DeMone Seraphin (Rent), Will Shishmanian, Talia Suskauer (Be More Chill), Debbie Christine Tjong (Rags Parkland Sings The Songs of The Future), and Juson Williams (The Fortress of Solitude).

Lena Gabrielle serves as the event's musical director. Lauren Molina and Steve Kleinberg are co-producers.

This will be the second concert that BCAWS, a nonpartisan gender equality advocacy group, has sponsored at Feinstein's/54 Below. Last November, BCAWS sponsored "Women Rock (The Vote)!: Celebrating 100 Years of Women Voting in New York."
"Schoolhouse Rock (The Vote)!" plays Feinstein's/54 Below (254 West 54th St. in Manhattan) on Sunday, Nov. 4th. There is a $35-$75 cover charge and $25 food and beverage minimum. Advance ticket sales and other information are available at www.54Below.com. For those who wait until the day of the show, tickets can be purchased after 4:00 p.m. by calling (646) 476-3551.
MORE ABOUT FEINSTEIN'S/54
Feinstein's/54 Below, Broadway's Supper Club & Private Event Destination, is a performance venue in the grand tradition of New York City nightlife. A few blocks from the heart of Times Square and just below the legendary Studio 54, Feinstein's/54 Below is a classically designed state-of-the art nightclub in the theatre district that hosts audiences with warmth and style. Feinstein's/54 Below presents iconic and rising stars from the worlds of Broadway and popular music and has set a new standard for culinary excellence worthy of the world-class entertainment on the stage.
In their description of the venue, The New York Times writes, "Feinstein's/54 Below has the intimacy of a large living room with unimpeded views and impeccable sound; there is not a bad seat in the house. Its sultry after-hours ambience is enhanced by brocade-patterned wall panels planted with orange-shaded lanterns. And the atmosphere is warmer and sexier than in Manhattan's other major supper clubs."
Feinstein's/54 Below is located at 254 West 54th St. 54Below.com/Feinsteins
Related Articles View More Cabaret

Stories

Shows
More Hot Stories For You