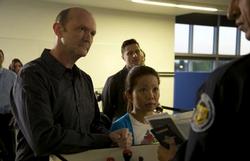 We all know the road to love is never an easy one. But what happens when jilted lovers are driven by power, greed, obsession and betrayal? This December, Investigation Discovery (ID) showcases twisted crimes motivated by love in the all-new series MAIL ORDER MURDER and the return of popular series I'D KILL FOR YOU. First up, when hopeless romantics can't find a soul mate within their own zip code, these men try their luck across borders. Premiering Wednesday, December 3 at 9 and 9:30 PM EP, MAIL ORDER MURDER uncovers stories of lovers who have clocked hours traveling overseas and browsing mail order bride catalogues for their fairytale ending, but what happens when the search turns deadly? Then, devotion and loyalty are tested on I'D KILL FOR YOU questioning how far you would go for the one you love. Returning for its sophomore season on Saturday, December 6 at 10 PM EP, I'D KILL FOR YOU exposes chilling crimes committed by men and women with twisted agendas who use their lovers as murder weapons.
In the premiere episode of MAIL ORDER MURDER premiering Wednesday, December 3 at 9 PM EP, Scott Huss hopes that his mail ordered bride Yana comes from Russia with love. But something's amiss when Yana and her son move into his home in Port Charlotte, Florida. As tensions arise, secrets emerge, and someone needs to be silenced. Next, premiering at 9:30PM EP, mail order bride Emelita Villa arrives from the Philippines to marry her new husband Jack Reeves. A new life awaits her in the land of opportunity, but two years later one of them disappears and the other stands trial for murder.
Then, in the season two premiere of I'D KILL FOR YOU premiering Saturday, December 6 at 10 PM EP, Robert Breininger of Mark Center, Ohio has won custody of his son Corey from his cheating ex-wife and is looking forward to a fresh start with his new loyal wife Judith Hawkey. But when a distressing 911 call brings police to the scene of a horrific accident, a cunning plot of master manipulation starts to unravel and detectives are left with a suspect that almost gets away with murder.
Latest Tweets from DiscoveryID
6/28 @ 7:48 AM

DiscoveryID - People Magazine Investigates: Inside Decades-Old Disappearances of 5 People Along the Snake River @people… https://t.co/uUukvQjO45

Retweet | Reply | Original Link   
6/28 @ 6:00 AM

DiscoveryID - How The 1991 Brutal Hate Crime Murder Of Paul Broussard Changed One Texas Community https://t.co/2uf9rN1iRE https://t.co/a2gAktBkoI

Retweet | Reply | Original Link   
6/27 @ 2:00 PM

DiscoveryID - Woman Who Manipulated Boyfriend Into Killing Her Husband Sentenced https://t.co/ZIOlxtzOpS https://t.co/e0pH4AeLZu

Retweet | Reply | Original Link   
6/27 @ 11:00 AM

DiscoveryID - A String Of Disappearances In Rural Idaho Remain A Mystery Four Decades Later #PeopleMagazineInvestigates… https://t.co/eEBi3Ir1I9

Retweet | Reply | Original Link   
6/27 @ 10:30 AM

DiscoveryID - Could a misplaced parcel turn this quiet neighborhood into a war zone? Join us tonight for #FearThyNeighbor at 10/… https://t.co/qfZxZrCwep

Retweet | Reply | Original Link   
Latest Articles About Mail Order Murder on Investigation Discovery