MACY'S 4TH OF JULY FIREWORKS SPECTACULAR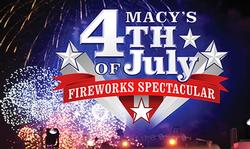 NBC celebrates the nation's 237th birthday with a live broadcast of the "Macy's 4th of July Fireworks Spectacular," featuring all-star performances by multi-platinum singer-songwriter Mariah Carey, Grammy award-winning Tim McGraw and others. Hosted by Nick Cannon of NBC's "America's Got Talent," the two-hour show will also air an encore presentation of the second hour of the fireworks special airing at 10:00 p.m. ET.
The 37th annual "Macy's 4th of July Fireworks Spectacular" is the nation's largest patriotic pyrotechnic display with over 40,000 fireworks igniting the sky over the Hudson River. This year's show will also feature a first-ever, one-of-a-kind collaboration with global superstar Usher. For the first time in the history of the show, a superstar artist is collaborating with Macy's creative and pyrotechnic teams. Lending his artistic inspiration and talent, eight-time Grammy award-winning artist Usher is curating the overall design of the show, entitled "It Begins with a Spark." From the rousing musical selections to the spectacular fireworks in the sky, Usher is putting his visionary stamp on the nation's biggest Independence Day party.