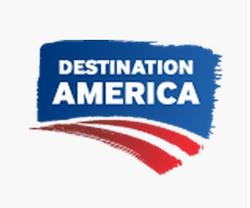 "This snack-filled series will nostalgically transport viewers back to their childhood, when raiding their parents' pantry was like discovering a treasure trove of sugary, salty fun," said Marc Etkind, senior vice president of content strategy for Destination America. "FOOD FACTORY is like winning a golden ticket to go see the Willy Wonka - but then you'll never look at a chocolate bar the same way again."
Throughout the 26-episode first season of FOOD FACTORY, viewers go behind the scenes of some of the most mouth-watering food factories, including Lay's, Tootsie Roll, Dannon, Planters, PepsiCo, Quaker and more. FOOD FACTORY reveals the manufacturing processes behind common edibles, with each episode going behind the scenes at high-tech factories to feature the transformation of four different products from raw materials to finished treats. Mixing, chopping, sifting, filling, freezing, boiling, and wrapping are just a few of the transfixing steps viewers witness in each episode. Brand ambassadors and factory employees also chime in to recount the product's history in American cuisine, touching on nostalgic elements in pop culture as well as the product's evolution over the decades.
In the premiere episode of FOOD FACTORY at 10 PM (E/P), discover how Chapman's perfect ice cream cones, Pop Shoppe's retro fizzy soda pop, Primo's pasta, and the world's best chewing gum, Dubble Bubble, are produced for the masses. Then at 10:30, learn how Campbell's trusty condensed vegetable soup, Tootsie Roll's sweet and chewy Razzles, Wiser's fine Canadian whiskey, and Bridor Bakery's sweet sticky brioche gets from the warehouse to your cupboard. From raw materials to finished products, FOOD FACTORY reveals the wonders of how food is really made.
FOOD FACTORY is produced by Cineflix Productions with Simon Lloyd and Philip Whelan as executive producers. For Destination America, Sara Kozak is senior vice president of production, Marc Etkind is senior vice president, content strategy and Henry Schleiff is president and general manager.
Latest Tweets
| | |
| --- | --- |
| 10/7 @ 2:00 PM | DestAmerica - Watch #MATM tonight at 9|8c to hear about the insect that caused a wave of panic on two continents... bee there or… https://t.co/FYEUJrsniR |
| | |
| --- | --- |
| 10/2 @ 1:30 PM | DestAmerica - How did this copy of a famous play spark an epic rivalry that almost destroyed New York City? #MATM Tonight 9|8c. https://t.co/Q6OEH4COZk |
| | |
| --- | --- |
| 10/1 @ 1:30 PM | DestAmerica - This flip needs a little fixing and whole lotta love... #TexasFlipNMove Tonight 9|8c! https://t.co/Vz3irVjswm |
| | |
| --- | --- |
| 9/28 @ 2:00 PM | DestAmerica - At this hotel, you can wake up with lions and zebras outside your window! 🦁 #ExtremeHotels is on at 8|7c. https://t.co/ca53WiO6R3 |
| | |
| --- | --- |
| 9/26 @ 2:00 PM | DestAmerica - Any guesses where #BizarreFoods might be headed? Find out at 9|8c! https://t.co/jbanMoESPb |
Latest Articles About Food Factory on Destination America