BWW Review: A PRISM of PROTOTYPE's INFINITE PSYCHOSIS for 2019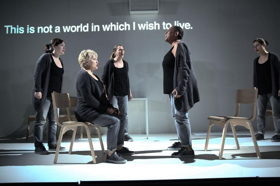 Where are our Violettas, our Salomes, our Elektras--even our Lulus--for opera to move forward as an art form for the 21 century? They're all victims of stress and suffering of one sort or another, but still worth meeting up with--not only musically but dramatically--more than once.
I began thinking about this while watching the three new opera/music-theatre pieces--THE INFINITE HOTEL, 4.48 PSYCHOSIS and PRISM--that I visited during the opening days of the current edition of PROTOTYPE: OPERA/THEATRE/NOW, co-produced by Beth Morrison Projects and HERE.
Each was very different in its story-telling, each musically compelling in its own way. Yet, they had me wondering whether I was ready to bring these people back into my life again any time soon.
Michael Joseph McQuilken's THE INFINITE HOTEL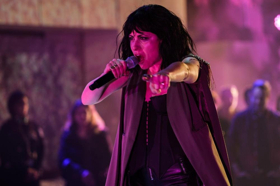 The first was THE INFINITE HOTEL, an immersive work conceived and directed by Michael Joseph McQuilken. It has quite an eclectic score: music and lyrics by Firehorse & The Few Moments (aka McQuilken himself), with select songs adapted from material written by Amanda Palmer (of the Dresden Dolls) & Jason Webley (experimental folk multi-instrumentalist) for this production and additional music for the composer-pianist character, Ben, by Sky White Tiger. (There's also "You'll Never Walk Alone" by Rodgers & Hammerstein early on.) All--plus some other music--were arranged by McQuilken for the production and the variety of styles somehow add up to a cohesive whole. Musical director Freddy Epstein kept it all moving swiftly.
It's a music-theatre/film/concert piece (rather than opera-ish) that consisted of a number of story strands that, eventually, formed a cohesive entity, helped by the scenic/lighting design of Maruti Evans and video design of Josh Higgason and Maxx Berkowitz. Not the least of its threads is a meta-"Star is Born" line that I thought took way too long completely exposing itself, though Leah Siegel as Jib (the Janet Gaynor-Judy Garland-Barbra Streisand-Lady Gaga character)--also a co-composer as part of Firehorse--was an almost constantly compelling presence.
The physical production, creative direction by Jon Morris, took good advantage of the large performing space at Brooklyn's Irondale Arts Center--incorporating a subway platform and a major concert space, among other locations. It combined live action and video of the same action from different angles (the sync was annoyingly out of whack at my performance) and added sound-mix through headphones for some of the audience.
There was also audience participation--stressing the interconnectedness theme--that worked well in bringing out a liveliness in the piece (giving a new meaning to "crowd funding," as the piece had underwriting from Kickstarter Performance).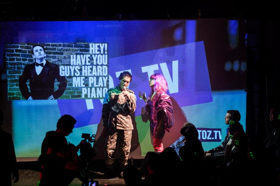 I admit to feeling somewhat frustrated during the first part of the evening at the disjointed nature of the piece and the seemingly too-leisurely story-telling. The effectiveness of it all changed dramatically in the second part, where the story-telling was simplified and better at drawing us in, particularly when the truth [spoiler alert] about one of the characters being dead better clarifies some confusion.
According to McQuilken, the piece was lovingly created as "a balm for the division of people in our modern world," though I'm not sure it was as successful at putting across this aspect of the work.
Co-produced with Old Sound Room and The Windmill Factory.
Philip Venables's 4.48 PSYCHOSIS
Next came 4.48 PSYCHOSIS, an opera version of a play by Sarah Kane, the troubled, much-touted playwright who committed suicide before she was 30. Directed by Ted Huffman as it was at its premiere in May 2016, it has an arresting score by Philip Venables that was commissioned by the Royal Opera in London (though not for its Covent Garden location but for its indie-opera Lyric Hammersmith site, where this production was also rehearsed).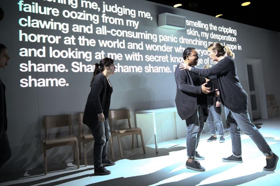 The play--her shortest and most fragmented work, with no plot or character or indication of how many actors were intended to voice the play--was completed shortly before her death. It was first performed in 2000, at London's Royal Court Theatre.
It was written when Kane was severely depressed and it deals with the "psychotic mind," according to David Grieg, a playwright and friend of Kane's. Grieg, who wrote the introduction to her collected works published after her death, says 4.48 was the frequent morning wake-up time for Kane in her depressed state.
Venables has scored it for six singers (three sopranos, three mezzos), including one who may be a stand-in for Kane herself (soprano Gweneth-Ann Rand), another a staff doctor (mezzo Lucy Schaufer) who may or may not exist, and four women (Lucy Hall, Susanna Hurrell, Samantha Price and Rachel Lloyd) who play a mysterious variety of roles, including voices in her head, hospital staff, a quartet of Valkyrie-like figures, among others. The demands on the singers is significant and sometimes call for unearthly sounds; they all succeeded notably.
Not all of the libretto is sung; some is projected on the wall. This is particularly unsettling when dealing with her drug regimen, varying dosages and their side-effects, and the homilies voiced to her about "getting better" to help stanch her pain, though it's likely she--as well as the audience--knows the truth.
The score, as played by Contemporaneous, an ensemble of 22 dedicated to current music, conducted by William Cole, did a superb job on the sometimes brutal, fierce and relentless music. Venables clearly understands what the playwright has to say and lets it crawl under his skin--and ours.
Surprisingly, the most unnerving music was the Muzak piped in through a loudspeaker at various times, trying to give the patients a false sense of calm. (But, as any of us who have been Muzak-ed, stuck in an elevator, know, it's hardly a breath of fresh air.)
Hannah Clark's simple set and costumes fit fluidly into director Huffman's production, where the singers slip in and out of character, with the musicians hovering over the stage.
Though it's hardly surprising given Kane's reputation, there is no humor whatsoever, as if the author's suicide is understood to be forthcoming, from the first notes of the score. I'm glad to have seen it and appreciate the creative forces that turned the play into such a raging work, but for me, the excesses of Kane's pain trumps the vitality of Venables's score.
Ellen Reid's PRISM with librettist Roxie Perkins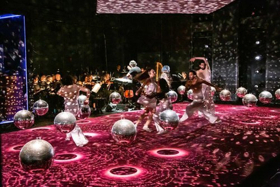 Finally, we get to PRISM by Ellen Reid and librettist Roxie Perkins, directed by James Darrah, which came with much build-up from its acclaimed premiere in Los Angeles a couple of months ago. The consensus: It was a stunning creation.
Reid has a vast, eclectic musical vocabulary that she shows differently in each of the three sections of the piece, here impressionistic, there electronic dance music, then a sort of Gregorian chant and what amounts to more traditional arias musically, among other styles used. Of course, the composer didn't simply toss this off--the opera has been in progress for five years or so, giving her the time to develop her musical voice. I particularly liked the soaring aria-like piece for Lumee, the mother, in the flashback to the disco where the trauma to Bibi, her daughter, took place.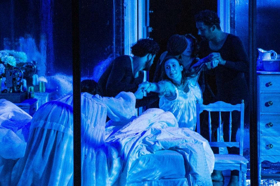 The result is spectacular, not only for the two principal singers--soprano Anna Schubert as Bibi and mezzo Rebecca Jo Loeb as Lumee were stunning--but for the orchestral ensemble NOVUS NY and the Choir of Trinity Wall Street, under the firm grip of Julian Wachner. (There's also a quartet of dancers who play key roles in the spectacle.) Darrah, who has been involved with PRISM through its development, has done some of his best work here--he's a very busy guy--elucidating the intricacies of the piece.
Yes, Reid is a significant talent in the contemporary music field and her commissions from the LA Philharmonic, LA Master Chorale and LA Chamber Orchestra--along with PRISM from the LA Opera and Beth Morrison Projects--are clear examples of the high esteem in which she's held. Yet, as with many contemporary operas, the libretto is key to its success, and Perkins has played her job well.
She's been entrusted with providing the haunting framework that describes "the elasticity of memory after trauma" and, for the most part, she has succeeded in dealing with Bibi's plight, as she tries to crawl back from the edge of madness where she retreated to protect herself from her experience. The librettist has used her own interest in color--how it can emotionally structure repressed memories--and how trauma can "corrode" language to enrich the story in interesting ways. Perkins shows Bibi's world in two colors: yellow is safe, blue is what she's trying to forget. And she sees what at first seems like nonsense words, which reveal themselves as syllables of words that have run together in her mind.
Of course, Bibi has a major problem to deal with: Her mother--now trying to protect her--as the cause of her trauma. She dragged her daughter along to a dance club because she didn't want to leave her home alone and the result was catastrophic. The trauma of the event is always there, unexpectedly rearing its ugly head when Bibi lets down her guard for a moment.
Yes, loose ends may get tied up a little too neatly, as Bibi makes her escape (though I certainly don't want to make light of the creators' own traumas that may have been incorporated into the work, as implied in the program notes). Finally, Bibi recognizes that she's caught in Sartre's hell--and that the "other people" is her mother. As Bibi starts to come to grips with her trauma, she begins to understand that while her room, and being with her mother, is not a place of physical torture--there are no flames engulfing her--it is impossible to stay there. Like Ibsen's Nora, she has to slam the door behind her before she can begin to truly recover.
PRISM was quite an experience and I look forward to hearing more of Reid's work. As for living through her trauma again, well, that's another story.
Produced by Beth Morrison Projects in association with Trinity Church Wall Street.
PROTOTYPE: OPERA/THEATRE/NOW continues through January 13. For more information about the productions and tickets, visit the PROTOTYPE website.