| | |
| --- | --- |
| BIO: BIOGRAPHY - Introduction "I'm a great model railway enthusiast and I'm building a huge layout over there in California so that takes up a little bit of time and football takes up a little bit of time. And then there's the Children and I like to go out with the lads two or three times a week and go completely mad and sometimes I get barnet done...it's still all my own hair, you know. Which is more than can be said for Elton. Bald bugger. And in between all that, I sometimes try to fit in a bit of music." young rod ....that's Roderick David Stewart in his own words. Born in Highgate, North London, on 10th January 1945. Rod's father Robert Joseph Stewart came from King's Port in Edinburgh, Scotland. Rod's mother, Elsie, came from Upper Holloway, North London. The Cockney girl fell for the Scot and the couple married in 1928. The Stewart clan began to appear afterwards. Rod's brothers Don and Bob and his sisters Mary and Peggy were all born in Scotland. However the family moved to London to 507 Archway Road, Highgate where after a gap of eight years, young Roddy was born. This means that Rod is the only member of the family to have been born in England, a misfortune which Rod has tended to overlook.... Thirty minutes before Roderick was born a big shock had hit the district in the shape of a German V2 rocket which made a direct hit on Highgate Police Station. Rod reflected years later: "I've always thought that I was very lucky because that bomb fell just a stone's throw from where I lived. I've sort of had a feeling that I nearly didn't make it." on the beachRod Stewart's childhood was conventional. He lived above the newsagent's shop in Archway Road in North London. The newsagent's shop was owned by the Stewarts themselves. As already mentionned, Roderick was the youngest of five so he was spoilt by his family but of course he was taught to respect his elders, especially his parents. He was mainly interested in football and model railways. He's never lost that passion over the years. He still enjoys to play with the model railway and football is still as important (or even more) to him than it was way back in the fifties. He was very much interested in the singer Al Jolson, an American Jewish baritone, who was very popular in the thirties. Rod's father and the two brothers were football fans. They even started a local team called the 'Highgate Redwings'. Al Jolson was Rod's great love and many times the Stewart family would regularly gather around the piano and sing Jolson's hits. When Rod became older, he started to read books about him and began to collect his records. He was very impressed by Jolson's performing style. Jolson died in 1953. He was Rod's strongest influence and that stayed with him throughout his life. Schooldays were spent at the William Grimshaw Secondary Modern School in Hornsey. Rod once said about school: " Horrific! Primary school, which is from age five to eleven, was just bearable because it was close to me home...I'm very close to me whole family. But when I went to Secondary Modern it was about five miles away and that was unbearable. I really wasn't good at school and I didn't like it, although I never missed a day. My favourite subject was probably history and I was very artistic, good at sketching. I was real cocky, and that obviously comes from insecurity. I was real aggressive, taking the piss out of people all the time". So, Rod felt that only playing football could be a way he could earn a living. He practised as much as possible and eventually signed apprentice papers with Brentford FC in West London. Robert Stewart was very pleased....however, the apprenticeship wasn't a holiday. Young Rodders was expected to get up early in the morning and much to his dismissal found himself cleaning the first team's boots most of the time. The training programme didn't appeal to him either and so after a few weeks, much to Robert Stewart's disappointment, he decided to leave the place and quit... on the beach | |
Latest Tweets
| | |
| --- | --- |
| 8/24 @ 6:04 AM | rodstewart - .@shaneduffy @CelticFC https://t.co/dE7daKMhYz |
| | |
| --- | --- |
| 8/14 @ 3:03 AM | rodstewart - Hours of music and fun on the official YouTube music channel. Be a dear and subscribe today: https://t.co/P4yxcGYwnY https://t.co/6GnaZ4kE2g |
| | |
| --- | --- |
| 8/12 @ 3:03 AM | rodstewart - Psst. There's 25% off selected items on the website. https://t.co/nbBHDUD8CL https://t.co/5MQD1MSSRM |
MORE TWEETS
Latest Articles

Andrea Bocelli's 'Sì' Debuts at Number One on Billboard 200 Chart
by TV News Desk - November 05, 2018
In the year of his 60th birthday and almost a quarter century since his debut release, global classical music icon Andrea Bocelli has topped the U.S. Billboard 200 chart for the first time in his illustrious career with the release of 'Sì' (Decca/Sugar Music), his first album of new original materia...

Steve Tyrell Releases Remastered & Expanded BACK TO BACHARACH Album
by BWW News Desk - October 29, 2018
Grammy Award-winner and two-time Emmy nominee Steve Tyrell has remastered his classic Back to Bacharach album and has added seven new songs. The expanded 21-track edition is by New Design Records and Warner Brother's East/West Records. The new collection is available now HERE....

The Prince's Trust to Sell Celebrity Outfits Donated By Mick Jagger, Lionel Richie, Rod Stewart, Joan Collins, Britney Spears & Others
by BWW News Desk - October 23, 2018
The Prince's Trust believes that every young person deserves the chance to succeed - so to raise funds for its work it is auctioning a collection of spectacular showbiz outfits of leading musicians and actors with Julien's Auctions' upcoming ICONS & IDOLS: ROCK-N-ROLL auction event on Saturday, Nove...

Stephen Kellogg To Release Will Hoge-Produced 'Objects In The Mirror' On November 23
by BWW News Desk - October 19, 2018
Stephen Kellogg is set to release Objects in the Mirror on November 23, 2018. Produced by fellow Americana singer-songwriter Will Hoge, the 12-track set was recorded over the course of a single week in Nashville, TN and tracked live, keeping the results intact with minimal overdubs. Ahead of release...

PP Arnold Announces November/December Australian Tour
by BWW News Desk - October 15, 2018
The '60s Soul/Swinging London icon returns in November & December for more shows with her band featuring Tim Rogers, Andy Kent and Russell Hopkinson of You Am I, Talei & Eliza Wolfgramm and James Black; as well as select shows with the Rockwiz Orchestra....

Whiskey Bayou Records Releases 'Pain By Numbers' By Acclaimed Guitarist, Eric McFadden
by BWW News Desk - September 28, 2018
Whiskey Bayou Records proudly releases Pain By Numbers, the new album by acclaimed guitarist-vocalist, Eric McFadden....

Sunshine And The Rain Share Two New Tracks, Expand Lineup
by BWW News Desk - September 26, 2018
New Jersey's Sunshine And The Rain (fmr. The Black Hollies) are excited to share two new tracks from their upcoming sophomore album Beneath The Stars (October 26, 2018 on Ernest Jenning Record Co.). First, the group premiered 'Just The Way It Goes' on The Best Show With Tom Scharpling last night -- ...

M Resort Spa Casino Concludes Concert Series With Final Three Shows
by TV News Desk - September 26, 2018
M Resort Spa Casino will wrap up its concert series with its final three concerts of the year. In October, multi-platinum recording artist and international superstar, Martin Nievera will take the M Pavillion stage alongside GRAMMY-winner Patti Austin for a live performance fans won't want to miss. ...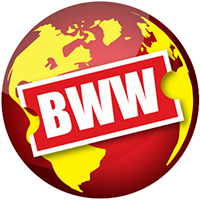 Sample Entertainment Hollywood Music Producer, Benny Simanjuntak Completes 2 New Singles For Indonesian Singer, Nima Ilayla
by BWW News Desk - September 22, 2018
Music Producer Benny Simanjuntak brought teenage singer Nima Ilayla (Indonesia) to Hollywood, California to record with Grammy award winning mixer Tom Weir and producer Vasily Pinchuk....

Rising Country Artist Jimmy Charles Launches New Single and New Charity, #IAMNOTALONE
by BWW News Desk - September 18, 2018
Rising Country artist Jimmy Charles has launched his 501(3)(c) charity, #IAMNOTALONE, in tandem with his new single, 'I Am Not Alone.' The organization focuses on ensuring that no one battling cancer feels alone in their journey and asks participants to sign a 'contract' promising never to give up. ...

Rock Supergroup The Hit Men Return To The State Theatre This October
by BWW News Desk - September 13, 2018
Back by popular demand…with a brand new show... legendary rock supergroup The Hit Men return to the State Theatre on Saturday, October 13....