Latest Articles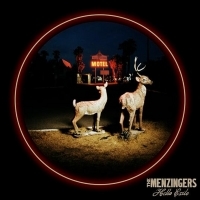 The Menzingers Announce New Album 'Hello Exile'
by TV News Desk - July 15, 2019
Philadelphia-based punk band, The Menzingers will release their sixth studio record Hello Exile on October 4 via Epitaph.... (
more...
)

The Sidekicks Share New Song PEOPLE'S COURT
by BWW News Desk - May 15, 2019
Cleveland, Ohio indie rock band The Sidekicks return with a brand new song "People's Court" which is accompanied by a video. Steve Ciolek (vocals, guitar) explains, "'Peoples Court' takes place at a combination laundromat/bar in a quiet moment shared between a couple.  Sometimes it's unnerving how w... (
more...
)

Collateral Announce Show At Camden's Black Heart
by TV News Desk - December 21, 2018
Collateral are thrilled to announce their first show at Camden's Black Heart in London on Thursday 7th February 2019. The concert will see the band showcase their incredible talent. Tickets are on sale 10am from www.alttickets.com/collateral-tickets and are priced at £10.... (
more...
)