Photo Flash: Broadway Vets & More Take the Stage in ADM21 at The Joyce Theater
American Dance Machine for the 21st Century (ADM21) returns to New York City's Joyce Theater (175 Eighth Avenue) from Monday, December 21st through Sunday, January 3rd. Check out photos below!
Directed by Tony Award® winner Wayne Cilento (Wicked, Sweet Charity revival, Aida, The Who's Tommy), this year's program will include theatre dances from "Broadway and Beyond" with live music provided by musical director Eugene Gwozdz. This return to The Joyce follows last year's sold out performances and promises once again, to rekindle old memories for theater dance enthusiasts and spark the imagination of audiences not yet familiar with these masterpieces. Nikki Feirt Atkins is the founder and producing artistic director of ADM21.
ADM21's newly reconstructed dances will include works by: Michael Bennett (A Chorus Line, Promises, Promises), Wayne Cilento (How To Succeed...,The Who's Tommy), Jack Cole (Beale Street Blues, Kismet, Carnival in Flanders), Mia Michaels (Calling You), Agnes De Mille (Oklahoma), Jerome Robbins (West Side Story), Susan Stroman (Crazy For You), Tommy Tune (Will Rogers Follies).
These legendary Broadway dance numbers will be staged by a who's who of Broadway's master dancers and choreographers including Donna McKechnie, Robert La Fosse, Pamela Sousa, Gemze de Lappe, Mia Michaels, Ed Kresley, Niki Harris and many others.
"We have assembled an amazing company of performers, stagers and coaches to showcase these outstanding dance numbers for this year's program," said Nikki Feirt Atkins.
The cast of ADM21 includes: Claire Camp (Joseph, Flashdance - The Musical), Chloe Campbell (In The Heights, Mary Poppins), Rick Faugno (On The 20th Century, Jersey Boys) Lori Ann Ferreri (On The Town, Wicked), Shonica Gooden (Roger + Hammerstein's Cinderella, Bring It On), Susie Gorman (Movin' Out, Oliver), Rachel Guest (Young Frankenstein, The Little Mermaid), Tyler Hanes (A Chorus Line, Sweet Charity), Nick Kepley (Mary Poppins, Camelot), David Paul Kidder (Gypsy, How to Succeed...), Marty Lawson (How to Succeed..., Promises, Promises) Paloma Garcia Lee (On The Town, Nice Work If You Can Get It), Jess LeProtto (On The Town, Newsies), Cathy Lyn (West Side Story, Sesame Street Live), Skye Mattox (On The Town, West Side Story), Nicholas Palmquist ("Saturday Night Live", Guggenheim's Works & Process), Georgina Pazcoguin (New York City Ballet, On The Town), Tera-Lee Pollin (Hot Feet, Urban Cowboy), Justin Prescott (Gigi, After Midnight), Amy Ruggiero (Twyla Tharp's 50th Anniversary Tour, Radio City Christmas Spectacular) Tommy Scrivens (Parsons Dance, dre.dance) and Mikey Winslow (On The Town, American Idiot).
American Dance Machine for the 21st Century, founded in 2012 by Nikki Feirt Atkins, is dedicated to creating a living and vibrant archive of classic and current notable musical theater choreography. ADM21 is continuing the legacy of the late Lee Theodore, who established The American Dance Machine in 1976. Theodore created a "Living Archive" of musical theater dance to address her belief that "many great choreographic works are lost with the musical they once embellished." Of concern was that the artistry of each dance would vanish with the artists who created them. That was the impetus that drove The American Dance Machine from its pilot program in 1976 to its final days following the death of Lee Theodore in the late 1980's.
American Dance Machine for the 21st Century plays Tuesdays at 7:30PM, Wednesdays at 3:00PM and 7:30PM; Thursdays at 3PM; Saturdays at 2PM and 8PM and Sundays at 2PM and 7:30PM. Tickets can be purchased by calling Joyce Charge at 212-242-0800 or by visiting www.joyce.org. The Joyce is located at 175 8th Avenue in New York City.
Photos by Christopher Duggan

Company

Rick Faugno, Tyler Hanes, Mikey Winslow & Company

Paloma Garcia-Lee, Rick Faugno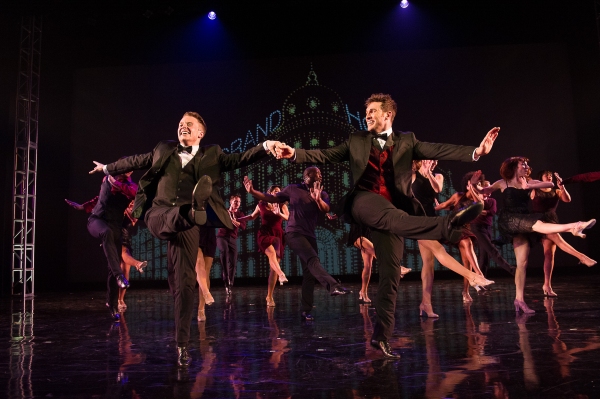 Mikey Winslow, Tyler Hanes & Company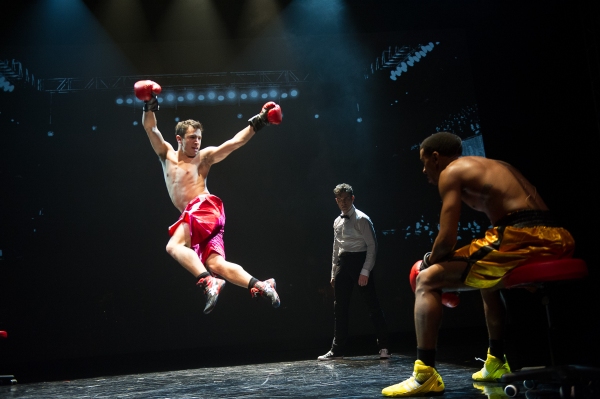 Jess Leprotto, Tyler Hanes, Justin Prescott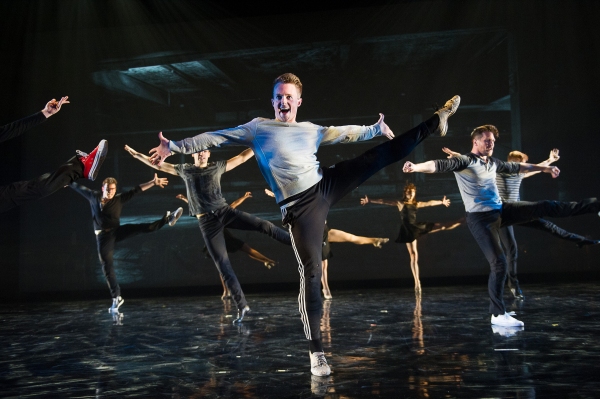 Company

Company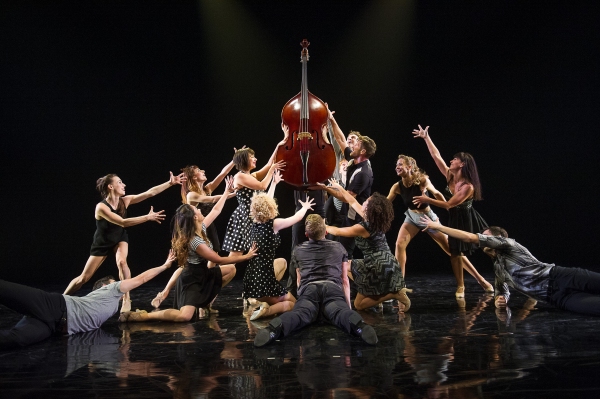 Company

Company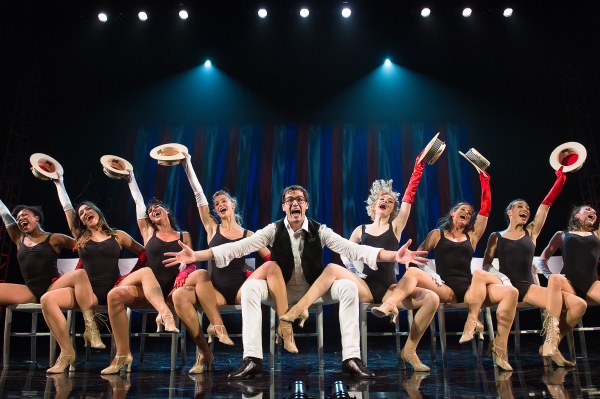 David Paul Kidder & Company