Now Playing Onstage in Boston - Week of 12/20/2018
View All Show Listings for Boston
Click Here to View BroadwayWorld.com Boston Calendar
SHREK THE MUSICAL JR
BAY COLONY PRODUCTIONS
12/22-12/22/2018
Click Here for More Information
DISNEY'S THE JUNGLE BOOK KIDS
BAY COLONY PRODUCTIONS
12/22-12/22/2018
Click Here for More Information
JOHN PIZZARELLI & JESSICA MOLASKEY RADIO DELUXE LIVE
Mahaiwe Performing Arts Center
12/22-12/22/2018
Renowned jazz musicians John Pizzarelli and Jessica Molaskey will record their syndicated American-songbook radio program, "Radio Deluxe," live at the Mahaiwe. This popular show mixes and matches songs in medleys and sequences that flow like a continuing dialogue about life, relationships, and popular culture itself. The common denominator is a playful sense of humor. The husband-and-wife hosts are masters of off-the-cuff repartee. Special guest TBA.
Click Here for More Information
LITTLE WOMEN
NORTH SHORE CHILDRENS THEATRE
12/20-12/22/2018
Click Here for More Information
MARY POPPINS
COTUIT CENTER FOR THE ARTS
11/20-12/22/2018
Click Here for More Information
1776
NEW REPERTORY THEATRE
11/30-12/23/2018
Click Here for More Information
WHAT THE DICKENS!
What The Dickens! at John Hancock Hall
12/14-12/23/2018
?Celebrating the 10th Anniversary of 'What the Dickens!' and the 175th Anniversary of 'A Christmas Carol', Deborah Mason's Cambridge Youth Dance Company, with their roster of stellar guest artists (and some surprise appearances!), are bringing their acclaimed production of 'What the Dickens!' to John Hancock Hall for eight performances, Dec. 14 – 23, 2018. Weaving contemporary dance, ballet, tap, hip hop, flamenco, projections, narration and more, 'What The Dickens!' (a Boston Globe Top Holiday Pick) is an enchanting dance-theater rendition of Dickens' classic, timely story of transforming greed into kindness and joy. Produced by Deborah Mason and directed by Leslie Woodies (Broadway veteran and Boston Ballet alum), What The Dickens! bursts with "positive themes of humanity, love, inclusion and hope that will make your heart soar." Mason says, "That's our message. This is our gift to Boston." Performances Dec 14 - 23: Fridays at 7 pm, Saturdays at 2 pm & 7 pm, and Sundays at 2 pm. $65-$25. John Hancock Hall, 180 Berkeley St, Boston MA 02116. Look for tickets to be available starting in October; Visit cydp.org for details. ? WHAT THE DICKENS! is a great show for the family, both affordable and intimate. Boston Ballet alum Clyde Nantais returns as Ebenezer Scrooge, Ryan P. Casey and Jenny Oliver as Bob and Mrs. Cratchit, Yosi Karahashi as the Ghost of Christmas Future, along with other collaborations with artists, set building, and costume design. ? With original choreography and concept by David Drummond, other choreographic contributors include Celia Marino, Ian Berg, Ryan Casey, Khalid Hill, Deborah Mason, Rocky Mendes, Jenny Oliver, Jeryl Palana Pilapil, Reia Briggs Connor, and Leslie Woodies. "WHAT THE DICKENS! provides the aspiring dancers in the CYDP dance company an opportunity to work with professionals in the industry, and to perform in an evolving theatrical production. Above all, we love the dance's positivity, and themes of empathetic humanity and the message of kindness and inclusion," Mason says. "That is the message we want to keep sending." CYDP is a supportive network which provides multiple opportunities for dancers and the community. Transcending the notion of "pre-professional training," CYDP uses dance as a platform to increase self-esteem, focus, teamwork, and creativity. CYDP opens its auditions to boys and girls, ages 10-20. Once accepted, students place into appropriate levels based on performance and focus; all new and returning dancers must audition for the company each year. ? CYDP dancers are mentored and supported throughout the audition process by CYDP staff. Many have gone on to professional careers, appearing in music videos with Janet Jackson and Beyonce among many others. They have also appeared in major tour productions from EVITA to BILLY ELLIOT to major motion pictures.
Click Here for More Information
MAME
Cotuit Center for the Arts
11/29-12/23/2018
Click Here for More Information
MISS BENNET: CHRISTMAS AT PEMBERLEY
Merrimack Repertory Theatre
11/28-12/23/2018
Lauren Gunderson, Margot Melcon; dir: Bridget Kathleen O'Leary.
Click Here for More Information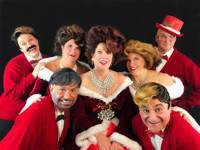 HOPE FOR THE HOLIDAYS
Cotuit Center for the Arts
12/6-12/30/2018
Before the '60s were hip, they were square! Join television hostess Hope Henderson and her musical sidekicks for their 1962 holiday special! Meet Hope's tv family and special guest stars as they bring holiday cheer and ring in the new year. ANNOUNCING OUR CAST~What a wintry mix! Jo Brisbane as Hope Henderson Malcolm Granger as Mister Tinsel Jay Stewart as Sad Santa & Binaca the Bartender Ashley LaCroix as Candy Jane Loutzenhiser as Taffy Elin Hirsch as Vance Cleo Zani as Aloysius TC Crutchfield as Mister Mockwell Karen Berg McPherson as Suzy Snowflake And introducing Bongo Boy In the Black Box Theater December 6-30 Thurs-Sat at 7:30pm, Sun at 2:00pm (No show Thursday, December 27) Tickets $20, $15 for members *photo by Tristan DiVincenzo
Click Here for More Information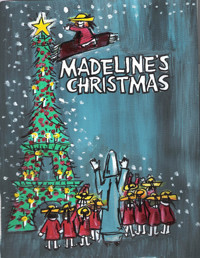 MADELINE'S CHRISTMAS
Cape Cod Theatre Company/Harwich Junior Theatre
11/30-12/30/2018
MADELINE'S CHRISTMAS November 30 –December 30 Fridays at 7pm and Saturday and Sundays at 2 pm. Vacation Matinees on Wednesday, Thursday and Friday December 26, 27, 28 at 2pm. Books and lyrics by Jennifer Kirkeby, Music by Shirley Mier. Based on the book by Ludwig Bemelmans. In an old house in Paris that was covered with vines lived twelve little girls in two straight lines. So begins this delightful story of Madeline's Christmas! The day begins like any other day. Miss Clavel takes the twelve little girls on their morning walk. They go to the zoo and then back to school for their French history lesson. Suddenly disaster strikes when everyone gets the flu! Everyone that is, except for the ever-resilient Madeline. Saddened that they may not be able to go home for Christmas, the girls and Miss Clavel take to their beds. But on Christmas Eve, the adventure begins. $25 Adults; $15 Youth under 21
Click Here for More Information
BARBER SHOP CHRONICLES
American Repertory Theater
12/5-1/5/2019
Inua Ellams; music: Michael Henry; dir: Bijan Sheibani.
Click Here for More Information
View All Show Listings for Boston
Click Here to View BroadwayWorld.com Boston Calendar
Related Articles View More Boston

Stories

Shows
More Hot Stories For You