Now Playing Onstage in Boise - Week of 5/11/2014
View All Show Listings for Boise
Click Here to View BroadwayWorld.com Boise Calendar
TCHAIKOVSKY, SYMPHONY NO. 5
Morrison Center
5/16-5/17/2014
The final concert of the season will feature monumental works of Beethoven, Tchaikovsky and Schumann. Beethoven's Egmont Overture is his testament to victory over the intrigues and oppression of the Napoleonic Era of 19th century Europe. Pianist Alexander Schimpf, winner of the coveted 2012 Cleveland Piano Competition, will dazzle us with
Robert Schumann
's Piano Concerto in A minor, a gift of love to the composer's wife, Clara. And to conclude this gala night of symphonic titans, the orchestra will play Tchaikovsky's thundering test of the fates, the mighty Symphony No. 5 in E minor.
Click Here for More Information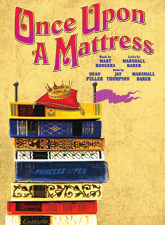 ONCE UPON A MATTRESS
Idaho Arts Charter School
5/16-5/17/2014
If you thought you knew the story of 'The Princess and The Pea,' you may be in for a walloping surprise! Did you know, for instance, that Princess Winnifred actually swam the moat to reach Prince Dauntless the Drab? Or that Lady Larken's love for Sir Harry provided a rather compelling reason that she reach the bridal altar post haste? Or that, in fact, it wasn't the pea at all that caused the princess a sleepless night? Carried on a wave of wonderful songs, by turns hilarious and raucous, romantic and melodic, this rollicking spin on the familiar classic of royal courtship and comeuppance provides for some side-splitting shenanigans. Chances are you'll never look at fairy tales quite the same way again.Music by
Mary Rodgers
; Book by
Jay Thompson
&
Dean Fuller
&
Marshall Barer
; Lyrics by
Marshall Barer
Click Here for More Information
ARSENIC AND OLD LACE
Lake City Playhouse
5/2-5/18/2014
Two sweet but not so innocent ladies love to serve up a nice glass of wine and Arsenic (with a pinch of Cyanide). While their love-struck drama critic nephew handles what's in the cellar, he must also contend with his two insane brothers: one is a murderous psychopath and the other thinks he is Teddy Roosevelt.
Click Here for More Information
ALEXANDER AND THE TERRIBLE, HORRIBLE, NO GOOD, VERY BAD DAY
Morrison Center
5/18-5/18/2014
Have you ever had a really rotten day? Alexander has... He wakes up with gum in his hair, he trips on a skateboard, and then he accidentally drops his sweater in the sink - all before breakfast! Alexander can already tell - it's going to be a terrible, horrible, no good, very bad day! Alexander's day continues to go downhill as he gets smushed in the car on the way to school, his teacher doesn't like his drawing of an invisible castle, and Paul doesn't want to be his friend anymore. There's no dessert for lunch, there's lima beans for dinner, and even worse: there's kissing on television! It's enough to make you want to move to Australia! Laugh and sing along with Alexander's misadventures in this hilarious musical, featuring book and lyrics by Judith Viorst, author of the best-selling classic book. Discover along with Alexander that sometimes, everyone has a terrible, horrible, no good, very bad day.
Click Here for More Information
SENSE AND SENSIBILITY
Knock 'Em Dead Dinner Theatre
5/16-6/14/2014
Sense and Sensibility was
Jane Austen
s' first published work when it appeared in 1811. A work of romantic fiction, Sense and Sensibility is set in south- west England between 1792 and 1797, and portrays the life and loves of the Dashwood sisters, Elinor and Marianne. The play follows the young ladies to their new home, a meager cottage on a distant relative's property, where they experience love, romance and heartbreak. The philosophical resolution of the story begs the reader to decide whether sense and sensibility have truly merged.
Click Here for More Information
View All Show Listings for Boise
Click Here to View BroadwayWorld.com Boise Calendar
Related Articles
From This Author BWW