'Mean Girls' Broadway stars shade Lindsay Lohan at her own party
Posted by Anakela 2019-01-09 22:44:56

---
ok. I'm old. What does this (insult?) mean? via Page Six.

Ashley Park, who plays Gretchen Wieners onstage, and Barrett Wilbert Weed, who plays Janis Sarkisian, were overheard joking with their friends about Lohan in the elevator heading up to the Moxy hotel's Magic Hour Rooftop Bar & Lounge for the premiere party for Lohan's MTV show, "Lindsay Lohan's Beach Club."

"They were all talking about tattoos in the elevator," said a witness. "And one of them said something like, 'I bet Lindsay has a tat of a club bracelet.' And then another one goes, 'Yeah! Like the kind you can only see in fluorescent light.' "

Posted by GiantsInTheSky2 2019-01-09 23:23:07

---
Seems like a lame joke of some sort. Just like the entirety of the show they are in.


Posted by RippedMan 2019-01-09 23:34:35

---
Just means that Lohan goes out a lot and parties a lot. But clearly, neither of them are funny.

Posted by BrodyFosse123 2019-01-09 23:39:28

---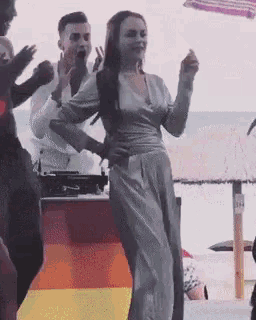 Easy A
Posted by Call_me_jorge 2019-01-10 07:55:00

---
Thank you, next

Easy A
Posted by henrikegerman 2019-01-10 09:50:30

---
No "dish" in that "shade."
Easy A
Posted by singer234 2019-01-10 10:52:57

---
Also wheres the lie tho? Lindsay does have one of those tattoos...