Profile for PatrickDC
| | |
| --- | --- |
| Member Name: | PatrickDC |
| Contact User: | You must be logged in to contact BWW members. |
| Gender: | Male |
Most Recent Message Board Posts:
View Off Topic Posts
PHANTOM OF THE OPERA French version in concert, Canada 2020
Sep 14 2019, 01:26:40 AM
Doesn't answer your questions but sparks my memory of the Canadian tour cast recording (in English). It's a glorious recording and I particularly loved they had the Hannibal scene unlike the other recordings.
Frozen Broadway Musical
Sep 10 2019, 12:29:02 AM
https://www.playbillstore.com/contact-us.aspx

Contact them directly and ask.
Yondr Pouches Sep 9 2019, 05:20:21 PM
Not really an option when I visit NYC. I prefer having my phone with me since I'm out and about, not solely seeing a show. But I'm not the type of patron that doesn't obey the requests. I have a routine: put in airplane mode, turn down volume, turn off volume, shut phone completely off. And then I typically check it twice to make sure. LOL Yeah, I got a bit OCD when it comes to having a phone in the theater! And it stays off intermission. I enjoy chatting and people watching too much to miss the


Yondr Pouches Sep 9 2019, 04:32:08 PM
The San Francisco Chronicle has an article about Madonna's Madame X tour which is playing three shows at the Golden Gate Theater. Thinking back and can't recall a time when a concert happened in one of the three big houses.

The main point of the article is producers will require attendees to put their phones in Yondr baggies. I'm curious how this works and the extra time before and after to lock/unlock the baggies.

I really Hope theater doesn't go this route. Most lobbies can


Mistakes on cast albums
Aug 29 2019, 04:45:01 PM
Also speaks to my "Annie" issue above, where I know there was a mistake that no longer exists on later pressings of the CD. They -- whoever "they" are -- fixed it.

Reminds me of the OJ Simpson verdict, much in the news lately due to the 25th anniversary, when the court recorder originally called him "Orenjal J. Simpson." Sometimes when you see videos of the verdict that flub has been edited out and she only says his name correctly, "Orethanl J.


Best Scene Changes Aug 29 2019, 10:18:59 AM
Scarlet posting about CARRIE reminded me about Ray of Light's (San Francisco) production. The backdrop was a wall of wood planks resembling bleachers in a gym. After the gym destruction, Carrie is alone on a completely empty stage. Then the massive wall, hinged along the bottom, falls with a *whoosh* of air felt throughout the theater. Carrie stood so that an open window fell around her. The teenage actress had nerves of steel. She didn't flinch a bit. And suddenly we're in the White home. It wa


Best Scene Changes Aug 28 2019, 03:09:49 PM
Growltiger's pirate ship dropping down and the curtains framing it to create a small opera house was interesting. After just being the junkyard it was good to see another scene. I was bummed they didn't do it in London. It was on the first US tour but honestly can't remember if it was done at the Winter Garden.

Though not a scene change per se I still think the curtain drop at the start of the Pippin revival was beautifully done, revealing the bright and colors actors doing their thing


Mistakes on cast albums
Aug 27 2019, 09:24:12 AM
As a kid I listened to the ANNIE cast recording constantly. I swear there was an error in I Don't Need Anything But You, with Daddy Warbucks singing a note but quickly realizing it's Annie's line, not his. Just listened to the track, first time in a long time, and it's not there. Guess they edited it out on newer recordings.
Moulin Rouge seating
Aug 24 2019, 02:08:19 AM
Yeah, $349 was expensive (excessive?) and the most I've ever paid. But we only get to NYC once or twice a year to see a few shows, so we splurge. If I lived in NYC and went to the theater more often, I'd spend less so I could see more shows.
Moulin Rouge seating
Aug 23 2019, 12:12:45 PM
Lot666 said: "IMHO, this show is not worth the current premium pricing; if you have the luxury of time, I would wait a while for the "new hot ticket" demand to wane a bit."

I have to agree. The show is spectacular and all, but I feel the designers had to do that when they realized what a flimsy, dull, and uninteresting show they would have otherwise. Just my opinion. We paid $349 for Row C. Great seats to get totally immersed, but not worth the hyped-up pri


Moulin Rouge **Pre-Show Spoiler Request**
Aug 22 2019, 10:34:38 PM
My friend was asking, are the two swords real?
Moulin Rouge **Pre-Show Spoiler Request**
Aug 22 2019, 10:31:08 PM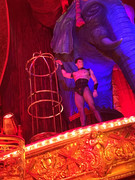 Moulin Rouge **Pre-Show Spoiler Request** Aug 22 2019, 02:02:38 PM
Ah, yes. Comparing the photo I took with the website, it is Kyle in the corset. Stunning. Nick's boyfriend...what a hot couple.

One other question. Do the actors get a pay supplement for working the pre-show, or are they considered to be "on the clock" and that the milling around is part of the actual production?


Moulin Rouge **Pre-Show Spoiler Request** Aug 22 2019, 02:55:23 AM


Is the pre-show choreographed or staged to be the same at every performance? Or does it change?

Last Saturday we had Benjamin in a corset and nylons in the cage next to the elephant, Kyle and Dylan with arms locked walking around, Khori and another actress doing sword swallowing, Reed as a sort of devil/clown thing. And of course various others walking around, quietly chatting, etc.




MOULIN ROUGE! VIP ROOM Aug 22 2019, 02:47:27 AM


Does the cast visit and act all silent and staring, like in the theater itself? I assume not since they'd likely advertise that boldly. That might make it worth the extra cash.




Anyone think Cher will be at the last Cher Show on Sunday? Aug 19 2019, 04:37:55 PM
Ah, that makes sense. My cell is not registered in NYC so I did t get the alert. Guess that's why no one in the audience seemed too concerned, since I assume most in the audience are from the NYC area.


Different shows with similar plots Aug 19 2019, 11:19:47 AM


Victor/Victoria and The Producers

Two dissimilar people are brought together, one has a plan and the other grudgingly joins in but later becomes enamored with the fame it brings. They deceive the masses via a stage show. But love gets in the way. Eventually the ruse is uncovered and the two remain dear friends.




Anyone think Cher will be at the last Cher Show on Sunday? Aug 18 2019, 11:49:32 PM


Some random thoughts and notes:

Show started late, about 3:20, line didn't move outside until 2:45. Mean Girls across the street was completely in before we reached the Neil Simon front door a few moments before 3:00. An usher said it was due to a technical glitch, she didn't elaborate.

Incredible energy in the audience.

Didn't recognize any celebs in the audience, but after the fashion show segment, SJB pointed into the audience and Bob



Anyone think Cher will be at the last Cher Show on Sunday? Aug 17 2019, 06:07:58 PM


I hope so! I'll be there. Hoping to see Bob Mackie as well and perhaps some other celebs. Her Las Vegas residency doesn't start again for a few day, August 21. I'm wondering if the closing date was selected so as not to clash with her LV concert and she could attend the show.






Moulin Rouge seating Aug 17 2019, 05:56:54 PM






Just saw MR. I was anxious about the height of the passerelle for Row C (the first row of traditional seats behind the CanCan tables). But no problems with sight lines. I'm 5'9 and my eye level was basically level with the top.

**MINOR SPOILERS**

PROs: Tons of interaction with the cast before and during. Today, Danny poked me with his cane in the opening number and lovingly called me "filth". The



You must log in to view off-topic posts.