Profile for Mr. Nowack
| | |
| --- | --- |
| Member Name: | Mr. Nowack |
| Contact User: | You must be logged in to contact BWW members. |
| Gender: | Male |
Most Recent Message Board Posts:
View Off Topic Posts
LaChiusa's Wild Party 20 Years Later
Apr 18 2020, 09:35:22 PM
I love love LOVE the score. I have never had a chance to see it but I think the material is fantastic. The score manages to sound so period and so modern at the same time.
Vanity Fair First Look at WEST SIDE STORY film
Apr 18 2020, 09:26:23 PM
It's really hard to tell just from the scraps we've seen. Some of them make it look slick and modern in an almost Disney Channel way. But others look like a real color photo from 1957. But I'd like to see a trailer before I pass any strong judgement.
What was the worst Tony season?
Apr 6 2020, 06:30:27 PM
So funny to start reading this thread as if it was just started yesterday and the early posts are over a decade old. And blaxx's statement about "this" season echoes true today...

What about the 1969/70 season when the two main best musical nominees were APPLAUSE and COCO? With other eligible musicals including GEORGY, BILLY and CRY FOR US ALL???
Broadway Songs with twist endings
Apr 6 2020, 06:16:44 PM
Off-broadway but "Starsong" from ONE WAY TICKET TO BROADWAY. A completely earnest song about wishing on a star, with these final lines:

"In this city on the clearest of nights

I search the skies in vain

cause no matter what you do

your wishes won't come true

when you wish upon.. a plane"
Favorite cast albums
Mar 25 2020, 09:19:38 PM
NINE 1982 Broadway Cast

HIGH SPIRITS 1964 Broadway Cast

A LITTLE NIGHT MUSIC 1973 Broadway Cast

DEAR WORLD 1969 Broadway Cast

THE WILD PARTY 2000 Broadway Cast

STARTING HERE STARTING NOW 1977(?) Off-Broadway


Remembering LOVE LIFE
Mar 25 2020, 09:17:05 PM
I totally agree. Either part of a later season or as a special one off event. Perhaps the cast can't be the same but it would still be a joy.
Remembering LOVE LIFE
Mar 23 2020, 01:11:29 PM
See also this performance of Nanette Fabray singing Green Up Time:


Remembering LOVE LIFE
Mar 22 2020, 12:29:38 AM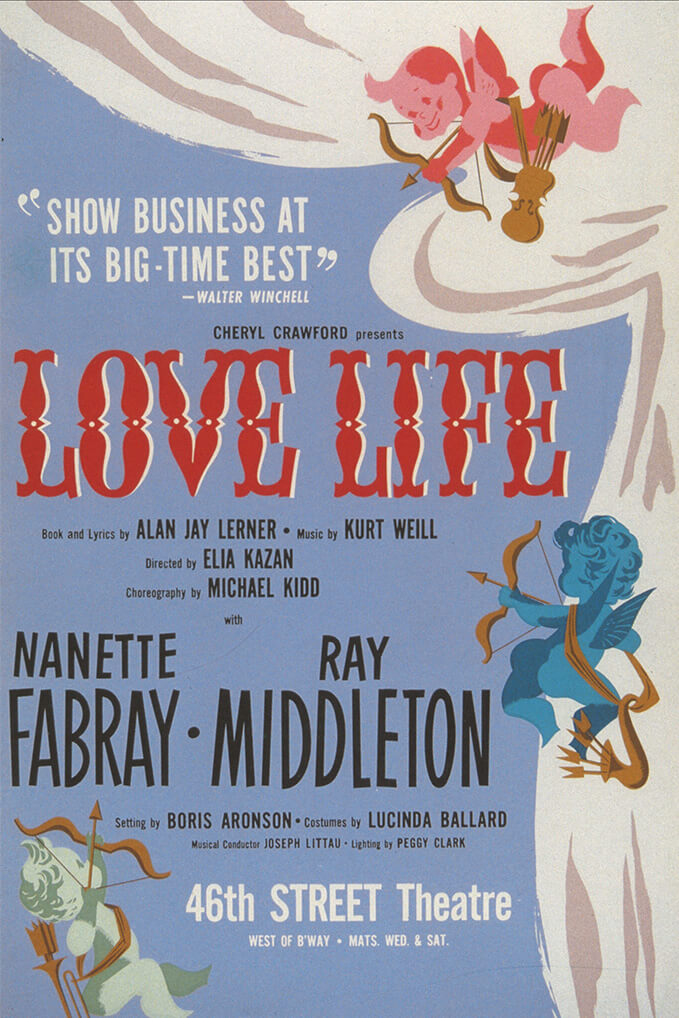 Sadly current events killed Encores! production of LOVE LIFE, which would have had its final performance today, but why not celebrate it regardless.

Opening in October 1948, the show was a collaboration between Kurt Weill and Alan Jay Lerner and pioneered the concept musical format later utilized in sh



College cancels ADDING MACHINE musical for being too "disturbing" Nov 30 2019, 12:25:31 AM


A local college here in Pittsburgh recently canceled their production of ADDING MACHINE the musical because of outrage that the piece was too "disturbing." I was intrigued to see something a little different and unusual among the endless Into the Woods and Drowsy Chaperone productions, but the masses spoke and it was canned.

I'm not really that familiar with the piece but does anyone else have issues with it? Is it actually worth this kind of backlash or is it a



The New Yorkers Encores Nov 2 2019, 10:25:36 PM


Talk about delayed gratification. Definitely going to have to pick it up, even though I was disappointed they didn't reconstruct it closer to the original show.




Unique productions of MAMMA MIA? Sep 24 2019, 03:14:05 AM


The classic version set in a circus, of course.




RIP Phyllis Newman Sep 17 2019, 01:40:27 AM


How did I forget her stellar performance in the Papermill FOLLIES. Hands down my favorite "Who's That Woman!"

It's a pity she never got a starring role of her own in a Broadway musical. The closest she came was the wacky computer dating musical HOW DO YOU DO, I LOVE YOU in the late 60s where she introduced such Maltby & Shire standards as "Just Across the River."

Ilya Darling Revival? Sep 10 2019, 12:47:32 AM


It'll play in repertory with the revival of MARY MARY directed by After Eight!




HADESTOWN to open in March at the Walter Kerr Mar 16 2019, 05:05:54 AM


Love that set,

Anyone doubting the score, I would recommend listening to maybe Chant or at least Wait For Me. It's an amazing score.

Wish the balcony at the Walter Kerr weren't so treacherous, those cheaper seats are tempting me but this is one I'm willing to shell out for.




Is "Kiss Me Kate" problematic? Jul 20 2018, 02:57:48 AM


LOL I hop back on this site on a whim and this is the sh tstorm that's brewing. Definitely taking a 180 back outta here.




Carmen Jones Thread Jun 12 2018, 01:53:58 AM


I'm curious about the orchestration as well as the performances. Really weighing trying to squeeze this in for my July trip!




Neil Patrick Harris and Rachel Bloom Jun 11 2018, 10:18:10 PM


I had no clue who she was, and they definitely did not tell us in any obvious manner. But yea it was a douchey thing to say..

And would a star actor on a major network TV show really have much contact with one of the writers, let alone his wife? I may not know anything about TV production but it seems unlikely.




Hello Dolly at EXPO 67 Jun 11 2018, 10:07:57 PM


The mod designs for EXPO 67 give me such life.




Best Original Score -- not televised? Jun 11 2018, 04:10:42 PM


I found the dichotomy of the broadcast fascinating - the sweep THE BAND's VISIT had was totally at odds with the blatant shoe horning of celebrities at every chance.





You must log in to view off-topic posts.