Profile for everythingtaboo
| | |
| --- | --- |
| Member Name: | everythingtaboo |
| Contact User: | You must be logged in to contact BWW members. |
| Gender: | Male |
| Occupation: | Sales and Marketing |
Most Recent Message Board Posts:
View Off Topic Posts
The mezzanine is not the balcony. Or is it?
Mar 14 2019, 07:40:29 AM
theaterlyfe19 said: "I wonder what it says for the August Wilson because it doesn't have a balcony. I wonder if they just say upper mezz?"

If one took the time to see that the August Wilson doesn't have a balcony, one could take two more minutes to say look further on Google, or look up Mean Girls on Ticketmaster, instead of searching for and reviving a six year old thread.
I won the digital lottery yesterday
Mar 13 2019, 12:18:15 AM
Saw it tonight and while in the morning I'm sure I'll be nitpicking, right now I'm on a high. It was really a blast. I was very worried after the sh*tshow that was Summer, but a standout cast, insanely exhausting choreography, excellent song arrangements and sound, and a slick production made the evening fly. Could we all have as cool as introduction as Ephraim Sykes?

Yes, I was annoyed by the side trip into "Motown: This Was Also Going On The M


CENTER THEATER GROUP - Worst Season Ever?
Mar 4 2019, 12:01:42 PM
When I read the announcement, I was sure I missed something and started over. That's it? That's all they got? I feel bad for you guys that have or were planning to subscribe.
Will Glenn Close get her Oscar for Sunset?
Feb 28 2019, 07:12:36 PM
I still can't imagine this happening. And even if it's done, how many Best Lead Actress Oscars have been awarded for musical performances? Nicole Kidman and Rene Zellweger arguably could've won their years, but instead won a year or two later. So many Glenn can lose for Sunset and then win for the follow up to that.
Oscars set - the real host
Feb 26 2019, 10:58:49 AM
Looking at it from a TV angles viewpoint, I though the proscenium made for some pretty pictures, depending on how it was lit - straight on though, it looks weird. I loved that they did for Bette's number, but Jennifer's backdrop was ugly. But I thought the use of the red and the patterns worked really well as backdrops to the speeches.

But what really annoyed me were those stairs. The last thing these people, who are so distracted thinking about what they're about to say in


BE MORE CHILL (Broadway) Previews
Feb 25 2019, 08:03:38 PM
slumdogdelaware said: "One kid was in a tux with a red bowtie saying it was the best thing he ever saw, and that was a really sweet thing to see."

It wasn'tIain Armitage, was it? I ran into him all dressed up in a tux at The Color Purple a few years back."

No, it wasn't, but I totally forgot about those days, he's too busy being a huge CBS star now!
BE MORE CHILL (Broadway) Previews Feb 25 2019, 01:50:13 PM
Saw this show last night. Mostly enjoyed it. Don't know anything by Joe Iconis, and song were catchy and well-arranged. But could I hum you a number from the show? Not at all. And that first act closer goes on way too long, I started dozing off. But some good performances overall and a strong book. I honestly haven't a clue how it'll do come awards season.

I will say it was definitely a different audience last night than the usual Broadway crowd, but for the most part they were definit


Any tips on restrooms and bars at Shubert Org venues?
Feb 13 2019, 01:59:59 PM
Shubert's website should have this information, no?
ANASTASIA Sets March 31st Closing Date
Feb 5 2019, 08:22:20 PM
I can kind of understand shows closing around Easter weekend, but all of these shows closing during the middle of a peak spring break period is so bizarre.
Hair
Feb 4 2019, 10:56:18 PM
I think appreciation for these had gradually been taken over by live-tweeting to see who can come up with the best snark. I never expected Hair to actually happen, and after the reaction to Rent, I just knew this was dead in the water.
My Very Own British Invasion Previews
Feb 4 2019, 03:47:39 PM
Any updates on this? I not sure I get what the plot is supposed to be, something about Peter Noone? The newly released production images don't help, and their website doesn't show a song list or even a cast list.
RENT Live on Fox
Jan 31 2019, 10:56:06 PM
Finally, Rent is now streaming on Hulu. Adding to my queue for this weekend, so I can watch it from the actual start, not 5-7 minutes into it like it aired here.
My bi yearly reminder that Into the Woods Live would be amazing
Jan 28 2019, 05:19:34 PM
Doesn't matter if it would actually turn out good or not, people are just going to hate-watch it regardless.
Jan 26 2019, 12:32:16 PM
'Leaving Neverland': 5 Shocking Moments From Michael Jackson Sexual Abuse Doc

"Moments before the screening began, festival director John Cooper informed the packed house that health care providers supplied by the state of Utah were standing by to offer counsel for t


RENT Live on Fox
Jan 25 2019, 07:28:37 PM
From Anthony Rapp's social accounts: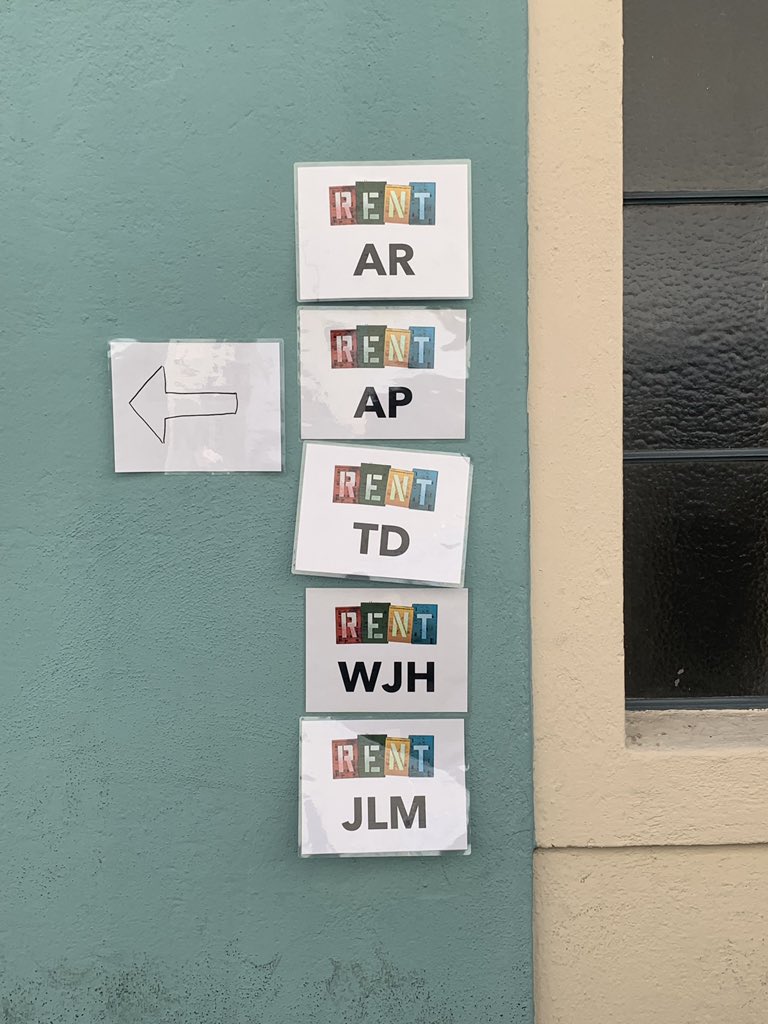 Shubert not postdating for Waverly? Really?! Jan 23 2019, 05:01:59 PM


The OP changed the subject thanking Waverly Gallery/Shubert/Golden Theatre for this great evening, but I really wish he stuck to the original "Shubert not postdating for Waverly? Really?!" to show the great sense of entitlement that precluded being able to be let into the show, including his "that's how it should've been done" as he was finally let in. I mean, I'm glad he got to see it. but wow, but wow. The nerve.




Scott Rudin claims worldwide exclusivity to professional stage rights to To Kill a Mockingbird, forces cancellation of UK Tour. Jan 21 2019, 12:54:36 PM


The Curve announced today that the UK and Ireland Tour of To Kill a Mockingbird has been cancelled, blaming Scott Rudin:

It is with regret that the forthcoming UK and Ireland tour of To Kill a Mockingbird, previously announced on 16 July, 2018, has been forced to cancel.

The Christopher Sergel adaptation of the novel was licensed to Jonathan Church Productions by Dramatic Publishing Company. However, on 11 January, 2019, lawyers acting for Atticus Limited Liability Company,



Chicago the Musical Appreciation Thread Jan 19 2019, 01:12:34 PM


Whatever is the first performance after AFW and Cuba are both gone is the one I'll be buying a ticket.




Frozen replacements Jan 15 2019, 05:00:28 PM


RWPrincess said: "I wonder if Disney did this or if the actors left by choice. Looks like I'll just miss them as I'm seeing this on Feb 9."

I'll be a year next month that the show started previews, so it's about the time the cast starting turning over. I'm sure as with most actors, they want to move onto something new, I can't imagine Disney forcing anyone out that doesn't want to go.




Original Production of LES MISERABLES in London Will Take Hiatus and Re-Open With New Staging Jan 8 2019, 09:02:47 PM


I'm one of the few that prefer the revised version, but that said, I'm still shocked that a production that still regularly sells out is going to be dropped for what many consider a lesser version. Maybe they figure most tourists won't notice the difference so long as there's a Les Mis in London that will pick up right after the original closes?

In terms of new production's cast, I think in London they tend to begin new contracts at the same time, so maybe



You must log in to view off-topic posts.