Profile for artscallion
| | |
| --- | --- |
| Member Name: | artscallion |
| Contact User: | You must be logged in to contact BWW members. |
| Gender: | Male |
| Occupation: | Artist |
Most Recent Message Board Posts:
View Off Topic Posts
Gifting Actors
Jun 17 2019, 01:50:37 PM
I'd bring something small and memorable, like a nice vest made from the skin of the last actor you stalked.
Ginger Minj and Jinx Monsoon from Drag Race in Xanadu Tour
Jun 12 2019, 06:07:28 PM
ACL2006 said: "who's playing what role?"

I believe they're playing Melpomene/Medusa and Calliope/Aphrodite, the tracks Mary Testa and Jackie Hoffman played. Though I'm not sure which is playing which.




Tootsie controversy
Jun 12 2019, 11:30:49 AM
I don't think the show itself is at all trans-phobic. But I think transphobic people will mistakenly see it as affirming their trans-phobic views (straight men dressing up as women to gain access to women's bathrooms.) In my opinion, to buy into, or even argue that notion only lends credibility to the transphobs' misguided fear/hate by acknowledging it.

In my opinion, it would be wise to ignore the controversy. It's not right to direct blame at the show, when the sh


Shorts in the theater
Jun 12 2019, 09:30:56 AM
Not all shorts are disrespectful.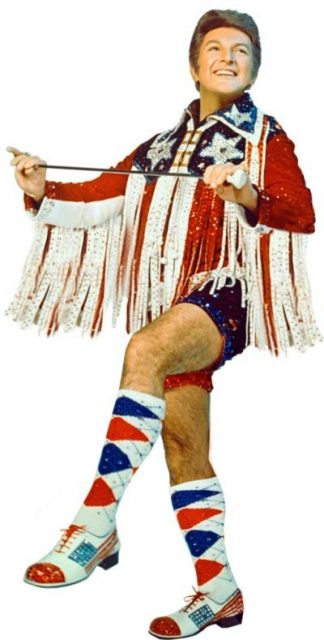 Tootsie controversy Jun 10 2019, 03:07:20 PM


SweetLips22 said: "'I'm not gay but $20. is $20.'"

Put THAT on a t-shirt and I'll buy it!




Musicals that make you laugh and make you cry? Jun 3 2019, 12:29:13 PM


Grey Gardens

Sunday In The Park With George

Into the Woods

Assassins

Once

Really, there are thousands. It's a thing.




Hugging Actors At Stage Door Jun 3 2019, 12:11:13 PM


I would suggest that asking a stranger for a hug is also inappropriate. It puts them in the uncomfortable position of having to say no, which can be awkward. So some will end up saying yes when they really want to say no. Do not hug, or ask to hug strangers.




FOSSE/VERDON May 30 2019, 06:31:34 PM


GiantsInTheSky2 said: "Are you trolling, or are you really THAT big of a pain <>? Who cares about knife accuracy, unless it's actually a plot point?"



I'm neither a troll, nor a big pain...
The knife stood out to me and took me immediately out of the moment as much as seeing a gladiator wearing an iwatch would. When you add up a lot of these little anachronisms in one series, it becomes an issue. If it doesn't bother you



FOSSE/VERDON May 30 2019, 09:52:45 AM


Condensing events for times sake should not be done if it changes the meaning of those events. To me the shocking thing about the sex scene with Ann was the very fact that it happened when they show it happening, right after heart surgery. It said a lot about him in that he would even ask her to do this. And it says a lot that she would give in and do it against her better judgement. To me, it actually felt more like power and abuse, than sex. And none of that comes into play if you remove th



FOSSE/VERDON May 26 2019, 08:15:10 AM


The Wikipedia page on payphones says, "On average, pay phone calls generally cost 5¢ into the 1950's and 10¢ until the mid 1980's. Rates standardized at 25¢ during the mid 1980's to early 1990's."
I interpret this to mean that it was only a nickel until it changed to a dime sometime during the 50s. Then it remained a dime until the 80s.

Payphones






FOSSE/VERDON May 16 2019, 06:26:29 PM


PerforMeg2 said: "BTW a very fun PBS documentary on YouTube from the early '90s about Bob, showing him dancing early in his career, with Verdon commenting...forgive me if others have posted.https://www.youtube.com/watch?v=1wnSGs33JK4.)!"



I thought this documentary was far more entertaining than Fosse/Verdon is. I find it a ploddingly depressive exercise with editing that constantly reminds me



Great Scores But Weak Shows? May 14 2019, 02:10:58 PM


Sondheim's Passion has an astonishingly beautiful score with a terrible story.






Teaser trailer for Judy w/Renee Zellweger May 12 2019, 08:04:24 AM


Does anyone know what they're trying to replicated at about :15 in the trailer? I can't think of any Judy film, or any press film or photos for that matter, that shows her jumping into a pool, particularly showing her from underwater. Unless it's just her jumping into the Esther Williams underwater filming tank at a studio party. Though I'd think there'd be filmed evidence of this somewhere. Only pool photos I've seen are Judy, Mickey etc at L B Mayer's home pool f



Horror On Broadway Mar 28 2019, 11:12:02 AM


brox22 said: "The Innocents by William Archibald
Based on Henry James novella "The Turn of the Screw""

This is what season 2 of "The Haunting of Hill House" is set to be based on. I believe titled, "The Haunting of Bly Manor", which is the name of the estate "The Turn of the Screw" takes place in.

In anticipation of this, I recently watched one of the many movie versions of the book,



Horror On Broadway Mar 26 2019, 03:02:54 PM


When I saw Doyle's Sweeney Todd, there were a few people that would titter and giggle whenever anything intense happened (like Epiphany.) I think some folks get uncomfortable at things that are too scary or too intimate and they giggle as a release. Then it gets contagious and other people hear it and giggle too, thinking it's camp. We saw this happen with Sondheim's Passion. People found it easier to deal with as camp than as the actual intensity that was intended, especially in



Evan Hansen IS a sociopath Mar 16 2019, 07:04:46 PM


Impossible2 said: "artscallion said: "In summary, you pretty much have to be a Batman villain to be classified as a sociopath. Evan, on the other hand, just a mildly messed up teen."

He doesn't show any of the traits of any of the Cluster B personality disorders, even the lesser scale ones.

He doesn't have the over the top emotional reactions of someone with Borderline Personality Disorder nor the ME ME ME or crueltraits of someone wit



Evan Hansen IS a sociopath Mar 16 2019, 08:03:41 AM


In summary, you pretty much have to be a Batman villain to be classified as a sociopath. Evan, on the other hand, just a mildly messed up teen.




Evan Hansen IS a sociopath Mar 12 2019, 03:52:12 PM


He's certainly got his problems. But I wouldn't call him a sociopath since he demonstrates empathy for others. And it's clear that he doesn't consider himself to be superior to others. Those are two of the main defining characteristics of a sociopath.

I think he behaves badly, but I don't think it's out of the scope of what many people would be capable of. I don't think he's a hero. But I also don't think he's a sociopath. I think he's just a



Complimentary tickets Feb 15 2019, 01:30:19 PM


I happen to be a Sales and Marketing Manager at a theatre. I'm not making anything up.






Complimentary tickets Feb 15 2019, 01:12:16 PM


JSquared2 said: "If a block of tickets was given to, say, the ad agency, they probably wouldn't know who was using them --- but at least they knowto tell the ad agency one of their people was caught selling comps. Then the ad agency will deal with it internally."

In that scenario, the ad agency may use tickets in any number of ways. They may give some to a delivery boy as a tip. The delivery boy may then give them to his Grandma because she likes theatre. She may



You must log in to view off-topic posts.