Profile for MX888
| | |
| --- | --- |
| Member Name: | MX888 |
| Contact User: | You must be logged in to contact BWW members. |
| Gender: | Female |
Most Recent Message Board Posts:
View Off Topic Posts
Bad Theater Behavior
Nov 24 2019, 12:25:35 AM
At The History of Violence at St. Ann's Warehouse the other night - no less than 4-5 people either: kicked a can/plastic cup or dropped a phone. It's a pretty quiet show with a lot of dialogue (compounded with the fact that a majority of the patrons are trying to concentrate on the action and reading the English supertitles!!). At least there were no walk outs midway thru...
Oklahoma! Attendance recently Nov 19 2019, 11:45:22 PM

Rebecca posted that she'll be in Atlanta until Thanksgiving doing post-production for the Aretha miniseries. Will Brill (Ali Hakem) has been out also filming a show or something. He was on a little break and was able to be in the audience for their 250th performance. I did notice his name is completely off the cast board... I hope he's coming back but Chris Bannow is great
Bad Theater Behavior
Nov 18 2019, 09:33:54 PM
The 16th Anniversary of Wicked - mother and son duo wouldn't stop their full volume talking during Act 1. After the first song, the son asked, "Wow, I wonder if they lip-sync." Apparently they were a part of bigger group that were scattered around the theatre because he kept on texting with them throughout the show (at least the screen was at the dimmest setting?). Another couple came late and the lady pulled out her phone to video/take photos. I guess the guy in my ro


Oklahoma! seating
Nov 18 2019, 07:57:12 PM
Here you go... hope that helps... it's definitely an aisle seat that's closest to the exit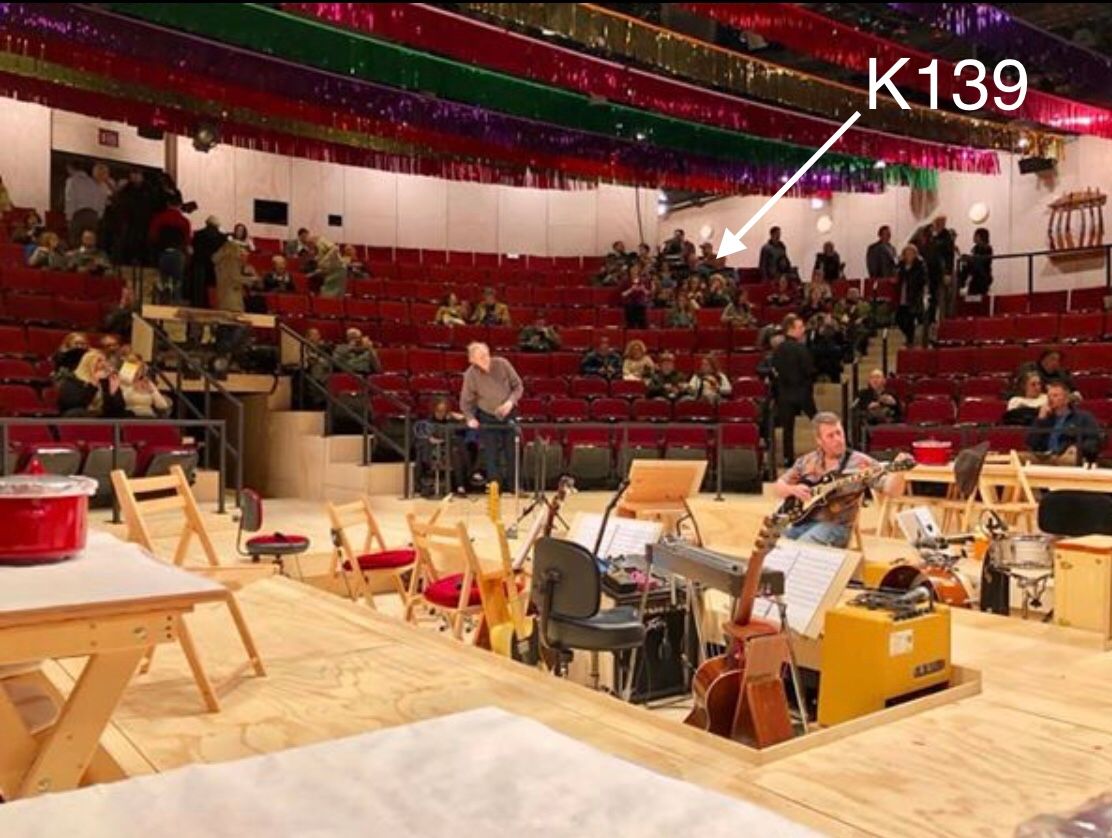 rjm516 said: "Ok man no need to be so rude. Of course I am looking at the seating chart but it doesn't say if a seat is on a aisle or how many off it it is like many U.K. sites do. And ok maybe not a "wall&r


Red Bucket Follies Collections
Nov 13 2019, 10:37:25 PM
AllThatJazz2 said: "Got to answer my own question today re: Betrayal. $40 for signed playbills, $100 for signed posters."

Betrayal tonight: Posters are still $100 but Playbills have gone up to $50


Red Bucket Follies Collections Nov 13 2019, 12:38:29 AM
Moulin Rouge: posters $200, Playbills $60 (my copy doesn't look as fully signed like the poster tho but I haven't counted the sigs), Carols for a Cure CD $20

Little Shop: Posters/Playbills are definitely signed by Gideon (still have to cross check for Groffsauce's)

Oklahoma!:
show used guitar string bracelets $100
show used guitar pick earrings $80
Square block of the plywood floor with fake blood splatter (signed by Damon, Rebecca and Patrick) $125
Carols CD $


The Official TDF Thread
Sep 27 2019, 04:51:14 PM
Oklahoma, late August 2019 - F227

Scotland, PA 9/25/19 - orch A105 (front row!

)

Linda Vista 9/26/19 - orch O107



*edit to add: anyone find it so strange that Inheritance, Part 2 sold out so quickly but there's plenty of availability for Part 1?




Damon Daunno attendance Sep 16 2019, 09:48:13 AM


Damon was in on 9/10; on Thursday 9/12 and he (and Will Brill) were out. A friend who saw the show with me on Tuesday, won the matinee for Weds and she mentioned to me that Damon was very ill...

Damon is a big draw for me (as well as Rebecca) but his understudy, Denver, is fabulous.




Bad Theater Behavior Sep 9 2019, 08:56:26 PM


I've seen Oklahoma! several times and without fail, there will be at least 1 rude person who will turn on their phone during the complete blackout scene in the smokehouse with Curly and Judd. Once, this lady texted throughout Act 1 - the usher walked so slowly to where the patron was (Row F247 - second to last row on aisle) that she was able to put away her phone when she was spoken to only to pull it out again when the usher left. I'm surprised the people surrounding her di



Roles on Broadway that are not normally wigged? Aug 3 2019, 06:33:43 PM


The Great Comet: Helene, Marya D., Natasha and Summaya Ali (ensemble/violin) wore wigs that closely matched their natural hair; other ensemble members, Mary and Sonya wore extensions (the latter two to help hide their mic packs).

OBC Harry Potter, of the 'Magnificent 7', Ginny (Poppy Miller), Ron (Paul Thornley) and Albus (Sam Clemmett) were unwigged. Hermione (Noma Dumezweni) and Harry (Jamie Parker) definitely wore wigs. I don't think James Snyder



OKLAHOMA! Previews Jul 30 2019, 08:21:40 PM


If anyone going to the show in the next couple of days could let me know if any principal cast members are on vacation or are out (barring illness of course)? Thanks in advance!




Broadway actors in bands Jul 25 2019, 02:57:42 PM


Brittain Ashford (Great Comet): Prairie Empire

Steve Boyer (Hand to God): The U.S. Open

Shannon Connelly (u/s Yitzhak in Hedwig): Lez Zeppelin; Supersonic Blond




The Jungle - St. Ann's Warehouse Jul 16 2019, 10:58:53 AM


I just hope they keep the prices a bit more reasonable like they did during the initial St. Ann's Warehouse run; it was about double for the regular floor seats at The Curran (it rarely sold out there??). I wonder if they'll add the Cliffs of Dover seating (mezz) seats this time too.

I hope they rebuild the Good Chance Theatre's dome again!




Having trouble getting 1 ticket for Hadestown in Ticketmaster Jul 10 2019, 05:21:44 PM


Count me in as another frustrated single ticket purchaser on TM! Seriously, I want to say it's like a discriminatory practice (I think I read somewhere that this is dictated by the producers?) - I hate calling customer service. Forget it if it's a hot-ticket show because while waiting forever on hold, tickets disappear before your eyes UGH...

I also hate how you can't easily look over a wide range of dates like Telecharge. I would definitely choose purchasing thr



**SOLD** - JCM's Origin of Love at Town Hall - 6/27/19@8pm Jun 27 2019, 08:34:27 AM


**TICKET HAS SOLD**






HAMILTON Principal Cast Replacements Apr 10 2019, 12:00:08 PM


Does anyone know if Denee Benton is back? Adored Comet and would love to try cancellation line to see her as Eliza... Thanks!




BEETLEJUICE Previews Mar 29 2019, 03:07:20 PM


LightsOut90 said: "annnnny merch reports?"

The logo tee as a subtle tonal black stripe effect

The names tee has a faux "denim wash" look (same as the hadestown one below) - wish it was a plain black tee but it was super hard to see with the lighting at the merch booth in the back of orch

The ringer tee says "I myself am strange and unusual"

No windowcard yet

Sippy cups have the same design as the magnet



BCEFA 2019 Easter Bonnet Collections Mar 29 2019, 02:32:56 PM


Marianne2 said: "OKBroadwayFan said: "msmp said: "IsKiss Me, Kate doing anything this year?"

I was this there this past weekend, they said that since they just opened, they would be participating later this month."

As of Saturday, they still had nothing."

Was there on 3/27 and they were only taking donations but nothing signed




BCEFA 2019 Easter Bonnet Collections Mar 11 2019, 01:32:38 AM
Mean Girls:
cast signed posters and Playbills
"I'm a cool mom" apron. Sorry... didn't get prices!

Tina Fey made a surprise appearance and they auctioned off a meet and greet with her after the show, a signed Playbill and photo op. The top 2 bidders paid 3k each; winners were able to take up 4 ppl total.


Gary: A Sequel To Titus Andronicus Previews Mar 9 2019, 08:59:43 AM


david67 said: "I have tickets for the matinee today and have still heard nothing from Telecharge. Thank you all for posting here or I wouldn't have known!

I just called Telecharge and they said it's still on. I am very confused."

Likewise, if I didn't read it on BWW, I would've never known! Just called Telecharge and they confirmed both shows are cancelled today. Ended up refunding the ticket and will repurchase later.

Extra disa



You must log in to view off-topic posts.