Profile for Kitzarina
| | |
| --- | --- |
| Member Name: | Kitzarina |
| Contact User: | You must be logged in to contact BWW members. |
| Gender: | Female |
| Location: | Wichita, KS |
| Occupation: | Senior Administrative Assistant |
Most Recent Message Board Posts:
View Off Topic Posts
re: Weird Facial Expressions Dec 11 2008, 01:30:53 PM
The first name to enter my head when I saw this was Betsy Joslyn. As my friends and I like to say when we watch the Sweeney Toddy dvd:

"That girl's got them crazy eyes!!!"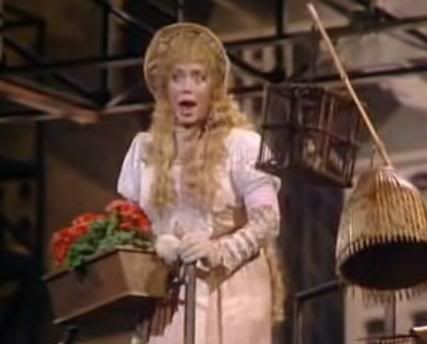 re: Politics and Broadway Oct 15 2008, 03:05:32 PM
"The Ballad of Booth" from Assassins
"Another National Anthem" from Assassins
"Do You Hear the People Sing" from Les Miserables
"A New Argentina" from Evita
"The Flagmaker: 1775" from Songs for a New World
"Tell Them the Truth" from Reefer Madness
"The Egg" from 1776
"The Night that Goldman Spoke in Union Square" from Ragtime

...pretty much anything from Assassins or 1776. Both utterly brilliant shows that hold special spots in my heart.


re: Shows you'd give your right arm to be in? Oct 14 2008, 10:45:57 AM
Les Miserables
Cabaret
Sweeney Todd
Into the Woods (this time as the Baker's Wife)
Assassins
Kiss of the Spider Woman
Parade
Ragtime
Avenue Q


re: Is excessive cursing necessary on stage? Oct 9 2008, 12:09:25 PM
My only problem is when cursing doesn't serve the plot or the characters; it's just thrown in for "shock value." There are authentic examples where characters would speak with that language, and in those cases I find it not only necessary but vital to the integrity of the production. In my Dramatic History class last year, some of the students wrote off "Angels in America" immediately due to the language used by Roy Cohn in the first few pages of the play. I (along with my teacher and a few o


re: Overtly Political Musicals
Oct 7 2008, 05:36:26 PM
Amanda Smith: And then, also, the anti-abortion lobby in the United States has used a line from Horton Hears a Who, the line that says, 'A person's a person, no matter how small.' Would that have been in accord with Seuss's intended meaning?


Philip Nel: Absolutely not. In fact, during his lifetime Seuss threatened to sue an anti-abortion group unless they took that off their stationery and they did take it off their stationery but it's still used. I've still seen propaganda in r
re: Overtly Political Musicals Oct 7 2008, 11:42:20 AM
Reefer Madness


re: Overtly Political Musicals Oct 6 2008, 05:24:28 PM
Assassins
Pacific Overtures

Miss Saigon and Les Miserables both have heavy political subplots, even if they aren't the main focus of the story.


re: Rob Guest, current star of Melbourne's 'WICKED' passes away... Oct 1 2008, 02:58:56 PM
Yes, he was the Australian Valjean at the TAC. Very sad news; I'm sending my best thoughts to his friends, family, and fans back in Australia.


re: Reefer Madness Recording
Sep 30 2008, 01:10:28 PM
http://www.broadwayworld.com/board/readmessage.cfm?thread=980091#3684253
re: Financial Crisis Effect On Broadway Sep 29 2008, 07:34:56 PM
That. Is. AMAZING.


re: broadway halloween costumes Sep 29 2008, 07:34:02 PM
EugLoven, you HAVE to post pictures of that costume. I remember it and it was pretty amazing.


re: I Love ( ) and I'm not ashamed!! Sep 29 2008, 04:55:41 PM
* RENT
* the second act of Sunday in the Park With George
* the second act of Into the Woods
* Seussical
* The Scarlet Pimpernel
* Hairspray
* Titanic
* Aida
* Les Miserables
* Spring Awakening
* Rags
* Jane Eyre (pre-Broadway)
* Curtains
* You're a Good Man, Charlie Brown


re: broadway halloween costumes Sep 29 2008, 04:36:32 PM
I usually do Broadway costumes, but it is hard when you go to parties that aren't full of fellow theatre dorks. Plus I usually volunteer for a Trick-or-Treat alternative in town which requires "child friendly" costumes.

In the past I've gone as Velma Kelly, Opehlia, Eponine, the Lady of the Lake, and Drunk Judy Garland. I think this year I'm going to break the trend and go as Tonks from Harry Potter. Cheap and easy costume that should translate well with the kiddies. Plus I've alway


re: 'Reefer Madness' to be released 10/28 Sep 26 2008, 03:17:22 PM
I have been waiting YEARS for this news! How unspeakably fantastic!!!! :)

*can't wait to throw out her crappy bootleg DVD soundtrack*


re: Economic Depression will kill new shows this fall Sep 25 2008, 04:03:54 PM
For me the scariest possible outcome of an Economic Depression would be the death of challenging material on Broadway. In an age where shows like Caroline, or Change and Grey Gardens can close severely in the red while tourists continue to flock to spectacle-filled and substance-lacking shows like Wicked, what producer is going to be willing to finance a small artistc show on Broadway? We've already seen how difficult it is for niche shows like [title of show] and Passing Strange to survive; e


re: Favorite songs about unrequited love Sep 22 2008, 06:57:03 PM
On My Own -- Les Miz
You Should Be Loved -- Side Show
Unusual Way -- Nine
A Fine, Fine Line -- Avenue Q


re: Reefer Madness Recording Sep 11 2008, 10:13:38 PM
The writers had some threads on here awhile ago where they mentioned that they were working on releasing a soundtrack of the Showtime movie. Last I remember hearing, it was put on hold because of the writer's strike.

So I'll just keep playing the audio that I ripped from the DVD until an official soundtrack comes out



re: Les Miserables CSR Performances Aug 22 2008, 06:56:09 PM
I saw Barry James as Thenardier when I was in London in 2006. I was thrilled for the opportunity because he has always been my favorite Thenardier; for me he is the only recorded person who has managed to be funny and utterly scary. Unfortunately, he seriously phoned in his performance the night I saw him. I was very disappointed and rather underwhelmed.


re: Cast Recording you hate from a show you like Jul 31 2008, 12:23:28 AM
The OBC of Les Miserables is horrifyingly bad. In 10 years, I think I've only listened to it about five times.


re: The Little Mermaid on the Tonys Jun 16 2008, 09:29:35 AM
I agree with everything stated. The singing was bad, the costume was worse, and she had little to no stage presence at all. It looked like a girl on YouTube who has seen Amy Adams in Enchanted a few too many times. If this is what The Little Mermaid is like, I'm glad I didn't make the trip to Denver last summer.



You must log in to view off-topic posts.