Profile for DramaDork925
| | |
| --- | --- |
| Member Name: | DramaDork925 |
| Contact User: | You must be logged in to contact BWW members. |
| Web Site: | http://www.myspace.com/dramadork925 |
| Blog Address: | |
| Gender: | Female |
| Location: | Massachusetts |
| Occupation: | Student |
Most Recent Message Board Posts:
View Off Topic Posts
re: RENT: Student Edition Jul 19 2007, 12:20:37 AM
I have some live action pictures (they're both from You'll See) and a picture of Angel just because he looks fantastic.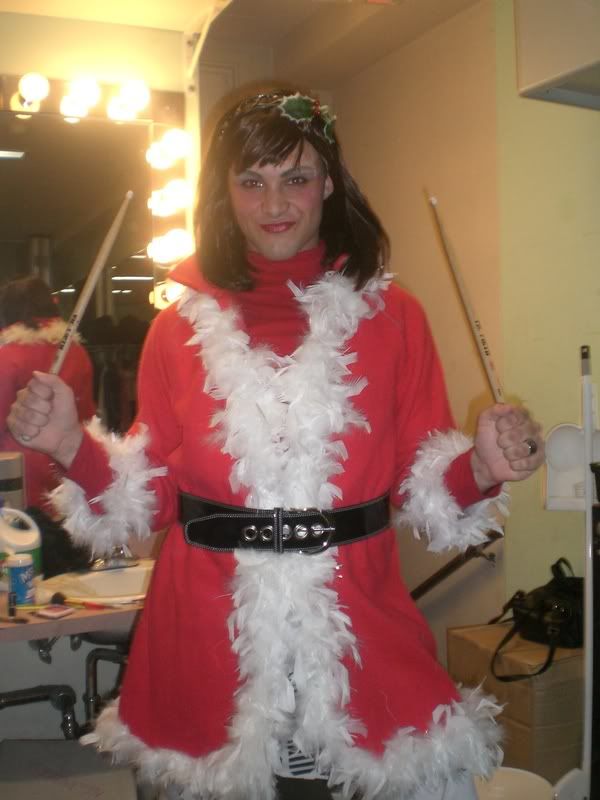 re: RENT: Student Edition Jul 9 2007, 12:23:07 AM
Hopefully I'm not reopening this can of worms but I thought you might like to see some pictures of our production of RENT...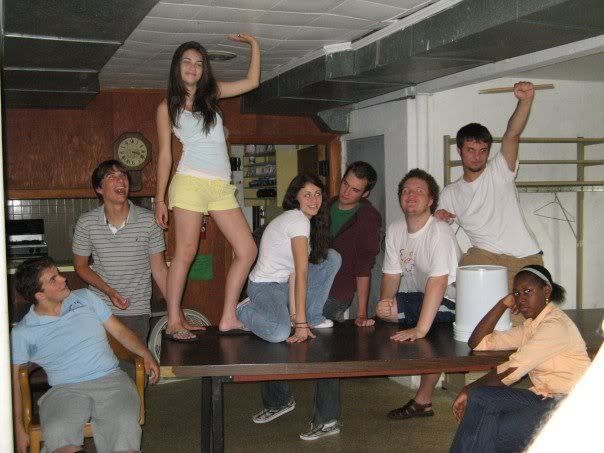 from left to right: Benny, Mark, Maureen, Mimi, Roger, Collins, Angel and Joanne



This is Santa Fe... I'm the blonde sitting on


re: RENT: Student Edition Jun 23 2007, 09:01:59 PM
I understand the frustrations and I agree with them but its more of an MTI issue than an issue with my production. It's not our faults we can't do that and the licensing was so limited and it was such an honor to get to do it why would we turn it down? We originally set out to do the normal version of RENT but they asked us to do the Student Version so they could see how it works out. I know if I say trust me the message isn't lost and the power of Angel and Collins' relationship isn't lost but


re: RENT: Student Edition Jun 23 2007, 08:46:43 PM
I understand the point of the kiss but its not like its a make or break moment in the show... Unfortunately homosexuality is STILL taboo in our society and I dislike just as much as anyone else but this is a school edition and we are required to used the cuts MTI gave us so they can see how they work. Our Collins and Angel have been doing fantastic jobs creating an intimacy between the two of them that doesn't need kissing. When they are performing there is absolutely no doubt that they a


re: RENT: Student Edition Jun 23 2007, 08:36:35 PM
That's putting a whole lot on one little kiss. I mean the relationship between Collins and Angel is a little more "family friendly" now but is still the purest love story in the show. I agree that its important to keep the integrity of the show alive but cutting one kiss doesn't ruin the rest of the show or its message. The cast is phenomenal and last time I checked it was "No day but today" not "No day but today and gay kissing" The message of the show is still going to be alive no matter what.


re: RENT: Student Edition Jun 23 2007, 08:25:57 PM
Cabaret is being done by adults. This production of RENT is not affiliated with a High school, but a Young Adult theatre company. We're splitting set costs with another adult theatre company by sharing a set. Unfortunately we aren't allowed to override cuts. They're really stict about them.


re: RENT: Student Edition Jun 23 2007, 08:19:06 PM
All I know is Jonathon Larson's father contributed to the editing.


As for the set, its similiar in someways and different. It never changes in the sense huge set pieces being moved on and offstage. It is also being used for the production of Cabaret that is happening right after our production of RENT so it is very bare bones.


re: RENT: Student Edition Jun 23 2007, 08:11:24 PM
Ritalin break... you?.... ooooh shiny.


re: RENT: Student Edition Jun 23 2007, 08:05:36 PM
uncommontheatre.com


re: RENT: Student Edition Jun 23 2007, 08:02:39 PM
In our version Maureen and Joanne are still kissing and Maureen kisses another girl during La Vie Boheme. We were all a little annoyed when we read that Angel and Collins aren't supposed to kiss because a.) the entire cast is very open minded b.) this is Massachusetts we're born liberal c.) it feels wrong to do that in a show so much about openness and self honesty and stuff but our director just reminded us that this show will someday be performed in schools in far less openminded areas. Gay ki


re: RENT: Student Edition Jun 23 2007, 07:48:55 PM
How did it go?


re: RENT: Student Edition Jun 23 2007, 07:42:51 PM
It's been a lot of content... primarily stuff they believe that young adults (in a high school setting) would be uncomfortable with. For instance, "kiss me its begining to snow" was changed to "honey its begining to snow" and stuff like that. Kind of pointless and dumbed down but the roots of the show are there.


RENT: Student Edition Jun 23 2007, 07:38:42 PM
I'm currently in one of the first adaptations of RENT: Student Edition (I think it's the third one altogether and the first one not within a high school, but correct me if I'm wrong). This show is sizing up to be a really amazing production. Last summer our theatre company was given a great review in the Sondhiem Review for our adaptation of Assassins (the picture in me av is from it) and this year the talent has exploded (we had over 200 kids try out for the show) and our cast in fantastic. If


re: What is Bat Boy's 'origin'? Aug 29 2006, 06:45:38 PM
Shelley and Bat Boy are technically twins, they were born at the same time. Dr. Parker raped Meredith because of a pheramone he created and then the bats did as well because of the pheramone.


re: Sara Ramirez at the Emmys Aug 28 2006, 12:05:08 PM
Why wouldn't she be? She's on an Emmy nominated show.


re: Respected singers whose voices grate your nerves Aug 25 2006, 10:50:42 AM
Audra McDonald... I just can't listen to her.


re: PERFECT Cast Recordings Jul 27 2006, 11:16:48 PM
Assassins OOBC
Into the Woods OBC
A Chorus Line



re: Rent - is it winding down? Jul 23 2006, 08:03:26 PM
It was 85.2% full this week so I doubt it.


re: Board is now clean Jul 22 2006, 12:34:54 AM
Fill me in too!



Craig, you're awesome... tho I don't know what you did I'm sure it was tiresome and frustrating to do it!


re: Have You Ever Refused To Break Character ala Daniel Day-Lewis? Jul 20 2006, 12:25:05 AM
What happened to Mandy Patinkin?



You must log in to view off-topic posts.