Profile for MadAboutTheBoy
| | |
| --- | --- |
| Member Name: | MadAboutTheBoy |
| Contact User: | You must be logged in to contact BWW members. |
| Gender: | Female |
Most Recent Message Board Posts:
View Off Topic Posts
Vanity Fair First Look at WEST SIDE STORY film
Mar 22 2020, 12:32:26 AM
BrodyFosse123 said: "Hahaha. Just watched the video (you posted the same video link twice) about 10 times to see WHERE on Earth you saw cars driving backwards. Every car seen in this footage is driving forward."

Sorry about that. I posted the wrong link. Here's the correct on ( at the 1:06 mark): https://m.youtube.com/watch?v=s7nD6PAg_m8
Transgender Performers on Broadway Mar 20 2020, 10:04:56 PM
Is M. Collins Conley the one that plays "Sexy Corn"?


Vanity Fair First Look at WEST SIDE STORY film
Mar 20 2020, 10:01:10 PM
I found these, which are pretty interesting:

https://m.youtube.com/watch?v=ufbzDR8Yv9w

https://m.youtube.com/watch?v=ufbzDR8Yv9w

But in the second one, at the :20 and 1:35 marks, does anyone know why they're driving the cars backwards during filming?



P.S. Sorry these aren't hyperlinked.
Adaptations You Would Like To See?
Jan 6 2020, 06:14:39 PM
1. A musical adaptation of the Coen Brothers' film "The Hudsucker Proxy."


BEETLEJUICE Previews Dec 29 2019, 09:17:43 AM
So the Maitlands don't visit the Underworld at all? Is this to shift the focus from them as protagonists to Lydia?


CATS Film Adaptation Thread
Dec 29 2019, 09:12:35 AM
CarlosAlberto said: "sherie_worshipper said: "CarlosAlberto, what a brave and beautiful thing to do. Sometimes I remember why I love this community. Thank you."

You're welcome...and thank you"have

Bravo. Good for you for doing this.


CATS Film Adaptation Thread
Dec 17 2019, 03:50:10 PM
Isn't it strange that there aren't any reviews of this yet?
P.S. This is scaring me.

Marilyn Monroe's Singing Voice
Oct 9 2019, 01:34:40 PM
I heard the song "Bye Bye Baby" from the musical "Gentlemen Prefer Blondes" last night on Sirius FM Broadway, and it struck me what a beautiful singing voice Marilyn had. She sang in that very stylized, affected 50s Hollywood style, but she had a beautiful vibrato and trill to her singing.

People seem always to debate the virtues (or lack thereof) of her acting, but people rarely comment on what a stellar singing voice she had! I happen to think she was a brilliant


FAYE FIRED
Jul 24 2019, 05:03:45 PM
Just curious: If she ended her contracted run, how was she "fired"?
CATS Film Adaptation Thread
Jul 21 2019, 06:11:00 PM
One question that's been on my mind for years: Has the cat who gets chosen to go to the Heavyside Layer (Grizabella) expended all of his or her nine lives and so then goes into permanent retirement, never to be seen again? And what happens to the other cats who are not chosen? Or is the Heavyside Layer a regenerative limbo between each of a cat's nine lives? Why is the Heavyside Layer a desirable place to be?
CATS Film Adaptation Thread
Jul 20 2019, 09:05:46 PM
MikeInTheDistrict said: "MadAboutTheBoy said: "Is the concept any more ridiculous than that of many other fantasy,sci-fi, or live-action musicalfilms?"

To me, personally, it is. The standard for realistic effects in sci-fi or fantasy films is very high these days. One of the most important parts of sci-fi, both in written and film/television form, is world-building. There has to be a plausible explanation for the laws of the universe in which the charact


CATS Film Adaptation Thread
Jul 20 2019, 08:50:26 PM
MikeInTheDistrict said: "sueb1863 said: "They don't look anything like the stage costumes. The stage costumes had wigs which hid the actors' human ears and made the heads look more like cats' heads. They should have done that here, because these heads look like normal human heads without ears which is one of the reason they look so bizarre.

And they should have used makeup to make the faces look like cat faces. At the very least they could have drawn a


CATS Film Adaptation Thread
Jul 20 2019, 08:20:11 PM
CarlosAlberto said: "In what world is a knife and fork bigger than a cat?!? The perspective is just way off...I take that back. EVERYTHING about this film is way off!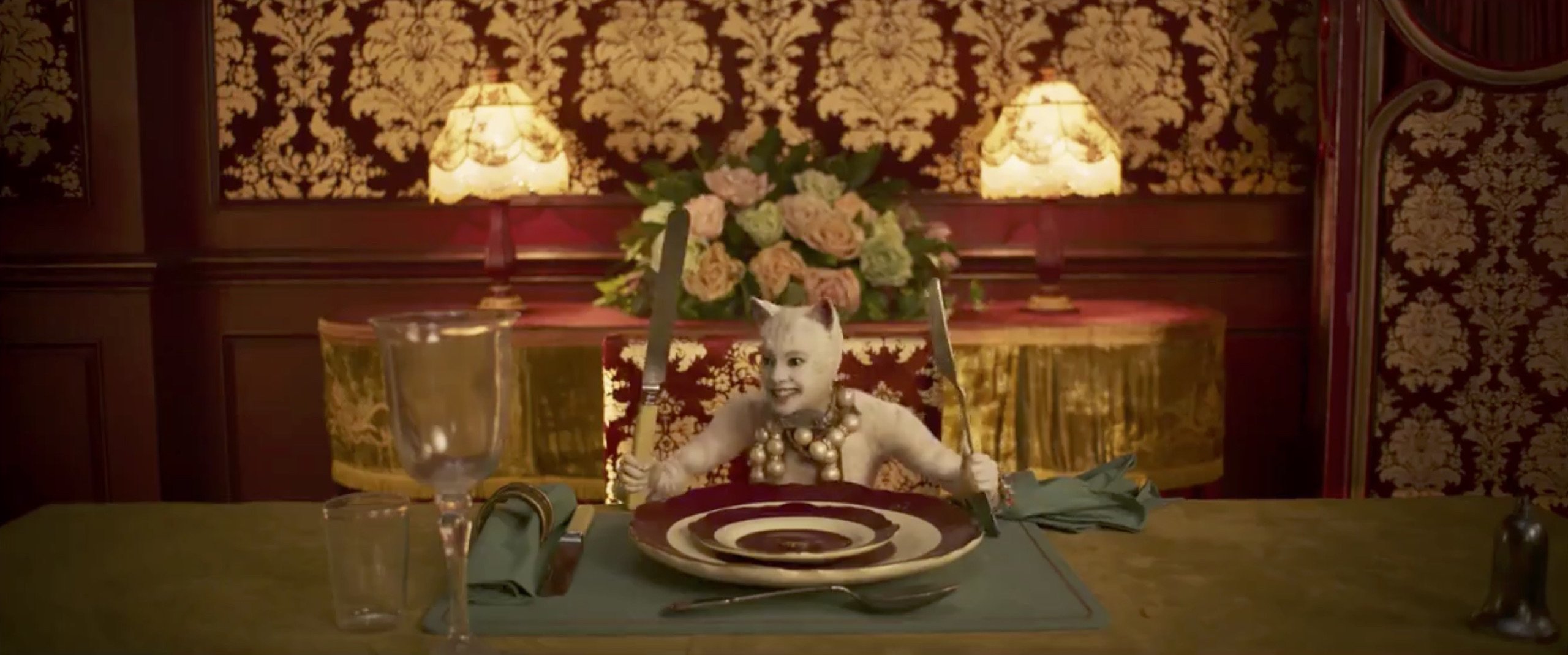 "

I completely agree with this, and this is my main issue with the trailer. The perspective is all over the place, and this is a perfect example.

Some of the oth


Mental illness and working in theatre
Jun 6 2019, 02:27:40 AM
Patty3 said: "Patrick Page (depression) and Patti Murin (anxiety) are two well known actors who deal with mental illness. There have been several articles snd interviews with Page where he talks about it and Murin has been open on social media. They are only two I can think of but I'm sure there are more. If you Google both you will find lots of info. "

Is depression considered a mental illness?
New Aladdin Movie Trailer
May 24 2019, 12:39:31 PM
somecheapfrenchthing said: "Anyone else kind of bummed out by how broad-strokes Jasmine's new song is?? The lyrics remind me so much of "This Is Me." I had high hopes, but to me it just sounds like another "Never gonna cut me down! Can't silence me! Gonna March to the beat of my own drum!" ballad with a pop beat. I appreciate the idea of a bolder, resistant Jasmine... but I wish it were more thoughtful. Really I wish Howard Ashman were still around


Musicals most people hated, but you liked
May 21 2019, 03:57:18 PM
Love Never Dies (the Australian remount, not the original London production. That thing was an abomination.)
Adaptations You Would Like To See?
May 21 2019, 03:52:19 PM
Just thought of another one: A musical version of Steve Martin's movie "Roxanne" (which itself is an adaptation of Cyrano de Bergerac).
Adaptations You Would Like To See?
May 21 2019, 10:58:03 AM
Quite a few suggestions on here I hadn't thought of before but now would love to see! (I second Moonstruck, Babette's Feast, She Devil, Miss Congeniality, Hocus Pocus, and Dorian Gray (although there's not much of a plot there).

I would add the following:
"Miss Pettigrew Lives for a Day"
A musical version of "Prelude to a Kiss"



Jokes In Musicals That...Just Don't Work? May 21 2019, 10:13:23 AM


In "Waitress," Old Joe calls out Jenna about hiding her pregnancy. He can tell by looking at her that she's pregnant, letting her know he's seen that look on a woman's face. He says something like, "I've seen that look on a woman's face before. Name was Annette. I made sweet love to her all through the summer of 1948. She got that sick look on her face like you had all through the fall. I almost married her right up. She lost the baby, though.&quo



CATS film updates from CinemaCon Apr 4 2019, 02:57:32 PM
I don't understand the design choice to make the cats CGI motion capture. Why not just wear costumes and makeup? This sort of thing always takes me out of the moment because of the uncannines. All throughout Beauty and the Beast, I was so distracted by Beast's appearance, it was difficult to be fully invested in his scenes. Does CGI ultimately read better than people in costumes?

I feel like when they make "live" action versions of these things, we end up with so much cig that it defea



You must log in to view off-topic posts.