Now Playing Onstage in Baltimore - Week of 5/25/2014
View All Show Listings for Baltimore
Click Here to View BroadwayWorld.com Baltimore Calendar
FINIAN'S RAINBOW JR
GUILFORD ELEMENTARY SCHOOL
5/29-5/29/2014
Click Here for More Information
LITTLE WOMEN
BETH TFILOH DAHAN COMMUNITY SCHOOL
5/30-5/30/2014
Based on
Louisa May Alcott
's own family experiences (and novel), LITTLE WOMEN, follows the adventures of Jo, Meg, Beth and Amy March as they grow up in Civil War America. The beloved story of the March sisters is timeless and deals with issues as relevant today as when they were written. Now, this wonderful narrative has been brought to life as an exhilarating new musical filled with glorious music, dancing and heart. LITTLE WOMEN embodies the complete theatrical experience, guaranteeing a night filled with laughter, tears, and a lifting of the spirit. This powerful score soars with the sounds of personal discovery, heartache and hope -- the sounds of a young America finding its voice. In years to come, we are sure that hundreds of productions by schools and theatres throughout the world will make this stage adaptation of the American classic novel a classic musical theatre treasure in its own right.
Click Here for More Information
LES MISERABLES
KENSINGTON ARTS THEATRE
5/1-5/31/2014
This international smash-hit may be the most popular musical in the world. In 19th century France, Jean Valjean is released from 19 years of unjust imprisonment, but finds nothing in store for him but mistrust and mistreatment. He breaks his parole in hopes of starting a new life, initiating a life-long struggle for redemption as he is relentlessly pursued by police inspector Javert, who refuses to believe Valjean can change his ways. Finally, during the Paris student uprising of 1832, Javert must confront his ideals after Valjean spares his life and saves that of the student revolutionary who has captured the heart of Valjean's adopted daughter. His world-view shattered, Javert commits suicide, and Valjean at last attains the peace he has sought for so long.Epic, grand and uplifting, LES MISÉRABLES packs an emotional wallop that has thrilled audiences all over the world. The sung-through pop opera is ideal for a cast of exceptional singers and overflows with melodies that are already standards. A spectacle on Broadway and in London, LES MISÉRABLES is equally effective with a minimal set; it is its powerful affirmation of the human spirit that has made LES MISÉRABLES a popular masterpiece.
Click Here for More Information
SEUSSICAL JR
LINDALE MIDDLE SCHOOL
5/29-5/31/2014
A delight for children to perform, SEUSSICAL is now one of the most-performed shows in America! In this fantastical, magical, musical extravaganza, Tony winners
Lynn Ahrens
and
Stephen Flaherty
(LUCKY STIFF, MY FAVORITE YEAR, ONCE ON THIS ISLAND, and RAGTIME) have lovingly brought to life all of our favorite
Dr. Seuss
characters, including Horton the Elephant, The Cat in the Hat, Gertrude McFuzz, lazy Mayzie and a little boy with a big imagination--Jojo. The colorful characters transport us from the Jungle of Nool to the Circus McGurkus to the invisible world of the Whos.The Cat in the Hat tells the story of Horton, an elephant who discovers a speck of dust containing Whos, including Jojo, a Who child who gets in trouble for thinking too many "thinks." Horton faces a double challenge--not only must he protect the Whos from a world of naysayers and dangers, but he must guard an abandoned egg, left to his care by the irresponsible Mayzie La Bird. Although Horton faces ridicule, danger, kidnapping, and a trial, the intrepid Gertrude McFuzz never loses faith in him. Ultimately, the powers of friendship, loyalty, family, and community are challenged and emerge triumphant!SEUSSICAL JR. is fun for the whole family! Young performers will be excited to portray the characters from the familiar
Dr. Seuss
fables. This musical provides wonderful creative opportunities in terms of set design, lighting, and costuming.Note: for this version, certain
Click Here for More Information
SINGIN' IN THE RAIN
WAY OFF BROADWAY DINNER THEATRE
3/28-5/31/2014
You remember the plot. You love the characters. You know "the song." It's no less than the stage adaptation of one of the most celebrated and beloved films of all time.1920's Hollywood is the setting for this zany, light-hearted romantic comedy about the early days of sound film, when many a movie studio found itself scrambling to salvage the career of its chipmunk-voiced silent picture star.The MGM classic has been faithfully and lovingly adapted by Broadway legends
Betty Comden
and
Adolph Green
from their original award-winning screenplay. Each unforgettable scene, song and dance, is accounted for, including the showstopping title number, complete with an onstage rainstorm! Hilarious situations, snappy dialogue, and a hit-parade score of Hollywood standards make SINGIN' IN THE RAIN the perfect entertainment for any fan of the golden age of movie musicals.
Click Here for More Information
THE WIZARD OF OZ
Lyric Opera House [Modell Performing Arts Center]
5/28-6/1/2014
Andrew Lloyd Webber
's reworked stage musical The Wizard of Oz is set to launch a North American tour in fall of 2013. After its run at the
Ed Mirvish
theatre in Toronto this December, The Wizard of Oz will take its entire cast across Canada and into the United States, hitting cities such as Chicago and Los Angeles.
Andrew Lloyd Webber
a€™s new production of The Wizard of Oz is an adaptation of the all-time classic, totally reconceived for the stage by the award-winning creative team of the revival of The Sound of Music. Developed from the ever popular MGM screenplay, this new production contains all the songs from the Oscar-winning movie score, all the favourite characters and iconic moments, plus a few surprises along the way, including new songs by
Tim Rice
and
Andrew Lloyd Webber
.
Click Here for More Information
XANADU JR.
LAKELANDS PARK MIDDLE SCHOOL
5/1-6/6/2014
Click Here for More Information
DISNEY'S SLEEPING BEAUTY KIDS
PLUM POINT ELEMENTARY SCHOOL
4/25-6/7/2014
It's princess Aurora's sixteenth birthday, and Flora, Fauna and Merryweather must use their fairy magic to save her from the spell of evil sorceress Maleficent! This classic fairytale told Disney-style has many roles for a large chorus, from King Stefan and Queen Stefanie's Loyal Subjects to Maleficent's slimy goons. Songs from the beloved film, including "Once Upon a Dream," accompany fun new songs like "Maleficent!" and "A Little Magic Now" to bring a fresh telling of the story to a new generation of kids and families.
Click Here for More Information
SISTER ACT
France-Merrick Performing Arts Center [Hippodrome Theatre]
6/3-6/15/2014
When disco diva Deloris Van Cartier witnesses a murder, she is put in protective custody in the one place cops are sure she won't be found - a convent! Disguised as a nun, she finds herself at odds with both the rigid lifestyle and an uptight Mother Superior. Using her fabulous disco-ness and killer voice to inspire the choir, Deloris breathes new life into the church, but in doing so blows her cover. Soon iti¿½s nun-on-the-run time but she finds salvation in the heavenly power of her newly found sisterhood. Based on the mega-hit feature film, SISTER ACT features an original
Alan Menken
/
Glenn Slater
score with a vast inspiration of musical styles from Motown, soul and funk to great big disco anthems and
Barry White
inspired musical comedy.
Click Here for More Information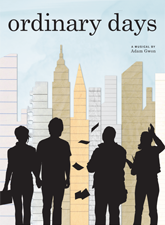 ORDINARY DAYS
Round House Theatre
5/28-6/22/2014
From one of musical theatre's most exciting new composers comes ORDINARY DAYS, a refreshingly honest and funny musical about making real connections in the city that never sleeps (but probably should at some point.) ORDINARY DAYS tells the story of four young New Yorkers whose lives intersect as they search for fulfillment, happiness, love and cabs. Through a score of vibrant and memorable songs, their experiences ring startlingly true to life. ORDINARY DAYS is an original musical for anyone who's ever struggled to appreciate the simple things in a complex place. With equal doses of humor and poignancy, it celebrates how 8.3 million individual stories combine in unexpected ways to make New York City such a unique and extraordinary home. Music and Lyrics by
Adam Gwon
Click Here for More Information
View All Show Listings for Baltimore
Click Here to View BroadwayWorld.com Baltimore Calendar
Related Articles
From This Author BWW