Now Playing Onstage in Baltimore - Week of 5/18/2014
View All Show Listings for Baltimore
Click Here to View BroadwayWorld.com Baltimore Calendar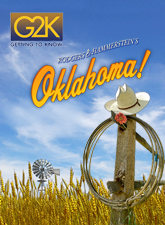 OKLAHOMA!
Saint James School
5/23-5/24/2014
The 'G2K' Getting To Know Series: Uniquely adapted musicals specifically for youth performers.
Rodgers & Hammerstein
's first collaboration remains, in many ways, their most innovative, having set the standards and established the rules of musical theatre still being followed today. Set in a Western Indian territory just after the turn of the century, the high-spirited rivalry between the local farmers and cowboys provides the colorful background against which Curly, a handsome cowboy, and Laurey, a winsome farm girl, play out their love story. Although the road to true love never runs smooth, with these two headstrong romantics holding the reins, love's journey is as bumpy as a surrey ride down a country road. That they will succeed in making a new life together we have no doubt, and that this new life will begin in a brand-new state provides the ultimate climax to the triumphant OKLAHOMA! In this adaptation for pre-high school students, the content has been edited to better suit younger attention spans, but all the elements that make this show a classic are still in place. You and your students will be enchanted by the timeless story and the dazzling score, while at the same time learning about theater and its production. PLEASE NOTE: All schools wishing to peruse or perform a G2K musical should apply through theMusic by Rodgers, Richard; Book and Lyrics by
Oscar Hammerstein
II; Based on the play GREEN GROW THE LILACS by
Lynn Riggs
; Original Dances by
Agnes de Mille
Click Here for More Information
VANYA AND SONIA AND MASHA AND SPIKE
Center Stage
4/16-5/25/2014
Christopher Durang
; dir:
Eric Rosen
.
Click Here for More Information
LES MISERABLES
KENSINGTON ARTS THEATRE
5/1-5/31/2014
This international smash-hit may be the most popular musical in the world. In 19th century France, Jean Valjean is released from 19 years of unjust imprisonment, but finds nothing in store for him but mistrust and mistreatment. He breaks his parole in hopes of starting a new life, initiating a life-long struggle for redemption as he is relentlessly pursued by police inspector Javert, who refuses to believe Valjean can change his ways. Finally, during the Paris student uprising of 1832, Javert must confront his ideals after Valjean spares his life and saves that of the student revolutionary who has captured the heart of Valjean's adopted daughter. His world-view shattered, Javert commits suicide, and Valjean at last attains the peace he has sought for so long.Epic, grand and uplifting, LES MISÉRABLES packs an emotional wallop that has thrilled audiences all over the world. The sung-through pop opera is ideal for a cast of exceptional singers and overflows with melodies that are already standards. A spectacle on Broadway and in London, LES MISÉRABLES is equally effective with a minimal set; it is its powerful affirmation of the human spirit that has made LES MISÉRABLES a popular masterpiece.
Click Here for More Information
SINGIN' IN THE RAIN
WAY OFF BROADWAY DINNER THEATRE
3/28-5/31/2014
You remember the plot. You love the characters. You know "the song." It's no less than the stage adaptation of one of the most celebrated and beloved films of all time.1920's Hollywood is the setting for this zany, light-hearted romantic comedy about the early days of sound film, when many a movie studio found itself scrambling to salvage the career of its chipmunk-voiced silent picture star.The MGM classic has been faithfully and lovingly adapted by Broadway legends
Betty Comden
and
Adolph Green
from their original award-winning screenplay. Each unforgettable scene, song and dance, is accounted for, including the showstopping title number, complete with an onstage rainstorm! Hilarious situations, snappy dialogue, and a hit-parade score of Hollywood standards make SINGIN' IN THE RAIN the perfect entertainment for any fan of the golden age of movie musicals.
Click Here for More Information
XANADU JR.
LAKELANDS PARK MIDDLE SCHOOL
5/1-6/6/2014
Click Here for More Information
DISNEY'S SLEEPING BEAUTY KIDS
PLUM POINT ELEMENTARY SCHOOL
4/25-6/7/2014
It's princess Aurora's sixteenth birthday, and Flora, Fauna and Merryweather must use their fairy magic to save her from the spell of evil sorceress Maleficent! This classic fairytale told Disney-style has many roles for a large chorus, from King Stefan and Queen Stefanie's Loyal Subjects to Maleficent's slimy goons. Songs from the beloved film, including "Once Upon a Dream," accompany fun new songs like "Maleficent!" and "A Little Magic Now" to bring a fresh telling of the story to a new generation of kids and families.
Click Here for More Information
View All Show Listings for Baltimore
Click Here to View BroadwayWorld.com Baltimore Calendar
Related Articles
From This Author BWW