BWW Review: Come and Meet Those Dancing Feet of MacTheatre's Joyous 42ND STREET
MacTheatre's production of 42ND STREET exudes pure Broadway bliss from the moment a massive line of energetic tap dancers greets the audience from behind a rising curtain. Come along and listen to the lullaby of Broadway...only it won't lull you to sleep.
42ND STREET opened on Broadway in 1980, winning the Tony Award that year for Best Musical and again in 2001 for Best Revival. Based on the novel by Bradford Ropes, music by Harry Warren, and lyrics by Al Dubin, the show leans heavily into elaborately choreographed numbers woven together by predictable plot points and character development.
This exuberant show knows what it is and allows the audience to care for its characters, rejoice in their victories, and believe in their dreams. Wide-eyed yet fiercely capable heroine Peggy Sawyer is a small-town chorus girl with big Broadway dreams. Sophomore Helena Laing plays her charming ease. Peggy arrives in New York from Allentown, Pennsylvania in hopes of landing a role in prodigious director Julian Marsh's show Pretty Lady. Many recognize Peggy's undeniable talent, but she must gather her confidence to overcome glaring doubts and become the star she's destined to be.
Almost every aspect of this production, under the direction of Joshua O'Daniel Denning, possesses a level of professionalism and talent rarely seen in most high school productions. Glittering backdrops, a robust orchestra, impressive sets, and brightly colored costumes enrich the delightful performances. Each clichéd character in 42ND STREET could easily find a place in any musical about the trials and tribulations of show business, baby. Bombastic director Julian Marsh. Rapacious prima donna Dorothy Brock with two left feet. Sassy yet good-natured assistant Maggie Jones who tells it straight. Though these oversimplifications aren't explored any further, the cast embraces showmanship and lack of subtlety. What the performances at McCallum lack in nuance, they make up for in bold execution.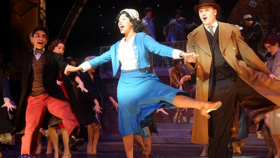 Stand-out juniors Toshaan Arora and Owen Scales command the stage with blinding charisma, sharp execution of choreography, and powerful voices. Mr. Arora makes a star turn in showstopper "We're In The Money", featuring tap choreography atop giant coins that would make Fred Astaire proud.
42ND STREET's issues lie not in the performances or production design but in some technical aspects. Multiple transitions weren't as sharp as they could be and most noticeably, sound problems. Certain microphones consistently stopped working. Despite the leads' commitment to their performances, issues with the microphones continued throughout the show, sacrificing the overall quality.
42ND STREET proudly takes its place as a joyful, classic musical shining a light on big dreams in the Big Apple. Maybe it isn't a deep exploration of the human psyche, but it doesn't have to be. This musical presents the world as we'd like it to be, not how it truly is. The enthusiasm and elation in MacTheatre's production just might make the staunchest pessimist smile and leave the theater humming the lullaby of Broadway.
Photo Credit: David Winter
42ND STREET
by Harry Warren, Al Dubin, Michael Stewart, Mark Bramble
McCallum Fine Arts Academy
Thursdays-Sundays,
January 31 - February 10, 2019
MacTheatre
McCallum Fine Arts Academy
5600 Sunshine Drive
Austin, TX, 78756