Now Playing Onstage in Atlanta - Week of 6/15/2014
View All Show Listings for Atlanta
Click Here to View BroadwayWorld.com Atlanta Calendar
MONTY PYTHON'S SPAMALOT
Atlanta Lyric Theatre
6/6-6/22/2014
Click Here for More Information
BARE
Act 3 Productions
6/19-6/22/2014
Click Here for More Information
DISNEY'S BEAUTY AND THE BEAST JR
FABREFACTION THEATRE CONSERVATORY
6/20-6/22/2014
Step into the enchanted world of Disney's BEAUTY AND THE BEAST JR. Featuring songs from the Academy-Award winning animated feature, this stage version includes music by
Alan Menken
and the late
Howard Ashman
, along with new songs by Mr. Menken and
Tim Rice
. Your audiences will be transported to the heart of provincial life in a lovely French town. When Maurice becomes lost in the woods on the way to the fair, he seeks shelter in an old castle, but the master of the castle is a horrible beast that takes him captive. Maurice's daughter, Belle, must then give up her freedom to save his life. Belle's taming of the unfortunate Beast and his ultimate transformation back into a handsome prince is a beloved fairy tale about very different people finding strength in one another and learning how to love. This "tale as old as time" is filled with spectacular costume and set opportunities. Even more simply staged, Disney's BEAUTY AND THE BEAST JR. offers students a great introduction to musical theatre, using familiar songs and characters to guide them through their production.
Click Here for More Information
TARZAN
MELLO DRAMA PRODUCTIONS
6/5-6/22/2014
Based on Edgar Rice Burrough's Tarzan of the Apes and the smash-hit 1999 Disney animated film, TARZAN tells the story of an infant boy orphaned on the shores of West Africa. Taken in and raised by a tribe of gorillas, the young boy strives for acceptance by his ape father while grappling with his uniqueness. When a human expedition enters their territory, Tarzan - now a man - encounters strangers like himself for the first time. TARZAN features music and lyrics by pop icon
Phil Collins
, including the Grammy and Oscar winning song, "You'll Be in My Heart", and book by Tony Award-winning playwright,
David Henry Hwang
.
Click Here for More Information
SHREK
COLUMBUS STATE UNIVERSITY - DEPARTMENT OF THEATRE
6/13-6/28/2014
SHREK THE MUSICAL, based on the Oscar® winningDreamWorks film that started it all, brings the hilarious story ofeveryone's favorite ogre to dazzling new life on the stage. Ina faraway kingdom turned upside down, things get ugly when an unseemlyogre "" not a handsome prince "" shows up to rescue a feisty princess.Throw in a donkey who won't shut up, a bad guy with a SHORT temper, acookie with an attitude and over a dozen other fairy tale misfits, andyou've got the kind of mess that calls for a real hero. Luckily,there's one on hand...and his name is Shrek. Full of all-new songs, great dancing and breathtaking scenery, SHREK THE MUSICAL is part romance, part twisted fairy tale and all irreverent fun for everyone!**AVAILABLE FOR LICENSES FOR PERFORMANCES BEGINNING JUNE 2013**
Click Here for More Information
BEING ALIVE, A WORLD PREMIERE
The Fern Theatre Company
6/12-6/28/2014
How do you go on when your dreams are crumbling and your life is not what you pictured it would be? What do you do when one of your kids is a drug addict, the other is gay, and you don't know anything about your youngest child? Being Alive is a world premiere dark comedy about hope, love, family and acceptance. Though a family may be little and broken, family is always family--no matter what. It is only when we learn to accept what we have and live every day to the fullest that we are truly Being Alive. Being Alive opens The Fern's first annual New Play Development Series which includes a full production of a New Play (Being Alive) and 4 Staged Reading of new plays. More Information about the series can be found at: http://theferntheatre.org/newplays/ Being Alive is directed by Kirk Harris Seaman and stage managed by Alyssa Gentry. The Cast of Being Alive is: Bryn Striepe: Jenn
Adam King
: Teddy Matt Busch: Alex Leigh-Ann Campbell: Messenger/Woman/Lauren Andy Fleming: Jim Trey York: Chris The Beam is located at Moving In The Spirit
Dance Company
and we at The Fern are so excited to be working in this space. Detailed directions are below: The Beam is Located at 750 Glenwood Ave. SE Atlanta, GA 30316. From Glenwood, turn at the GlenCastle Sign and drive up the hill (note: if you get to Cameron Ave, you've gone too far and missed the Glencastle sign). The Beam is located in the back of the middle building.
Click Here for More Information
DISNEY'S PETER PAN JR
HOLLY THEATRE COMPANY
6/21-6/29/2014
Click Here for More Information
MARY POPPINS
PEACH STATE SUMMER THEATER
5/30-7/13/2014
Click Here for More Information
DISNEY'S THE JUNGLE BOOK KIDS
THOMSON MIDDLE SCHOOL
4/24-7/18/2014
The jungle is jumpin' with jazz is this exciting Disney classic! Join Mowgli, Baloo, King Louie and the gang as they swing their way through madcap adventures and thwart the ferocious tiger, Shere Khan. Specially adapted from the beloved film, this musical includes all your favorite Disney tunes, like "The Bare Necessities," and "I Wan'na Be Like You." With colorful characters and that toe-tapping jungle rhythm, Disney's THE JUNGLE BOOK KIDS is sure to be a crowd-pleaser for audiences of all ages.
Click Here for More Information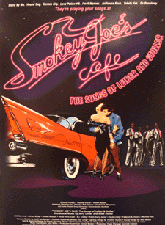 SMOKEY JOE'S CAFE - THE SONGS OF LEIBER AND STOLLER
Peach State Summer Theatre
6/20-7/26/2014
Leiber and Stoller, as much as anyone, virtually invented rock 'n' roll, and now their songs provide the basis for an electrifying entertainment that illuminates a golden age of American culture. In an idealized '50's setting, the classic themes of love won, lost and imagined blend with hilarious set-pieces and slice-of-life emotions. Featuring nearly 40 of the greatest songs ever recorded, SMOKEY JOE'S CAFE isn't just great pop music - it's compelling musical theatre.Words and Music by Leiber & Stoller
Click Here for More Information
MARY POPPINS
PEACH STATE SUMMER THEATER
6/6-7/26/2014
Click Here for More Information
DR. SEUSS' THE CAT IN THE HAT
CENTER FOR PUPPETRY ARTS
6/11-7/27/2014
From the moment his tall, red-and-white-striped hat appears around the door, Sally and her brother know that THE CAT IN THE HAT is the funniest, most mischievous cat they have ever met.With the trickiest of tricks and craziest of ideas, he is certainly fun to play with. And he turns a rainy afternoon into an amazing adventure. But what will mum find when she gets home...? The National Theatre's production of
Dr. Seuss
's THE CAT IN THE HAT is a lively, engaging "play with sound effects" for performance by adults for young children. Not a word has been touched or added to
Dr. Seuss
's classic, ensuring anyone who's read the story will find themselves transported into the world they've always imagined.
Click Here for More Information
View All Show Listings for Atlanta
Click Here to View BroadwayWorld.com Atlanta Calendar
Related Articles
From This Author BWW