Six Feet of Separation: How the Performing Arts Are Embracing Social Distancing and Attempting a Return to Normal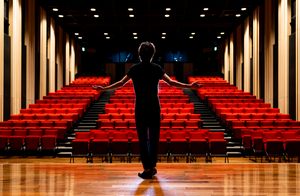 To reopen, or not to reopen? That is the question.
Like so many facets of our society brought to a halt by the coronavirus pandemic, the theatre industry currently finds itself at this terrifying impasse. Despite steep reservations and an unclear understanding of what constitutes risk for employees and audiences alike, many arts institutions have begun weighing their options when it comes to how and when to resume operations.
Though many in the arts world would agree that our global situation remains far too precarious to even begin considering such measures, the tragic fact is that a vast majority of arts institutions lack the fiscal safety nets which would allow them to keep their doors safely closed until conditions improve. Par for the course, the arts world has also struggled to attain the government funding necessary to remain afloat as the quests for concrete safety guidelines and effective medical interventions continue.
The financial emergency for arts workers in the United States also threatens to reach its apex in the coming days, as the end date for the $600 a week unemployment supplement approaches. As a debate rages on in the Senate as to how and to what extent the benefits will continue, the lives and livelihoods of thousands of artists and arts workers hang precariously in the balance.
Though early on it seemed that social distancing in the theatre was an unthinkable impossibility (and remains so to some), arts institutions all over the world have gone into survival mode, dreaming up solutions they hope will disprove that theory and rescue the arts sector from certain collapse.
As a first line of defense, institutions reopening during the pandemic have instated strict hygiene measures such as sanitizing stations, mandatory face coverings, and distancing guidelines in order to best protect audiences and staff. Where possible, part of these guidelines involve temporary renovations to ensure the safest experience possible.
The Berliner Ensemble in Germany was among the first institutions to announce plans to reopen with a new socially-distanced seating plan, removing several seats per row to ensure audience safety.
Barrington Stage in Massachusetts recently revealed its comprehensive plan for reopening which includes the total removal of every other row, as well as leaving two vacant seats between each party. In addition, it has rolled out a thorough protocol for audience safety including hygiene measures, mandatory masks, temperature screenings, digital programs, intermission-less performances to discourage the formation of lines and crowds, multiple assigned entrance and exit points for audience members, contact-free check in, and the introduction of enhanced air filtration and electrostatic disinfecting sprayer systems.
As a result of this comprehensive approach, Equity recently greenlit their upcoming production of Harry Clarke, a one-man show that will only employ two Equity members, a performer and a stage manager.
As a more long term solution, some companies have responded with swift innovation, introducing the concept of theatre spaces fully designed to encourage social distancing.
The Wilma Theatre in Philadelphia recently unveiled plans for a new venue, The Wilma Globe, which is designed to ensure a safe, social distanced experience for audiences. Set designers Misha Kachman, Sara Brown, and Matt Saunders collaborated on the innovative new design with video designer Jorge Cousineau.
The venue takes the basic shape of an arena, made up of two levels of audiences-boxes, separated by wooden dividers. The space can be reconfigured to suit the specific needs of a particular show and can fit as few as 35 and up to 100 audience members.
Where renovations or full blown re-designs aren't possible, some houses are opting for reduced audience size to keep audience members safely apart. The English National Opera recently announced plans for a full season season of socially distanced, stripped-back productions. To abide by social distancing measures, every other row will be empty and audiences will be spaced with a two-seat gap between them. Patrons will be required to wear masks and gloves, and will arrive at staggered times.
Chief executive Stuart Murphy said that this is now possible due to the recent reduction of social distancing to 1-metre. This allows the venue to open at 48% capacity. The company also plans to perform a socially distanced opera festival later this year, with a reduced number of singers and musicians, as well as audience members.
Another model gaining steam is that of drive-in productions which confine audience members to the safety of their own vehicles, as well as immersive walk-through experiences which keep audiences largely outdoors, appropriately distanced, and on the move.
Tony-nominated director Michael Arden recently announced plans for the development of American Dream Study, an immersive, part walking/part drive-through theatrical experience, with his Forest of Arden company which features prominent Equity actors, including Tony-winner Nikki M. James.
The invite-only show aims to provide a first-of-its-kind, socially-distanced communal experience, staged throughout several towns in Columbia County. Audience members will receive instructions on when and where to drive, park and walk via several smart technologies to encourage a safely staggered experience.
Arden said of the project, "I constantly endeavor to create new opportunities for people to come together in a common space and share experiences. In this new era, that has taken a great deal of imagination and, most importantly, bold collaboration with this remarkable group of artists. It has been said that art should be dangerous, but it's also vitally important that we make it safe. This exploration of our dreams and the American Dream strikes that balance perfectly. We will be testing new methods of theater-making in order to forge a way forward for this ancient and vital art form."
The UK's longest running immersive production, The Great Gatsby, plans to reopen this October with a re-imagined and re-set production that immerses audiences in the world of an art deco masquerade ball. In addition to compulsory face coverings for audience members, reduced capacity measures will allow patrons to choose where they stand and move throughout the performance, naturally enabling social distancing. The content of the show show itself is being altered and updated to avoid any high-risk activity and actors will undergo training which will enable them to maintain the story while keeping theatregoers at a safe distance.
Then there is the totally safe, yet hotly debated matter of online performances. Though technology has afforded the theatre world the option of crafting performances and events solely for an online audience, a debate rages as to whether or not this model falls under the umbrella of 'theatre' in the traditional sense.
Laura Collins-Hughes recently wrote of the trend in an op-ed for The New York Times, "You don't have to be a Luddite or a nostalgist to believe that that isn't true, or that theater on camera becomes another form. Even the "Hamilton" movie, a thrilling and democratizing testament to the power of stage performance, can't capture the soul of theater, because that soul lives in the room. Physical presence is part of the essence of theater; so is occupying a common space. One of the most alienating things about this vigil is the need for us to keep it separately."
It's a question on many theatremakers minds and many are rising to the challenge with gusto, crafting works that embrace the circumstances, rather than try to recreate what was lost.
Yuval Sharon, artistic director of Los Angeles-based opera company, Industry, recently shared his perspective of utilizing the technology as an extension of the form, rather than a replacement for the live experience with
Charles McNulty of the L.A. Times writes, "He's interested in 'work that does not feel like it's an apology' for our inability to gather in person. Digital is less appealing to him as a delivery system 'for content we would normally do.' He's more intrigued by 'brand-new work' that is responsive to the tools that are still being discovered."
The jury is still out on the world's biggest stages as the powers-that-be of Broadway and London's West End continue to grapple with methods of reopening without posing a threat to individuals on both sides of the footlights.
The most high-profile example of this came from the London Palladium, where Sir Andrew Lloyd Webber has begun testing a series of precautions most recently deployed at the South Korea production of The Phantom of the Opera. Lloyd Webber lauded the work of the show's producers, which has gotten the production back on its feet for the past two and a half months.
He said, "The key thing is that they have is incredibly good hygiene in every single possible way, both backstage for the cast and crew and orchestra, but also for people in the front of the house. The whole point is to make people feel as safe and secure as they possibly can - for example, they have thermal imaging cameras at the stage door and as you come into the theatre that can identify if people have a temperature extremely quickly."
Lloyd Webber has also begun to test other safety measures, including hygienic silver ion door handles, which the composer has learned are completely effective against pathogens like coronavirus.
He explained, "Everybody going into the theatre is fobbed with the antiviral chemical, and the theatre itself is fobbed after every performance. There's no social distancing because it's impossible in the theatre."
"The reason we've chosen the London Palladium is it's a very big theatre - it's just under 2,300 seats," he explains, "It's the biggest theatre we have, and therefore the most problematic. We want to demonstrate there that this can work. All one can do is try to be positive - we in theatre must be positive and demonstrate that we can open."
Oliver Dowden, Secretary of State for Digital, Culture, Media and Sport recently met with Lloyd Webber and Public Health England at the Palladium to investigate the measures.
He tweeted, "I saw v comprehensive safety measures in place. Despite the huge challenges, we're working intensively with them & others to get theatres open as soon as safe."
On the opposite side of the pond, the jury is still very much out on a plan to bring back Broadway. Though an official timeline has yet to be put in place, rumblings of various solutions have pinged around the rialto since March.
In a recent interview with PBS MetroFocus, Broadway League president, Charlotte St. Martin went in-depth on a few of the many roadblocks to Broadway's return.
She said, "Information changes daily. We're just learning that the aerosol effect Is thirty feet, not six feet. That changes everything. We can guess that we'll be in masks for a while. Some say a year. some say two to three years."
As to what Broadway fans can expect from their theatrical experience when the shows return, Martin says, "I think you can expect different ingress and egress routes into and out of the theater as one of many contactless things we can do, Whether it's contactless ticketing or faucets and toilets in the restrooms. I think you can expect the concession stands, the servers, to have on masks and gloves and to serve you in paper cups to be discarded so there's not much handling."
Broader solutions, such as air filtration and distancing measures, however, pose the greatest challenge to reopening Broadway theaters. According to St. Martin, the age of the venues and the Broadway business model prohibit what have become common solutions for other venues.
"One of the areas we're really studying is the area of the HVAC systems. There's a lot of disagreement about what has to happen. That's probably because some of our buildings are 100 years old. They're glorious, they're historic, they're landmarks. But their air conditioning system may be more difficult to replace. Some experts are saying they think the new Hepa filters will take care of it. Others are saying you have to replace the entire system. We're looking at all of that."
As for distancing measures implemented in other arts sects, St. Martin insists that there is no room for row removal and staggered seating on the Great White Way.
"It is not for Broadway. The financial model just doesn't work. We had four of our different size theaters actually do a floor plan showing true social distancing, and the best case scenario was that 27% of the seats could be filled. That will not pay the bills, not even close."
She continues, "We have the best theatrical employees in the world. The best designers, the best everything, but they're also the most expensive. So to socially distance even the audience we'd have to break the model and restart...Even if you could socially distance the audience, the cast and crew, those are small backstage areas for the most part, the ten-second costume change is just impossible."
As a result of these constraints, St. Martin and Broadway's gatekeepers are pointing to a medical solution as the only route back to the boards.
"One of the things giving us cautious optimism are some of the things we're learning. There's now the 15-second test that's very reliable. If you could test every cast member every day, say at 9:00 in the morning, you could find out whether they're all well, then you could feel comfortable that they could go on and perform. Those are the kinds of things that we're investigating and that we hope will enable us to get back as soon as possible."
Despite the innovation and optimism exhibited across the artistic spectrum, the continually developing nature of the pandemic has thrown even the most well-planned theatrical experiences into turmoil.
This month, Live Nation Entertainment announced the cancellation of a Live From The Drive-In concert series that was to feature the worldwide phenomenon SIX The Musical.

"The latest developments regarding localised lockdowns mean it has become impossible for us to continue with the series with any confidence," producers said in a statement.

They continue, "Despite the Government announcing Stage 3 of Culture Secretary Oliver Dowden's road map permitting performances outdoors with an audience, the planned tour was due to visit 12 cities several of which have since been identified as emerging Covid infection hot spots."
In spite of these setbacks, this week UK Culture Secretary Dowden announced that venues were entering Phase Four of his road map for the arts, permitting socially distanced indoor performances.
Though there has been some reason for optimism, the unprecedented nature of the pandemic and possible consequences of premature reopening fall squarely on audiences and arts workers, placing them at the center of a potentially dangerous experiment. And while much emphasis has been placed on the safety of audiences, little has been said of the even greater challenges facing those onstage and behind the scenes.
"Almost all of the conversation that I have seen about theater is focused on when audiences will feel comfortable coming back," Equity President, Kate Shindle told The New York Times, "The needle that we have to thread is being able to tell stories onstage while keeping people safe."
To quell this issue, some institutions, such as Barrington, have made plans to pivot to one-person shows with little to no presence backstage, outdoor, or concert productions to keep stages uncluttered.
In addition to the Barrington plan, Equity also recently approved Berkshire Theatre Group's production of the musical Godspell, which will be presented in an outdoor production with a cast of about ten and two stage managers.
Disinfecting measures have been extended to backstage areas, dressing rooms, and orchestra pits in order to ensure the safety of performing artists and stagehands, the efficacy of which remains debatable as the close quarters of many theatrical spaces still pose a threat to those working within them.
Equity remains highly dubious of most current proposed solutions, however, keeping the employment of its 51,000 members on a short leash until conditions improve considerably. In the interim, the union has teamed up with epidemiologist Dr. David Michaels, leader of the Occupational Safety and Health Administration under the Obama administration, to develop a set of specific safety protocols under which union members can return to work.
The union and Dr. Michaels have developed a set of four principles venues should be able to satisfy in order to employ union actors and stage managers: "the epidemic must be under control, with effective testing, few new cases in the area and contact tracing." Another factor giving the union pause as to when its members can resume work is the lack of reliable nationwide testing.
Shindle tells the Times, "We can't have a handful of people going to work in one place if we don't have developed, thoroughly vetted safety protocols that can be rolled out across the country. An individual member can be presented with a plan that may say there's going to be more hand sanitizer, there will be no communal coffee pot, there will be no communal water cooler, and everybody has their own hanger on the coat rack, just to try and cut down on things. I feel like our members are going to be asked to evaluate on the spot whether that makes it safe. The reality is, that's not our field of expertise."
She added, "I'm sure, at some point, there's going to be some fantastic director who wins a bunch of awards for staging an Arthur Miller play as a comment on living in the post-Covid age, and the actors will wear masks and gloves and everybody will sit there looking at this piece of theater in a whole new way because they've done this creative staging. But we also want people to be safe when they're not wearing masks and gloves."
Though the process of returning to work has begun, the necessary caution exercised by the union has made it a slow one, leading some houses to forego union contracts in order to move forward.
Beef and Boards, a dinner theatre in Illinois, which normally produces union and non-union productions, was recently met with criticism over a non-union production of the musical 'Beehive' in which actors wore medical grade face shields onstage.
According to the New York Times, The American Shakespeare Center in Virginia, despite its status as a dual house, has also announced plans to use only non-union performers for its summer productions. A Utah company also made the choice to recast its lead in 'Mockingbird' after an Equity performer refused to go on.
Though these decisions point to the dire financial straits in which the industry and its workers find themselves: willing to generate income by any means necessary, despite the risks, the union is taking note of what they feel is reckless behavior. As a result, these houses have found themselves added to Equity's infamous 'Do Not Work' list.
"Moving forward, we will shine a spotlight on theaters that decide to make the reckless and irresponsible choice to put the safety of their audience and workers at risk," Mary McColl, Equity's executive director told The Times.
As is the case with many industries affected by the pandemic, the arts remain at the center of an impossible catch-22; a nightmarish do-or-die scenario in which the lives of arts institutions and their constituents onstage and off are potentially placed in the cross hairs of trial and error.
Despite Secretary Dowden's insistence that there is a quick and clear cut path back to normal, or the incredibly flippant notion that mass death is inevitable in order to achieve that, the only safe approach (short of a miraculous medical breakthrough) is one in which institutions can reopen slowly and deliberately, backed by research and government funding, ensuring the safety of arts workers and audiences alike.