Review Roundup: The Critics Check In with the New Stars of A DOLL'S HOUSE, PART 2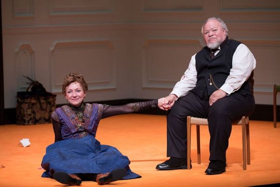 Tony Award-winner Julie White, Stephen McKinley Henderson, and Erin Wilhelmi, have joined Tony Award-winner Jayne Houdyshell in the Broadway cast of Lucas Hnath's hit play, A Doll's House, Part 2. Directed by Tony Award-winner Sam Gold, this wildly inventive new American play picks up fifteen years after Henrik Ibsen's most cherished work concludes. The critics return to the production tonight to take in its new stars.
A Doll's House, Part 2 began previews on March 30, 2017 and opened to ecstatic reviews on April 27. It went on to receive eight 2017 Tony Award nominations - more than any other play. Originally announced as a 16-week engagement, A Doll's House, Part 2 has extended its World Premiere run on Broadway through January 7, 2018.
In the final scene of Ibsen's 1879 ground-breaking masterwork, Nora Helmer makes the shocking decision to leave her husband and children, and begin a life on her own. This climactic event - when Nora slams the door on everything in her life - instantly propelled world drama into the modern age. In A Doll's House, Part 2, many years have passed since Nora's exit. Now, there's a knock on that same door. Nora has returned. But why? And what will it mean for those she left behind?
Let's see what the critics had to say:
---
Jesse Green, New York Times: Like most critics, I thought "A Doll's House, Part 2," the what-if sequel to Ibsen by Lucas Hnath, was already great when it opened in April. But a play's true greatness may hinge on how well it absorbs, or reshapes itself around, the succession of casts that enact it. That was going to be a high bar in this case. The entire original foursome - Laurie Metcalf, Chris Cooper, Jayne Houdyshell and Condola Rashad - was nominated for Tony Awards; deservedly, Ms. Metcalf won. Still, the new cast in place since July 25 pretty much seals the deal on the play's extraordinary merits.
Michael Dale, BroadwayWorld: Now with Julie White, another Best Actress Tony winner, taking over the role of Nora, joined by Obie winner Stephen McKinley Henderson, Erin Wilhelmi and remaining original cast member Jayne Houdyshell (another Tony winner), the dynamics of the evening have shifted a bit, with the play, and director Sam Gold's production, remaining as fascinating as ever.
Jeremy Gerard, Deadline: The new cast members include Julie White as Nora, Stephen McKinley Henderson as Torvald, and Erin Wilhelmi as their dauughter (sic) Emmy, joining Jayne Houydeshell as the housekeeper Anne Marie. They're brilliant. White has a light touch and game business as Nora, bringing out the comic shadings in contrast to the darker woman played by Metcalf. Henderson, a theater treasure and essential to the film of Fences, is magisterial as Torvald, at once self-composed and enormously, touchingly vulnerable.
Steven Suskin, Huffington Post: Julie White, a Tony Award-winner for The Little Dog Laughed, steps into Nora's peacock-brilliant outfit (courtesy of designer David Zinn) and instantly establishes mastery of the role. Yes, Metcalf was a wonder; but White brings full value, thank you very much. She works at a mile a minute, flitting about the stage with inner wheels twirling so fast that she often seems to be racing on to Nora's next thought before quite getting the last line out. It's a race White always wins, until Torvald unaccountably and almost accidentally presents Nora with an obstacle she can't spin her way out of.
Michael Glitz, Huffington Post: Now with three of the four roles featuring new performers, you're suddenly not sure who's going to win or how badly the losers will feel. Julie White is - perhaps surprisingly - more vulnerable than Metcalf. (I expected her to double down on the humor, but she pulls a little rope-a-dope on us; you're not quite sure she'll bounce back after every round.) Erin Wilhelmi chooses a less razor sharp and yet more poignant angle on the daughter that Nora left behind. (I never worried for Rashad's character but this Emmy might indeed have her life ruined by Nora's actions. Again.) And the great Stephen McKinley Henderson - always so likable even when being a scoundrel - makes you wonder why Nora left him at all.
To read more reviews, click
here
!