Photo Flash: California Teen Finn Sagal Named National Songbook Youth Ambassador
A lanky 17-year-old from southern California will soon be singing at some of the nation's most prestigious venues after claiming the title of Songbook Youth Ambassador at Saturday's Songbook Academy Finals at the Center for the Performing Arts. Scroll down for photos from the announcement!
Finnian "Finn" Sagal, a rising senior at La Cañada High School in suburban Los Angeles, was one of 40 young talents from across the country who participated last week in the Great American Songbook Foundation's annual Songbook Academy. Now in its eighth year, the Academy is the only summer intensive in which high school-age vocalists learn to perform timeless pop standards under the guidance of performing arts professionals. This year's mentors included Eden Espinosa, known for lead roles in Broadway's Wicked and Brooklyn, and Marc Cherry, creator of ABC's Desperate Housewives.
Ten finalists were selected to perform solo and vie for awards at the Saturday finals. Sagal, an amiable and unassuming presence offstage, wowed the crowd with Sinatra swagger on his first number, "Luck Be a Lady." He then tugged heartstrings with his second tune, "I'll Be Seeing You," noting that his grandmother had sung the song for departing troops as a USO performer.
Sagal, who plans to study opera in college, was perhaps the most surprised person in the packed Palladium concert hall when his name was announced at the end of the show.
"This has been the craziest, most shocking night of my life," he said. "I really had no idea. I did not think I was going to win, because I have been working with the most talented people I have ever met in my entire life."
"I would just like to thank everyone, all my mentors, for being so great this week," he added. "For the rest of my life, I'm going to (remember) what they've told me."
As Songbook Youth Ambassador, Sagal will have opportunities to perform in many high-profile settings over the coming year, often alongside SongbookFoundation Founder Michael Feinstein, who served as emcee for Saturday night's show. Past Ambassadors have sung at Lincoln Center, Carnegie Hall and Kennedy Center, among other venues. Sagal also will sing the National Anthem this fall at an Indianapolis Colts game.
The other nine finalists performing Saturday were Joie Bianco of Staten Island, NY; Emily Estep of Fresno, CA; Caleb Freeman of Webb City, MO; Cinderella Ksebati of Grosse Pointe Farms, MI; Jonathan Mitzenmacher of Miami, FL; Joseph Silva of Reseda, CA; Adriana Scalice of Penfield, NY; George Walker of Decatur, IL; and Cole Winston of Hartland, WI.
Also claiming honors for the week were Hayden Elefante of Zionsville, IN, Outstanding Musical Theater Performance; Lucy Breedlove of Vienna, VA, Most Improved Performance; Zoe Stewart of Mendon, MA, Most Promising Young Artist; George Walker of Decatur, IL, Songbook Spirit; Caleb Freeman of Webb City, MO, Songbook Celebration Award; and Emily Estep of Fresno, CA, and Cole Winston, of Hartland, WI, sharing the Songbook Inspiration Award.
The mission of the Great American Songbook Foundation, founded in 2007 by five-time Grammy Award nominee Michael Feinstein, is to inspire and educate by celebrating the timeless songs of pop, jazz, Broadway and Hollywood. Headquartered at the affiliated Center for the Performing Arts in Carmel, IN, the Foundation is committed to preserving and elevating this rich legacy by curating physical artifacts of its creators, performers and publishers; offering programs for the public and research opportunities for scholars, historians and performers; providing educational opportunities and multidisciplinary curricula for student musicians; overseeing the Songbook Hall of Fame; and operating a multimedia gallery for public exhibition of its collections. The Foundation is a Cultural Affiliate of the Grammy Museum. More information is available at www.TheSongbook.org.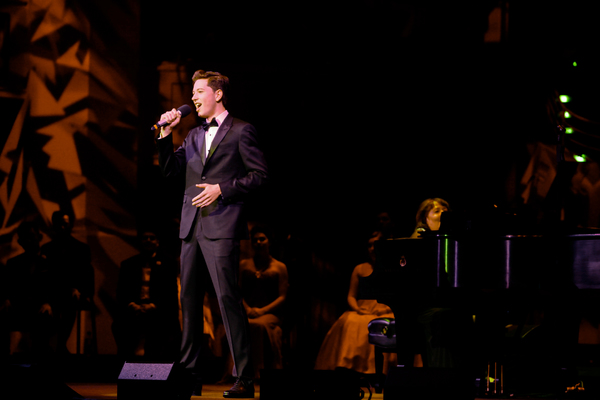 Finn Sagal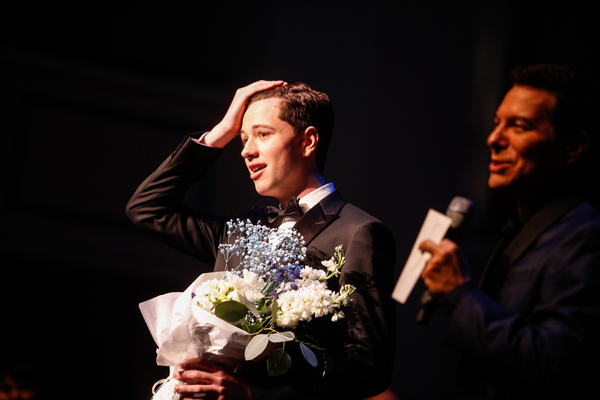 Finn Sagal with Michael Feinstein