Click Here for More Articles on How To...
High School Musicals: What Are the Top Shows for Schools?
And the most popular high school shows are...
From Broadway superstars to Broadway super fans; Tony winners to Tony viewers- most lovers of the arts can trace their passion back to humble origins- their high school theatre programs. According to the 2018 EDTA High School Play survey, over 26,000 US high schools have a theatre program, which means that hundreds of thousands of teenagers are bit by the theatre bug every year.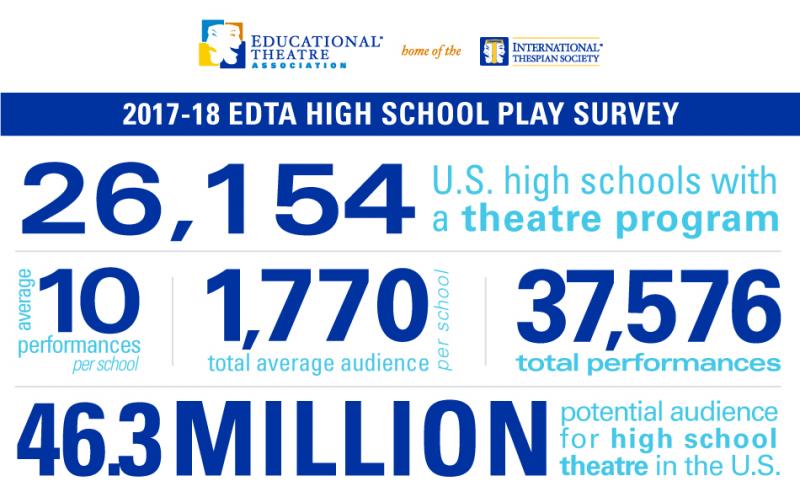 Which musicals make the best high school productions? While some might argue that classics like Fiddler on the Roof or Guys and Dolls are perfect for introducing teens to Broadway, many programs dare to present more modern musicals, like Legally Blonde or Catch Me If You Can.
Picking a musical that's right for your program can depend on many factors, including the size of your cast, interest of your students, and of course, availability of performance rights. Below, we're outlining the pros of 2018's most produced high school shows, including insight on the background, roles, songs and more!
---
10. Annie
Written by Charles Strouse, Martin Charnin and Thomas Meehan, Annie debuted on Broadway in 1977. Based on the comic strip 'Little Orphan Annie,' the musical has spawned two stage sequels and three film interpretations (1982, 1999 and 2014). The redheaded optimist has left an enduring mark on pop culture, making the musical one of the most recognized in the musical theatre cannon. Get the rights through MTI!
Memorable Songs: "Tomorrow," "Maybe," "Hard-Knock Life," "You're Never Fully Dressed Without a Smile."
The Roles: Annie, Miss Hannigan, Oliver Warbucks, Grace Farrell, Rooster, Lily, Bert Healy, President Roosevelt, various orphans and servants.
Students from Norwalk High School perform Annie:
---
9. The Wizard of Oz
Often considered one of the greatest films ever made, The Wizard of Oz came to life on stage for the first time nearly a half a century after the release of the 1939 movie. Featuring the beloved music and lyrics of Harold Arlen and E. Y. Harburg, the stage version includes a book adapted by John Kane. The cherished story of Dorothy's trip down the Yellow Brick Road has become hugely popular for community theatres, schools and children's theatres across the United States and the United Kingdom. Get the rights through Tams-Witmark!
Memorable Songs: "Over the Rainbow," "If I Only Had a Brain," "Yellow Brick Road," "We're Off to See the Wizard."
The Roles: Dorothy, Glinda, Scarecrow, Tinman, Lion, Emerald City Guard, Wicked Witch of the West, the Wizard, various Munchkins and Ozians.
Students from Pitman High School perform The Wizard of Oz:
---
8. Little Shop of Horrors
Since it premiered off-Broadway in 1982, this odd, little sci-fi musical has maintained a cult following. One of the first shows written by Alan Menken and Howard Ashman, Little Shop of Horrors has become hugely popular with community theatre, schools and other amateur groups because of its small cast and relatively simple orchestrations. Get the rights through MTI!
Memorable Songs: "Suddenly Seymour," 'Skid Row," "Be a Dentist," "Somewhere That's Green."
The Roles: Seymour Krelborn, Audrey, Audrey II, Mr. Mushnik, Orin Scrivello, Crystal, Ronnette, Chiffon.
Students from St. Francis High School perform Little Shop of Horrors:
---
7. Seussical
The tales of Dr. Seuss (20 of them, to be exact) intertwine in this musical, which mostly follows the story of Horton the Elephant and his quest to protect a very special clover. Written by Stephen Flaherty and Lynn Ahrens, it debuted on Broadway in 2000 and has since become hugely popular in schools for its colorful cast of characters. Get the rights through MTI!
Memorable Songs: "Oh, The Thinks You Can Think," "Alone in the Universe," "Notice Me, Horton," "It's Possible (McElligot's Pool)"
The Roles: Cat in the Hat, Horton, Jojo, Gertrude McFuzz, Mayzie LaBird, The Sour Kangaroo, various Who-creatures.
Students from Honeoye Falls Lima High School perform Seussical:
---
6. Shrek
Fairytale creatures revolt in this stage adaptation of the beloved 2001 film. Shrek premiered on Broadway in 2008, with a book by David Lindsay-Abaire and a score by Lindsay-Abaire and Jeanine Tesori. Much like Seussical, it remains popular across the country for its familiar subject matter and large cast of magical creatures. Get the rights through MTI!
Memorable Songs: "Big Bright Beautiful World," "I Know It's Today," "Who I'd Be," "Morning Person."
The Roles: Shrek, Fiona, Donkey, Lord Farquaad, Dragon, Gingy, Pinocchio, various fairy tale creatures
Students from Monmouth Regional High School perform Shrek:
---
5. Cinderella
The classic tale gets a fairy godmother-worthy makeover for the modern era in this updated version of a Rodgers and Hammerstein classic. With a new book by Douglas Carter Bean, the 2013 version of Cinderella trades in the romanticism of the previous versions for a more quirky and irreverent take on the fairytale. Get the rights through Rodgers & Hammerstein!
Memorable Songs: "In My Own Little Corner," "Ten Minutes Ago," "It's Possible," "Stepsister's Lament."
The Roles: Ella, Topher, Madame, Sebastian, Marie, Gabrielle, Charlotte, Jean-Michel
Lord Pinkleton, various townspeople.
Students from University High School perform Cinderella:
---
4. Into the Woods
The fairytales continue in this beloved Stephen Sondheim and James Lapine musical that incorporates stories from The Brothers Grimm and Charles Parrault. Since it debuted on Broadway in 1987, Into the Woods has become a staple in high schools everywhere as one of Sondheim's most accessible shows. Get the rights through MTI!
The Background: Written by Stephen Sondheim and James Lapine. Debut on Broadway in 1987.
Memorable Songs: "Into the Woods," "Children Will Listen," "Giants In the Sky," "No One is Alone."
The Roles: Witch, Baker, Baker's Wife, Cinderella, Jack, Little Red Riding Hood, Wolf, Rapunzel, Cinderella's Prince, Rapunzel's Prince, Narrator, Jack's Mother, Cinderella's Stepmother, Mysterious Man, Cinderella's Mother, Florinda, Lucinda.
Students from Arlington Martin perform Into the Woods:
---
3. The Little Mermaid
Ariel has big dreams to be a part of another world in this first Disney title on the list. Based on the classic 1989 film, with music by Alan Menken and Howard Ashman, the musical features double the songs (written by Menken and Glenn Slater), with a book by Doug Wright. Get the rights through MTI!
Memorable Songs: "Part of Your World," "Under the Sea," "Poor Unfortunate Souls," "Kiss the Girl"
The Roles: Ariel, Prince Eric, King Triton, Flounder, Sebastian, Scuttle, Ursula, Chef Louie, Flotsam, Jetsam, Grimsby, various seas creatures and townspeople.
Students from Wallkill Valley Regional High School perform The Little Mermaid:
---
2. The Addams Family
Based on Charles Addam's iconic cartoons, the ghoulish title family comes to life for one normal night in this musical by Andrew Lippa, Marshall Brickman and Rick Elice. The macabre tale debuted on Broadway in 2010 and has been snapping its way to high school stages ever since. Get the rights through Theatrical Rights Worldwide!
Memorable Songs: "When You're an Addams," "Pulled," "Crazier Than You," "Not Today."
The Roles: Gomez, Morticia, Uncle Fester, Grandma, Wednesday, Pugsley, Lurch, Mal Beineke, Alice Beineke, Lucas Beineke, various Addams Ancestors.
Students from Willamette High School perform The Addams Family:
---
1. Beauty and the Beast
It might be a tale as old as time but it hasn't gotten old in US high schools! The stage version of this Disney favorite debuted on Broadway just tree years after the 1991 film captured the hearts of movie-goers everywhere. The musical features the beloved songs of Menken and Ashman, with added music by Menken and Tim Rice, and a book by Linda Woolverton.
Memorable Songs: "Belle," "Be Our Guest," "Beauty and the Beast," "Home," "If I Can't Love Her."
The Roles: Belle, Beast, Gaston, Maurice, Mrs. Potts, Lumiere, Cogsworth, Chip, Babette, Madame De La Grande Bouche, Lefou, Monsieur D'arque, various enchanted objects and townspeople.
Students from Tri-West High School Musical perform Beauty and the Beast:
---
Which roles did some of Broadway's best actors perform in high school? Find out!
Need more help? We've got tips on when to buy tickets to a Broadway show, how to get there, what to wear, and how to know if it's age appropriate!
Related Articles
More Hot Stories For You