FUN HOME Stars Beth Malone and Sydney Lucas Reunite on TAKE A BOW Podcast
The podcast explores what it is like to be a young person in the entertainment business, and seeks advice from veteran performers.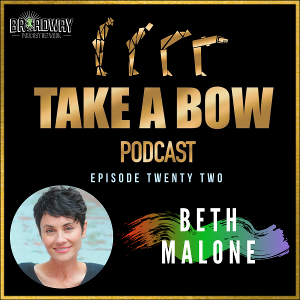 Tony-nominee Beth Malone took a bow in last week's episode of Take A Bow with her Fun Home co-star Sydney Lucas and co-host Eli Tokash!
The podcast explores what it is like to be a kid/teenager in the entertainment business, and seeks advice from veteran performers. The podcast is exclusively available from the Broadway Podcast Network at BPN.FM/TakeABow and wherever you listen to podcasts.
In this past Thursday's episode of Take A Bow, Tony nominee, Beth Malone joined the podcast and gave listeners insight on what goes into the making of a brand new musical. She shares so many wonderful stories of her approximately 8 years in the developmental process of Fun Home which she then went on to receive a Tony Nomination for.
Co-host Sydney Lucas and Malone, who played the same roles in different years of Allison Bechdel's life, had a wonderful time reconnecting and reminiscing on the project. Malone also shares stories about her latest projects such as The Unsinkable Molly Brown and Angels in America.
Malone wrapped up the interview by encouraging listeners to continue to follow their dreams and passions. There was a time she was in a cross roads and had thoughts of getting out of the business, until a sign came that told her she was exactly where she needed to be.
Take a bow is a weekly release of fun, light, and youthful conversations with guests from all aspects of the theatre and entertainment world hosted by two of the most successful teens on Broadway. Eli Tokash and Sydney Lucas have informational conversations allowing listeners to hear what it's like behind the curtains of Broadway. You will hear from casting directors, stage managers, directors, musicians, crew members, child guardians, producers, actors, and more.
You can listen to all episodes via Apple Podcasts, Spotify, Stitcher, iHeart, Google Podcasts, TuneIn, Deezer, Player.FM, Pocket Cast, Podcast Addict, BPN.com/TakeABow, and everywhere else you listen to podcasts.
Related Articles
More Hot Stories For You
VIDEO: First Look at Matthew Morrison in DR. SEUSS' THE GRINCH MUSICAL!
Dr. Seuss' beloved classic children's book "How the Grinch Stole Christmas!" has become a Christmas staple for generations and NBC is bringing the sto...

THE SPONGEBOB MUSICAL is Now Available For Licensing Through Concord Theatricals
The Spongebob Musical is now available for licensing through Concord Theatricals! The production is available for schools, colleges, universities, and...

THE SHOWS MUST GO ON Presents 42 STREET Starring Bonnie Langford
Join The Shows Must Go On from this Friday 4th December for the multi-award winning production of 42nd Street starring stage legend Bonnie Langford! T...

Alan Menken, Glenn Slater, and More Sign On for ANIMAL FARM Musical Adaptation
Composer Alan Menken and lyricist Glenn Slater are teaming up with playwright James Graham on a new musical adaptation of George Orwell's classic nove...

Signature Theatre Announces 2021 Five-Show Season, Featuring Norm Lewis, Solea Pfeiffer, Daniel J. Watts and More
Signature Theatre has announced the full lineup for Signature Theatre's 2021 Signature Features season, five fully-staged plays and musicals, made exc...

VIDEO: Watch Nicole Kidman Give It Some 'Zazz' in Netflix Adaptation of THE PROM
Nicole Kidman and Jo Ellen Pellman are giving us some Zazz in this first look at the number from Netflix's upcoming adaptation of the Broadway hit The...