BWW Review: Signature Revives Suzan-Lori Parks Free-Form Dramatic Riff, THE DEATH OF THE LAST BLACK MAN IN THE WHOLE ENTIRE WORLD
The symbolic nature of Suzan-Lori Parks' 1990 free-form dramatic riff, The Death of the Last Black Man in the Whole Entire World AKA THE NEGRO BOOK OF THE DEAD is made apparent to viewers as soon as they open their programs and see the characters have names like "Black Woman With Fried Drumstick," "Before Columbus" and "Lots of Grease and Lots of Pork."
The great tree limb scenic designer Riccardo Hernandez has stretching the length of the stage insures the ominous tone which is broken just slightly by the absurdly large watermelons that are carried on stage by, as the author describes them in her script, the play's figures.
Director Lileana Blain-Cruz's mock-celebratory pageant-like production is performed by a fine ensemble whose tongues are nimbly set within their cheeks.
As the audience arrives, Daniel J. Watts as Black Man With Watermelon is on stage slumped in a chair, seemingly dead already. His demise is not just a physical one, but also the memory of his existence. So when Black Woman With Fried Drumstick (Roslyn Ruff) keeps urging him to eat, and he comes alive only to be murdered again, it represents a cycle of prominent black people whose stories are lost through a history of apathy.
"You should write it down and you should hide it under a rock," a character named Yes and Greens Black-Eyed Peas Cornbread (Nike Kadri) keeps repeating. "You should write it down because if you don't write it down then they will come along and tell the future that we did not exist."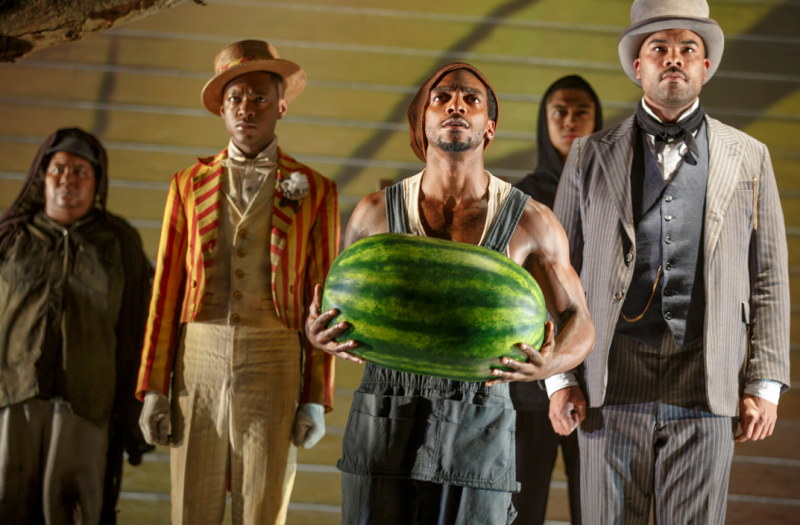 Dressed by costume designer Montana Blanco in a polka-dotted housedress and torn stockings, her image as an urban mom circa 1970s is one of the archetype's represented by ensemble members, including a Malcolm X stand-in named Voice on Thu Tee V (William DeMerritt) and a pop star soul goddess named Queen-Then-Pharaoh Hatshepsut.
And Bigger and Bigger and Bigger (Reynaldo Piniella) is named for the central character of Richard Wright's novel "Native Son." A young girl in her church clothes is named Prunes and Prisms (Mirirai Sithole). "Say 'prunes and prisms' 40 times each day and you'll cure your big lips," she explains.
Typical of the earlier works of the future Pulitzer-winner, the exact intention of the piece may not be easy to grasp, but it's still to be admired as an uninhibited abstract collage by a young voice who will eventually be recognized as one of the new century's most important playwrights.