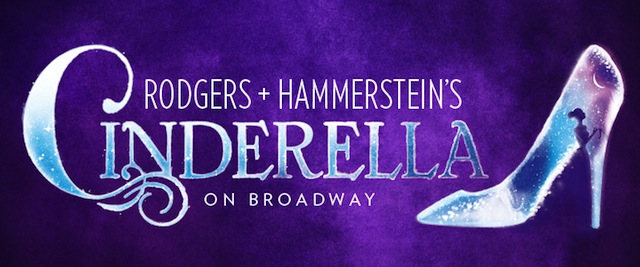 Click Here for More Articles on CINDERELLA THE MUSICAL
BWW Flashback: The Ball is Over- CINDERELLA Closes on Broadway Today
Tony Award-winning musical Rodgers + Hammerstein's Cinderella (Broadway Theatre, 1681 Broadway) - is one of many shows to take its final Broadway bow this weekend, following a triumphant 2-year run. The show will have played 41 preview and 770 regular performances. Below, Broadway salutes the musical with a special flashback of the show's road to Broadway!
Cinderella has music by Richard Rodgers, lyrics by Oscar Hammerstein II, a new book by Douglas Carter Beane and original book by Oscar Hammerstein II. The musical is directed by Mark Brokaw. Josh Rhodes is choreographer. Music adaptation, supervision and arrangements are by David Chase. Orchestrations are by Danny Troob. Constantine Kitsopoulos is currently music director and conductor. Casting for CINDERELLA for Broadway and the national tour is by Cindy Tolan and Adam Caldwell.
With its fresh, new take on the beloved tale of a young woman who is transformed from a chambermaid into a princess, this hilarious and romantic Cinderella combines the story's classic elements - glass slippers, pumpkin, a beautiful ball and more - with some surprise twists. More than just a pretty face with the right shoe size, the Cinderella of the Rodgers & Hammerstein musical now on Broadway is a surprisingly contemporary figure living in a fairytale setting: a spirited young woman with savvy and soul, eager to develop a world view, she doesn't let her rags or her gowns trip her up in her quest for kindness, compassion and forgiveness. She not only fights for her own dreams, but makes the prince, who falls in love with her, open his eyes to the world around him and realize his dreams, too.
---
In January 2012, it was announced that Mark Brokaw would direct a revival of CINDERELLA on Broadway in the following season:
Laura Osnes and Santino Fontana
Cast performs pre-opening at the 2012 Macy's Thanksgiving Day Parade:
Cast meets the press:
Photo Credit: Walter McBride
Laura Osnes, Santino Fontana, Victoria Clark & More!" src="https://cloudimages.broadwayworld.com/upload10/445002/tn-500_wm100170676.jpg" />
'Rodgers + Hammerstein's Cinderella on Broadway'
Laura Osnes, Santino Fontana, Victoria Clark & More!" src="https://cloudimages.broadwayworld.com/upload10/445002/tn-500_wm100170674.jpg" />
Laura Osnes
Laura Osnes, Santino Fontana, Victoria Clark & More!" src="https://cloudimages.broadwayworld.com/upload10/445002/tn-500_wm100170689.jpg" />
Producers Robyn Goodman, Jill Furman & Stephen Kocis
Laura Osnes, Santino Fontana, Victoria Clark & More!" src="https://cloudimages.broadwayworld.com/upload10/445002/tn-500_wm100170690.jpg" />
The Creative Team
Laura Osnes, Santino Fontana, Victoria Clark & More!" src="https://cloudimages.broadwayworld.com/upload10/445002/tn-500_wm100170692.jpg" />
Greg Hildreth, Marla Mindelle, Ann Harada, Laura Osnes, Santino Fontana, Victoria Clark, Harriet Harris, Peter Bartlett & Phumzile Sojola
Laura Osnes, Santino Fontana, Victoria Clark & More!" src="https://cloudimages.broadwayworld.com/upload10/445002/tn-500_wm100170691.jpg" />
Ensemble Cast
Laura Osnes, Santino Fontana, Victoria Clark & More!" src="https://cloudimages.broadwayworld.com/upload10/445002/tn-500_wm100170668.jpg" />
Harriet Harris, Santino Fontana, Laura Osnes & Victoria Clark
Laura Osnes, Santino Fontana, Victoria Clark & More!" src="https://cloudimages.broadwayworld.com/upload10/445002/tn-500_wm100170693.jpg" />
Harriet Harris, Santino Fontana, Laura Osnes & Victoria Clark
Laura Osnes, Santino Fontana, Victoria Clark & More!" src="https://cloudimages.broadwayworld.com/upload10/445002/tn-500_wm100170694.jpg" />
Harriet Harris, Santino Fontana, Victoria Clark & Laura Osnes
Laura Osnes, Santino Fontana, Victoria Clark & More!" src="https://cloudimages.broadwayworld.com/upload10/445002/tn-500_wm100170705.jpg" />
Laura Osnes & Santino Fontana with ensemble
Laura Osnes, Santino Fontana, Victoria Clark & More!" src="https://cloudimages.broadwayworld.com/upload10/445002/tn-500_wm100170703.jpg" />
Victoria Clark & Laura Osnes
Laura Osnes, Santino Fontana, Victoria Clark & More!" src="https://cloudimages.broadwayworld.com/upload10/445002/tn-500_wm100170704.jpg" />
Victoria Clark & Laura Osnes
Laura Osnes, Santino Fontana, Victoria Clark & More!" src="https://cloudimages.broadwayworld.com/upload10/445002/tn-500_wm100170672.jpg" />
Laura Osnes
Laura Osnes, Santino Fontana, Victoria Clark & More!" src="https://cloudimages.broadwayworld.com/upload10/445002/tn-500_wm100170673.jpg" />
Laura Osnes
Laura Osnes, Santino Fontana, Victoria Clark & More!" src="https://cloudimages.broadwayworld.com/upload10/445002/tn-500_wm100170675.jpg" />
Laura Osnes
Laura Osnes, Santino Fontana, Victoria Clark & More!" src="https://cloudimages.broadwayworld.com/upload10/445002/tn-500_wm100170683.jpg" />
Santino Fontana
Laura Osnes, Santino Fontana, Victoria Clark & More!" src="https://cloudimages.broadwayworld.com/upload10/445002/tn-500_wm100170688.jpg" />
Laura Osnes & Santino Fontana
Laura Osnes, Santino Fontana, Victoria Clark & More!" src="https://cloudimages.broadwayworld.com/upload10/445002/tn-500_wm100170687.jpg" />
Laura Osnes & Santino Fontana
Laura Osnes, Santino Fontana, Victoria Clark & More!" src="https://cloudimages.broadwayworld.com/upload10/445002/tn-500_wm100170684.jpg" />
Laura Osnes & Santino Fontana
Laura Osnes, Santino Fontana, Victoria Clark & More!" src="https://cloudimages.broadwayworld.com/upload10/445002/tn-500_wm100170686.jpg" />
Laura Osnes & Santino Fontana
Laura Osnes, Santino Fontana, Victoria Clark & More!" src="https://cloudimages.broadwayworld.com/upload10/445002/tn-500_wm100170685.jpg" />
Laura Osnes & Santino Fontana
Laura Osnes, Santino Fontana, Victoria Clark & More!" src="https://cloudimages.broadwayworld.com/upload10/445002/tn-500_wm100170706.jpg" />
Laura Osnes & Santino Fontana & Ensemble
First look at the cast onstage:
Photo Credit: Carol Rosegg
Rodgers + Hammerstein's Cinderella on Broadway!" height="600" src="https://cloudimages.broadwayworld.com/upload10/463758/cindswap.jpg" width="400" />
Laura Osnes
Rodgers + Hammerstein's Cinderella on Broadway!" src="https://cloudimages.broadwayworld.com/upload10/463758/tn-500_cinderella1246annharadaandfemaleensemble.jpg" />
Ann Harada and the Female Ensemble
Rodgers + Hammerstein's Cinderella on Broadway!" src="https://cloudimages.broadwayworld.com/upload10/463758/tn-500_cinderella1456lauraosnes.jpg" />
Laura Osnes
Laura Osnes and Victoria Clark
Inside opening night:

Santino Fontana, Laura Osnes, Harriet Harris, Ann Harada & Company

Marla Miindelle, Victoria Clark, Santino Fontana, Laura Osnes, Harriet Harris & Company
Company chats with Richard Ridge:
Fran Drescher
and
Carly Rae Jepsen
join the cast:
Photo Credit: Carol Rosegg
Carly Rae Jepsen and Fran Drescher Onstage in CINDERELLA!" src="https://cloudimages.broadwayworld.com/upload10/678842/tn-500_2cinderellanyc4116joecarroll.jpg" />
Joe Carroll and COmpany
Carly Rae Jepsen and Fran Drescher Onstage in CINDERELLA!" src="https://cloudimages.broadwayworld.com/upload10/678842/tn-500_3cinderellanyc4032toddbuonopaneasjean-michel.jpg" />
Todd Buonopane as Jean-Michel
Carly Rae Jepsen and Fran Drescher Onstage in CINDERELLA!" src="https://cloudimages.broadwayworld.com/upload10/678842/tn-500_4cinderellanyc4056frandrescheratmadame.jpg" />
Fran Drescher as Madame
Carly Rae Jepsen and Fran Drescher Onstage in CINDERELLA!" src="https://cloudimages.broadwayworld.com/upload10/678842/tn-500_5cinderellanyc4127peterbartlettandfrandrescher.jpg" />
Peter Bartlett and Fran Drescher
Carly Rae Jepsen and Fran Drescher Onstage in CINDERELLA!" src="https://cloudimages.broadwayworld.com/upload10/678842/tn-500_5bcinderellanyc4129stephaniegibson,frandrescherandannharada.jpg" />
Stephanie Gibson, Fran Drescher and Ann Harada
Carly Rae Jepsen and Fran Drescher Onstage in CINDERELLA!" src="https://cloudimages.broadwayworld.com/upload10/678842/tn-500_6cinderella0346victoriaclark.jpg" />
Victoria Clark
Carly Rae Jepsen and Fran Drescher Onstage in CINDERELLA!" src="https://cloudimages.broadwayworld.com/upload10/678842/tn-500_7cinderellanyc4141rcarlyraejepsenascinderella.jpg" />
Carly Rae Jepsen as Cinderella
Carly Rae Jepsen and Fran Drescher Onstage in CINDERELLA!" src="https://cloudimages.broadwayworld.com/upload10/678842/tn-500_8cinderellanyc4077joecarrollandcarlyraejepsen.jpg" />
Joe Carroll and Carly Rae Jepsen
Carly Rae Jepsen and Fran Drescher Onstage in CINDERELLA!" src="https://cloudimages.broadwayworld.com/upload10/678842/tn-500_9cinderellanyc4078carlyraejepsenandjoecarroll.jpg" />
Carly Rae Jepsen and Joe Carroll
Carly Rae Jepsen and Fran Drescher Onstage in CINDERELLA!" src="https://cloudimages.broadwayworld.com/upload10/678842/tn-500_10cinderellanyc4080joecarrollandcarlyraejepsen.jpg" />
Joe Carroll and Carly Rae Jepsen
Carly Rae Jepsen and Fran Drescher Onstage in CINDERELLA!" src="https://cloudimages.broadwayworld.com/upload10/678842/tn-500_11cinderellanyc4015joecarollandcarlyraejepsen.jpg" />
Joe Carroll and Carly Rae Jepsen
Carly Rae Jepsen and Fran Drescher Onstage in CINDERELLA!" src="https://cloudimages.broadwayworld.com/upload10/678842/tn-500_13cinderellanyc4169rfrandrescher,carlyraejepsenstephaniegibsonandannharada.jpg" />
Fran Drescher, Carly Rae Jepsen, Stephanie Gibson and Ann Harada
Carly Rae Jepsen and Fran Drescher Onstage in CINDERELLA!" src="https://cloudimages.broadwayworld.com/upload10/678842/tn-500_14cinderellanyc4171carlyraejepsen,frandrescher,stephaniegibsonandannharada.jpg" />
Carly Rae Jepsen, Fran Drescher, Stephanie Gibson and Ann Harada
Nancy Opel
&
Paige Faure
join the cast:
Photo Credit: Carol Rosegg
Nancy Opel & Paige Faure in CINDERELLA!" src="https://cloudimages.broadwayworld.com/upload10/796405/tn-500_10557522_591118424332522_3621296370877692695_o.jpg" />
Paige Faure and Joe Carroll
Nancy Opel & Paige Faure in CINDERELLA!" src="https://cloudimages.broadwayworld.com/upload10/796405/tn-500_10497903_591118687665829_5023710062030247754_o.jpg" />
Paige Faure and cast
Nancy Opel & Paige Faure in CINDERELLA!" src="https://cloudimages.broadwayworld.com/upload10/796405/tn-500_1517450_591119257665772_9205335948472986910_n.jpg" />
Nancy Opel
Nancy Opel & Paige Faure in CINDERELLA!" height="400" src="https://cloudimages.broadwayworld.com/upload10/796405/11%20Cinderella6275r%20Paige%20Faure%20and%20Joe%20Carroll.jpg" width="600" />
Nancy Opel & Paige Faure in CINDERELLA!" height="389" src="https://cloudimages.broadwayworld.com/upload10/796405/10%20Cinderella6284r%20Paige%20Faure%20and%20Joe%20Carroll.jpg" width="600" />
Nancy Opel & Paige Faure in CINDERELLA!" height="425" src="https://cloudimages.broadwayworld.com/upload10/796405/13%20Cinderella6343r%20Nancy%20Opel%2C%20Paige%20Faure%2C%20Ann%20Harada%20and%20Stephanie%20Gibson.jpg" width="600" />

Nancy Opel, Paige Faure, Ann Harada, Stephanie Gibson
Nancy Opel & Paige Faure in CINDERELLA!" height="415" src="https://cloudimages.broadwayworld.com/upload10/796405/8%20Cinderella6307%20%20Victoria%20Clark%20and%20Paige%20Faure.jpg" width="600" />
Victoria Clark and Paige Faure
Nancy Opel & Paige Faure in CINDERELLA!" height="389" src="https://cloudimages.broadwayworld.com/upload10/796405/7%20Cinderella6295r2_jpg%20Andy%20Mill%2C%20Victoria%20Clark%20and%20Paige%20Faure.jpg" width="600" />
Andy MiIls, Victoria Clark and Paige Faure
Keke Palmer and Sherri Shepherd join the cast:
Photo Credit: Carol Rosegg
Related Articles