Now Playing Onstage in Appleton, WI - Week of 6/15/2014
View All Show Listings for Appleton, WI
Click Here to View BroadwayWorld.com Appleton, WI Calendar
LES MISERABLES
WAUSAU COMMUNITY THEATRE
6/19-6/22/2014
This international smash-hit may be the most popular musical in the world. In 19th century France, Jean Valjean is released from 19 years of unjust imprisonment, but finds nothing in store for him but mistrust and mistreatment. He breaks his parole in hopes of starting a new life, initiating a life-long struggle for redemption as he is relentlessly pursued by police inspector Javert, who refuses to believe Valjean can change his ways. Finally, during the Paris student uprising of 1832, Javert must confront his ideals after Valjean spares his life and saves that of the student revolutionary who has captured the heart of Valjean's adopted daughter. His world-view shattered, Javert commits suicide, and Valjean at last attains the peace he has sought for so long.Epic, grand and uplifting, LES MISÉRABLES packs an emotional wallop that has thrilled audiences all over the world. The sung-through pop opera is ideal for a cast of exceptional singers and overflows with melodies that are already standards. A spectacle on Broadway and in London, LES MISÉRABLES is equally effective with a minimal set; it is its powerful affirmation of the human spirit that has made LES MISÉRABLES a popular masterpiece.
Click Here for More Information
THE PHANTOM OF THE OPERA
Fox Cities Performing Arts Center
6/11-6/22/2014
Following an acclaimed sold-out tour of the United Kingdom,
Cameron Mackintosh
's spectacular new production of
Andrew Lloyd Webber
's phenomenal musical success, THE PHANTOM OF THE OPERA, sets out on a brand new North American Tour. Critics are raving that this breathtaking production is "bigger and better than ever before." This PHANTOM features a brilliant new scenic design by
Paul Brown
, Tony Award-winning original costume design by Maria Bjornson, lighting design by Tony Award winner
Paule Constable
, new choreography by
Scott Ambler
, and a new staging by director Laurence Connor. The production, overseen by
Matthew Bourne
and
Cameron Mackintosh
, boasts many exciting special effects including the show's legendary chandelier. The beloved story and thrilling score - with songs like "Music of the Night," "All I Ask Of You," and "Masquerade" - will be performed by a cast and orchestra of 52, making this PHANTOM one of the largest productions now on tour.
Click Here for More Information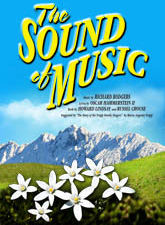 THE SOUND OF MUSIC
The Hartford Players LTD
6/20-6/29/2014
The final collaboration between Rodgers & Hammerstein was destined to become the world's most beloved musical. When a postulant proves too high-spirited for the religious life, she is dispatched to serve as governess for the seven children of a widowed naval Captain. Her growing rapport with the youngsters, coupled with her generosity of spirit, gradually captures the heart of the stern Captain, and they marry. Upon returning from their honeymoon they discover that Austria has been invaded by the Nazis, who demand the Captain's immediate service in their navy. The family's narrow escape over the mountains to Switzerland on the eve of World War II provides one of the most thrilling and inspirational finales ever presented in the theatre. The motion picture version remains the most popular movie musical of all time.Music by Rodgers, Richard; Lyrics by
Oscar Hammerstein
II; Book by
Howard Lindsay
&
Russel Crouse
; Suggested by `The
Trapp Family Singers
` by
Maria Augusta Trapp
Click Here for More Information
INTO THE WOODS JR
DARE TO DREAM THEATRE
6/1-6/30/2014
The Brothers Grimm
"go Broadway" as Sondheim and Lapine offer up a cockeyed fairy tale where all of your favorite characters""Cinderella, Little Red Riding Hood, Jack (and his beanstalk) and The Witch""meet and interact on their journeys. With unforgettable roles, little dancing and no chorus, INTO THE WOODS JR. showcases a medium-sized ensemble of talented singers and actors. The sophisticated score has been adapted to make it easier--though still challenging--for young performers. INTO THE WOODS JR. is a funny and engaging way to get young people to think about the stories with which they've grown up and the ethical issues raised therein.
Click Here for More Information
View All Show Listings for Appleton, WI
Click Here to View BroadwayWorld.com Appleton, WI Calendar
Related Articles
From This Author BWW