Now Playing Onstage in Albuquerque - Week of 6/29/2014
View All Show Listings for Albuquerque
Click Here to View BroadwayWorld.com Albuquerque Calendar
SHAKESPEARE ON THE PLAZA
The Vortex Theatre
6/20-7/13/2014
The Vortex Theatre and the City of Albuquerque (Cultural Services Division) are partnering to produce Shakespeare outdoors in the summer of 2014. Romeo and Juliet and A Midsummer Night's Dream will be performed by a single company of actors over a four week period, June 20-July 13. The productions will be in Albuquerque's Civic Plaza, where the large covered stage will be remade into an intimate space, a perfect place to experience Shakespeare's incomparable love poetry on a summer night. The directors are Billy Trabaudo (Romeo and Juliet), a young director with an ear for the music of young love, and Salome Martinez Lutz (A Midsummer Night's Dream), well-known for producing modern and classic Hispanic drama as well as zarzuela. They promise to bring fresh visions to these popular classics. The new project will be "repertory theatre" in several senses. The actors will work in a repertory company, everyone appearing in both plays. And the repertory will "revolve" with Romeo opening first, followed by Dream, and on into alternating nights. But it is also intended to be an Albuquerque Shakespeare festival, one with popular prices, a diverse acting company, and localized, relevant productions that bring Shakespeare right into "the Plaza" of Albuquerque and New Mexico. Look for Shakespeare as you've rarely seen him in New Mexico!
Click Here for More Information
LES MISERABLES
TAOS ACADEMY
7/4-7/19/2014
This international smash-hit may be the most popular musical in the world. In 19th century France, Jean Valjean is released from 19 years of unjust imprisonment, but finds nothing in store for him but mistrust and mistreatment. He breaks his parole in hopes of starting a new life, initiating a life-long struggle for redemption as he is relentlessly pursued by police inspector Javert, who refuses to believe Valjean can change his ways. Finally, during the Paris student uprising of 1832, Javert must confront his ideals after Valjean spares his life and saves that of the student revolutionary who has captured the heart of Valjean's adopted daughter. His world-view shattered, Javert commits suicide, and Valjean at last attains the peace he has sought for so long.Epic, grand and uplifting, LES MISÉRABLES packs an emotional wallop that has thrilled audiences all over the world. The sung-through pop opera is ideal for a cast of exceptional singers and overflows with melodies that are already standards. A spectacle on Broadway and in London, LES MISÉRABLES is equally effective with a minimal set; it is its powerful affirmation of the human spirit that has made LES MISÉRABLES a popular masterpiece.
Click Here for More Information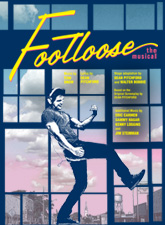 FOOTLOOSE
Sandstone Productions
6/19-8/2/2014
One of the most explosive movie musicals in recent memory bursts onto the live stage with exhilarating results. When Ren and his mother move from Chicago to a small farming town, Ren is prepared for the inevitable adjustment period at his new high school. What he isn't prepared for are the rigorous local edicts, including a ban on dancing instituted by the local preacher, determined to exercise the control over the town's youth that he cannot command in his own home. When the reverend's rebellious daughter sets her sights on Ren, her roughneck boyfriend tries to sabotage Ren's reputation, with many of the locals eager to believe the worst about the new kid. The heartfelt story that emerges is of a father longing for the son he lost and of a young man aching for the father who walked out on him. To the rockin' rhythm of its Oscar and Tony-nominated top 40 score (the soundtrack album reached number one on the Billboard charts and has sold over 15 million copies!) and augmented with dynamic new songs for the stage musical, FOOTLOOSE celebrates the wisdom of listening to young people, guiding them with a warm heart and an open mind.Music by
Tom Snow
; Lyrics by
Dean Pitchford
; Stage Adaptation by
Dean Pitchford
and
Walter Bobbie
; Based on the original screenplay by
Dean Pitchford
; Additional Music by
Eric Carmen
,
Sammy Hagar
,
Kenny Loggins
and
Jim Steinman
Click Here for More Information
View All Show Listings for Albuquerque
Click Here to View BroadwayWorld.com Albuquerque Calendar
Related Articles
From This Author BWW