Now Playing Onstage in Wichita - Week of 9/29/2013
September 29
10:09 AM 2013
View All Show Listings for Wichita
Click Here to View BroadwayWorld.com Wichita Calendar
MOMIX: BOTANICA
Orpheum Theatre
10/5-10/5/2013
Known internationally for presenting work of exceptional inventiveness and physical beauty, MOMIX is a company of dancer-illusionists under the direction of Moses Pendleton. For 20 years, MOMIX has been celebrated for its ability to conjure up a world of surrealistic images using props, light, shadow, humor and the human body. In addition to stage performances world-wide, the company has frequently worked on special projects and in film and television. MOMIX has made five Italian RAI television features broadcast to 55 countries (including the USSR and China) and has performed on Antenne II in France. MOMIX was also featured in PBS's "Dance in America" series. The company participated in the "Homage a Picasso" in Paris and was selected to represent the US at the European Cultural Center at Delphi. MOMIX dancers Cynthia Quinn and Karl Baumann played the role of "Bluey" in the film "FX II", under the direction of Moses Pendleton. In 1992, Mr. Pendleton created "Bat Habits", developed with the support of the Scottsdale Cultural Council/Scottsdale Center For the Arts, Scottsdale Arizona and the University of Washington to celebrate the opening of the San Francisco Giants' new spring training park in Scottsdale, Arizona. This work was the forerunner of "Baseball" which was created by Mr. Pendleton in 1994. MOMIX is featured in one of the first IMAX films in 3-D, "IMAGINE", premiered at the Taejon Expo 93 and subsequently released at IMAX theaters world-wide. MOMIX has performed throughout the United States and the world.
Click Here for More Information
MONTY PYTHON'S SPAMALOT
Topeka Civic Theatre & Academy
9/6-10/5/2013
Click Here for More Information
SPRING AWAKENING
The Barn Players
9/20-10/6/2013
Winner of 8 TONY Awards, including BEST MUSICAL, SPRING AWAKENING is a rock musical that celebrates the unforgettable journey from youth to adulthood with a power, poignancy, and passion that you will never forget. Adapted from
Frank Wedekind
's 1891 expressionist play about the trials, tears, and exhilaration of the teen years, it has been hailed as the "Best Musical of the Year" by the New York Times, New York Post, Star Ledger, Journal News, New York Observer and USA Today. Featuring music by
Duncan Sheik
and a book and lyrics by
Steven Sater
, it concerns teenagers who are discovering the inner and outer tumult of sexuality.
Click Here for More Information
FOOTLOOSE
Theatre Lawrence
9/19-10/6/2013
One of the most explosive movie musicals in recent memory bursts onto the live stage with exhilarating results. When Ren and his mother move from Chicago to a small farming town, Ren is prepared for the inevitable adjustment period at his new high school. What he isn't prepared for are the rigorous local edicts, including a ban on dancing instituted by the local preacher, determined to exercise the control over the town's youth that he cannot command in his own home. When the reverend's rebellious daughter sets her sights on Ren, her roughneck boyfriend tries to sabotage Ren's reputation, with many of the locals eager to believe the worst about the new kid. The heartfelt story that emerges is of a father longing for the son he lost and of a young man aching for the father who walked out on him. To the rockin' rhythm of its Oscar and Tony-nominated top 40 score (the soundtrack album reached number one on the Billboard charts and has sold over 15 million copies!) and augmented with dynamic new songs for the stage musical, FOOTLOOSE celebrates the wisdom of listening to young people, guiding them with a warm heart and an open mind.Music by
Tom Snow
; Lyrics by
Dean Pitchford
; Stage Adaptation by
Dean Pitchford
and
Walter Bobbie
; Based on the original screenplay by
Dean Pitchford
; Additional Music by
Eric Carmen
,
Sammy Hagar
,
Kenny Loggins
and
Jim Steinman
Click Here for More Information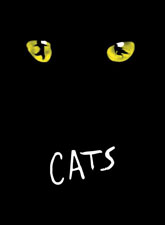 CATS
Crown Uptown Dinner Theatre
9/13-10/19/2013
Based on the universally popular poetry of
T.S. Eliot
, CATS tells the story, in song and dance, of the annual gathering of Jellicle cats at which time one special cat is selected to ascend to the Heaviside layer. A true musical theatre phenomenon, CATS opened at London's New London Theatre on May 11, 1981 and ran for a record-setting 21 years. CATS's London success was nearly matched on Broadway where it ran at the Wintergarden Theatre for just over 18 years.Music by
Andrew Lloyd Webber
; Based on Old Possum's Book Of Practical Cats; By T. S. Eliot
Click Here for More Information
ADMIRAL WINDWAGON, VAMPIRE HUNTER
Mosley Street Melodrama
9/12-11/2/2013
Click Here for More Information
View All Show Listings for Wichita
Click Here to View BroadwayWorld.com Wichita Calendar