Now Playing Onstage in Wichita - Week of 4/27/2014
View All Show Listings for Wichita
Click Here to View BroadwayWorld.com Wichita Calendar
RUGRATS
Crown Uptown Dinner Theatre
4/11-5/3/2014
Click Here for More Information
FOLLIES
The Barn Players
4/18-5/4/2014
The year is 1971, and theatrical impresario Dimitri Weissmann hosts a reunion of ex-Follies performers in his crumbling theatre, setting the stage for a parade of brilliant pastiche numbers, including "Losing My Mind," "I'm Still Here," and "Broadway Baby." Amid the reminiscing, two middle-aged couples confront some unpleasant truths about their past and present and come face to face with the future. Surreal, sophisticated, compelling, heart-wrenching and epic in scope, this show uses the musical theatre as a metaphor for the collapse of American innocence and naivete in the post-Kennedy years.
Click Here for More Information
SABRINA FAIR
Wichita Community Theatre
4/17-5/4/2014
Sabrina Fair is a romantic comedy written by Samuel A. Taylor. It ran on Broadway for a total of 318 performances, opening at the National Theatre on November 11, 1953. Directed by H. C.
Click Here for More Information
CHEMICAL IMBALANCE: A JEKYLL & HYDE PLAY
Wichita State University - Wilner Auditorium
5/1-5/4/2014
Chemical Imbalance is a two act contemporary "horror farce" that is a comic/evil adaptation of
Robert Louis
Stevenson's Strange Case of Dr. Jekyll and Mr. Hyde. The play focuses on the bloody experiments of the "chemically imbalanced" Mr. Hyde. No one is safe from his devious mind not even the family dog.
Click Here for More Information
JOSEPH AND THE AMAZING TECHNICOLOR DREAMCOAT
Manhattan Arts
4/25-5/4/2014
The Biblical saga of Joseph and his coat of many colors comes to vibrant life in this delightful musical parable. Joseph, his father's favorite son, is a boy blessed with prophetic dreams. When he is sold into slavery by his jealous brothers and taken to Egypt, Joseph endures a series of adventures in which his spirit and humanity are continually challenged. He is purchased by Potiphar where thwarting advances from Potiphar's wife lands him in jail. When news of Joseph's gift to interpret dreams reaches the Pharaoh (wryly and riotously depicted as Elvis), Joseph is well on his way to becoming second in command. Eventually his brothers, having suffered greatly, unknowingly find themselves groveling at the feet of the brother they betrayed but no longer recognize. After testing their integrity, Joseph reveals himself leading to a heartfelt reconciliation of the sons of Israel. Set to an engaging cornucopia of musical styles, from country-western and calypso to bubble-gum pop and rock 'n' roll, this Old Testament tale emerges both timely and timeless.Lyrics by
Tim Rice
; Music by
Andrew Lloyd Webber
Click Here for More Information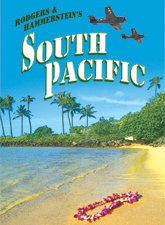 SOUTH PACIFIC
Independence Community College
5/2-5/4/2014
Set in an island paradise during World War II, two parallel love stories are threatened by the dangers of prejudice and war. Nellie, a spunky nurse from Arkansas, falls in love with a mature French planter, Emile. Nellie learns that the mother of his children was an island native and, unable to turn her back on the prejudices with which she was raised, refuses Emile's proposal of marriage. Meanwhile, the strapping Lt. Joe Cable denies himself the fulfillment of a future with an innocent Tonkinese girl with whom he's fallen in love out of the same fears that haunt Nellie. When Emile is recruited to accompany Joe on a dangerous mission that claims Joe's life, Nellie realizes that life is too short not to seize her own chance for happiness, thus confronting and conquering her prejudices.Music by Rodgers, Richard; Lyrics by
Oscar Hammerstein
II; Book by
Oscar Hammerstein
II &
Joshua Logan
; Adapted from the Pulitzer Prize winning novel
Click Here for More Information
View All Show Listings for Wichita
Click Here to View BroadwayWorld.com Wichita Calendar