Now Playing Onstage in Wichita - Week of 4/13/2014
View All Show Listings for Wichita
Click Here to View BroadwayWorld.com Wichita Calendar
WAR PAINT
The Wichita Center for the Arts
4/16-4/20/2014
In War Paint, by Dr.
Bret Jones
, a modern-day Muskogee-Creek Indian girl attempts to War Paintprove herself in college but has a crisis of identity. A death in her family and a unique Anthropology assignment force her to rediscover her true heritage as she alienates others, tries her family's patience, and finds love along the way. The stories relevancy lies in the cultural limbo faced by American Indians often torn between mainstream society and the desire to carry on the traditions of their people.
Click Here for More Information
MONTY PYTHON'S SPAMALOT
Depot Theater Company
4/11-4/26/2014
Click Here for More Information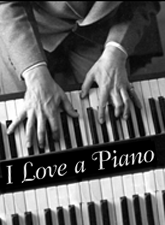 I LOVE A PIANO
Crown Uptown Dinner Theatre
4/4-4/27/2014
I LOVE A PIANO is the celebration of the music and lyrics of
Irving Berlin
. It follows the journey of a piano as it moves in and out of American lives from the turn of the century to the present. Along the way, the story comes to vibrant life with over sixty of
Irving Berlin
's most beloved songs, including classics such as 'Blue Skies,' 'There's No Business Like Show Business,' 'Puttin' on the Ritz,' 'Cheek to Cheek,' 'Always,' 'How Deep is the Ocean,' 'Anything You Can Do,' 'God Bless America,' and, of course, 'I Love a Piano.' Alternately heartbreaking and hilarious, rousing and reflective, I LOVE A PIANO is a fitting tribute to the man
Jerome Kern
famously said had 'no place in American music - he is American music.'Music and Lyrics by
Irving Berlin
; Conceived By
Ray Roderick
and
Michael Berkeley
Click Here for More Information
RUGRATS
Crown Uptown Dinner Theatre
4/11-5/3/2014
Click Here for More Information
FOLLIES
The Barn Players
4/18-5/4/2014
The year is 1971, and theatrical impresario Dimitri Weissmann hosts a reunion of ex-Follies performers in his crumbling theatre, setting the stage for a parade of brilliant pastiche numbers, including "Losing My Mind," "I'm Still Here," and "Broadway Baby." Amid the reminiscing, two middle-aged couples confront some unpleasant truths about their past and present and come face to face with the future. Surreal, sophisticated, compelling, heart-wrenching and epic in scope, this show uses the musical theatre as a metaphor for the collapse of American innocence and naivete in the post-Kennedy years.
Click Here for More Information
SABRINA FAIR
Wichita Community Theatre
4/17-5/4/2014
Sabrina Fair is a romantic comedy written by Samuel A. Taylor. It ran on Broadway for a total of 318 performances, opening at the National Theatre on November 11, 1953. Directed by H. C.
Click Here for More Information
View All Show Listings for Wichita
Click Here to View BroadwayWorld.com Wichita Calendar