Now Playing Onstage in Wichita - Week of 3/30/2014
View All Show Listings for Wichita
Click Here to View BroadwayWorld.com Wichita Calendar
NORA'S ARK THE JAZZ MUSICAL
Topeka Civic Theatre & Academy
3/21-4/3/2014
Click Here for More Information
JOSEPH AND THE AMAZING TECHNICOLOR DREAMCOAT (MEGAMIX)
Cherokee County Arts Assoc.
4/3-4/5/2014
The Biblical saga of Joseph and his coat of many colors comes to vibrant life in this delightful musical parable. Joseph, his father's favorite son, is a boy blessed with prophetic dreams. When he is sold into slavery by his jealous brothers and taken to Egypt, Joseph endures a series of adventures in which his spirit and humanity are continually challenged. He is purchased by Potiphar where thwarting advances from Potiphar's wife lands him in jail. When news of Joseph's gift to interpret dreams reaches the Pharaoh (wryly and riotously depicted as Elvis), Joseph is well on his way to becoming second in command. Eventually his brothers, having suffered greatly, unknowingly find themselves groveling at the feet of the brother they betrayed but no longer recognize. After testing their integrity, Joseph reveals himself leading to a heartfelt reconciliation of the sons of Israel. Set to an engaging cornucopia of musical styles, from country-western and calypso to bubble-gum pop and rock 'n' roll, this Old Testament tale emerges both timely and timeless. This version of JOSEPH?DREAMCOAT features extended songs and dances. The Megamix is available as a separate rental with this version. Lyrics by
Tim Rice
; Music by
Andrew Lloyd Webber
Click Here for More Information
FORBIDDEN BROADWAY'S GREATEST HITS, VOL. I
Marysville Area Community Theatre
4/4-4/6/2014
Click Here for More Information
ANNIE
Columbian Theatre
3/28-4/13/2014
Annie is a Broadway musical based upon the popular
Harold Gray
comic strip Little Orphan Annie, with music by
Charles Strouse
, lyrics by
Martin Charnin
, and the book by
Thomas Meehan
. The original Broadway production opened in 1977 and ran for nearly six years, setting a record for the Alvin Theatre (now the
Neil Simon
Theatre). It spawned numerous productions in many countries, as well as national tours, and won the Tony Award for Best Musical. The musical's songs "Tomorrow" and "Hard-Knock Life" are among its most popular musical numbers. It is the story of 11 year old Annie who is an orphan. She determines to search for her family and escapes the orphanage. She is however found and returned just in time to be invited to the Warbucks' mansion for the holidays. Oliver Warbucks and staff fall in love with Annie and attempt to help her in her search for her family. This is when Rooster and Lily come in to shake things up.
Click Here for More Information
BIG RIVER
Theatre Atchison
4/4-4/13/2014
Twain's timeless classic sweeps us down the mighty Mississippi as the irrepressible Huck Finn helps his friend Jim, a slave, escape to freedom at the mouth of the Ohio River. Their adventures along the way are hilarious, suspenseful and heartwarming, bringing to life your favorite characters from the novel-the Widow Douglas and her stern sister,
Miss Watson
; the uproarious King and Duke, who may or may not be as harmless as they seem; Huck's partner in crime,
Tom Sawyer
, and their rowdy gang of pals; Huck's drunken father, the sinister Pap Finn; the lovely Mary Jane Wilkes and her trusting family. Propelled by an award winning score from
Roger Miller
, the king of country music, this jaunty journey provides a brilliantly theatrical celebration of pure Americana.Music by
Roger Miller
; Lyrics by
Roger Miller
; Book by
William Hauptman
; Adapted from the novel by
Mark Twain
Click Here for More Information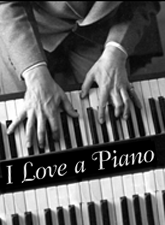 I LOVE A PIANO
Crown Uptown Dinner Theatre
4/4-4/27/2014
I LOVE A PIANO is the celebration of the music and lyrics of
Irving Berlin
. It follows the journey of a piano as it moves in and out of American lives from the turn of the century to the present. Along the way, the story comes to vibrant life with over sixty of
Irving Berlin
's most beloved songs, including classics such as 'Blue Skies,' 'There's No Business Like Show Business,' 'Puttin' on the Ritz,' 'Cheek to Cheek,' 'Always,' 'How Deep is the Ocean,' 'Anything You Can Do,' 'God Bless America,' and, of course, 'I Love a Piano.' Alternately heartbreaking and hilarious, rousing and reflective, I LOVE A PIANO is a fitting tribute to the man
Jerome Kern
famously said had 'no place in American music - he is American music.'Music and Lyrics by
Irving Berlin
; Conceived By
Ray Roderick
and
Michael Berkeley
Click Here for More Information
View All Show Listings for Wichita
Click Here to View BroadwayWorld.com Wichita Calendar