Now Playing Onstage in Wichita - Week of 3/02/2014
View All Show Listings for Wichita
Click Here to View BroadwayWorld.com Wichita Calendar
VIOLET
Wichita State University - Wilner Auditorium
3/6-3/9/2014
Set in 1964 in the deep south during the early days of the Civil Rights Movement, Violet follows the growth and enlightenment of a bitter young woman accidentally scarred by her father as a young girl. One of the most acclaimed off-Broadway shows of the 90's, Violet astounded critics and audiences with its powerful story and energetic score.
Click Here for More Information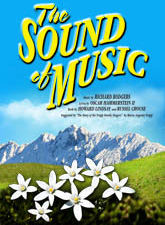 THE SOUND OF MUSIC
Christian Youth Theater Kansas City
3/6-3/9/2014
The final collaboration between Rodgers & Hammerstein was destined to become the world's most beloved musical. When a postulant proves too high-spirited for the religious life, she is dispatched to serve as governess for the seven children of a widowed naval Captain. Her growing rapport with the youngsters, coupled with her generosity of spirit, gradually captures the heart of the stern Captain, and they marry. Upon returning from their honeymoon they discover that Austria has been invaded by the Nazis, who demand the Captain's immediate service in their navy. The family's narrow escape over the mountains to Switzerland on the eve of World War II provides one of the most thrilling and inspirational finales ever presented in the theatre. The motion picture version remains the most popular movie musical of all time.Music by Rodgers, Richard; Lyrics by
Oscar Hammerstein
II; Book by
Howard Lindsay
&
Russel Crouse
; Suggested by `The
Trapp Family Singers
` by
Maria Augusta Trapp
Click Here for More Information
Andrew Jackson
in Broadway" border="0" height="100" width="100" align="right">
BLOODY BLOODY ANDREW JACKSON
The Barn Players
2/28-3/16/2014
This musical tells the story of America's first political maverick. A.J. kicked British butt, shafted the Indians and smacked down the Spaniards all in the name of these United States--who cares if he didn't have permission? An exhilarating and white-knuckled look at one of our nation's founding rock stars, the show recreates and reinvents the life of "Old Hickory," from his humble beginnings on the Tennessee frontier to his days as Commander-in-Chief.
Click Here for More Information
View All Show Listings for Wichita
Click Here to View BroadwayWorld.com Wichita Calendar