Now Playing Onstage in Wichita - Week of 11/03/2013
View All Show Listings for Wichita
Click Here to View BroadwayWorld.com Wichita Calendar
Rhonda Vincent
& The Rage in Broadway" border="0" height="100" width="100" align="right">
Rhonda Vincent & THE RAGE
The Orpheum Theater
11/8-11/8/2013
Famously crowned as "The New Queen of Bluegrass" by the Wall Street Journal, and the most decorated artist in that field. Vincent's music incorporates savvy contemporary touches while drawing deeply from the authentic traditions of classic bluegrass, with a flawless band that can execute break-neck instrumentals to heart wrenching ballads. Her latest project "Taken" features special guests ranging from
Dolly Parton
to
Richard Marx
. With over eighty awards to their name,
Rhonda Vincent
and the Rage are the most celebrated band in bluegrass.
Click Here for More Information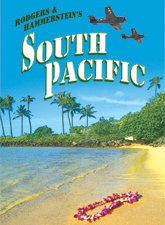 SOUTH PACIFIC
Manhattan High School
11/12-11/16/2013
South PacificSet in an island paradise during World War II, two parallel love stories are threatened by the dangers of prejudice and war. Nellie, a spunky nurse from Arkansas, falls in love with a mature French planter, Emile. Nellie learns that the mother of his children was an island native and, unable to turn her back on the prejudices with which she was raised, refuses Emile's proposal of marriage. Meanwhile, the strapping Lt. Joe Cable denies himself the fulfillment of a future with an innocent Tonkinese girl with whom he's fallen in love out of the same fears that haunt Nellie. When Emile is recruited to accompany Joe on a dangerous mission that claims Joe's life, Nellie realizes that life is too short not to seize her own chance for happiness, thus confronting and conquering her prejudices.
Click Here for More Information
THE MYSTERY OF EDWIN DROOD
The Barn Players
11/8-11/24/2013
The Mystery of Edwin Drood is a musical based on
Charles Dickens
' unfinished novel. The show, performed by members of London's Music Hall Royale, tells the story of the upstanding young Edwin Drood who mysteriously disappears and is presumably murdered. But who did it? Was it his drug-addicted, romantic rival John Jasper? The infamous Princess Puffer? Reverend Mr. Crisparkle? Helena or Neville Landless, immigrants from Ceylon? Someone else? In the end, the audience gets to vote to decide who done it!
Click Here for More Information
View All Show Listings for Wichita
Click Here to View BroadwayWorld.com Wichita Calendar