Now Playing Onstage in St. Louis - Week of 9/29/2013
September 29
10:09 AM 2013
View All Show Listings for St. Louis
Click Here to View BroadwayWorld.com St. Louis Calendar
THE WORLD GOES 'ROUND
MISSOURI STATE UNIVERSITY
9/19-10/1/2013
"Sometimes you're happy and sometimes you're sad - but the world goes 'round." Life (with its glories, indignities, hopes and quiet dreams) is the subject of this stunning revue of the beloved songs of
John Kander
and
Fred Ebb
. The vast range of human experience is explored in song after impeccable song by one of Broadway's most daring and successful teams and masters of the heart-grabbing Broadway showstopper. This glittering revue features unforgettable gems from throughout their incredible career in theatre, film and television, spotlighting songs from CABARET, CHICAGO, KISS OF THE SPIDERWOMAN, New York, New York, Funny Lady and more. Director
Scott Ellis
and choreographer
Susan Stroman
shaped the original production into one of the most memorable, well-constructed revues since AIN'T MISBEHAVIN' with a small, multi-talented cast, gorgeous vocal arrangements, sizzling orchestrations and delightfully inventive staging involving banjos, roller skates, shopping carts and more! (Their helpful suggestions are available in an optional staging guide.) Filled with humor, romance, drama, nonstop melody and brassy, insightful lyrics, THE WORLD GOES 'ROUND is a thrilling celebration of life and the fighting spirit that keeps us all going.
Click Here for More Information
Tom Sawyer
in Broadway" border="0" height="100" width="100" align="right">
THE ADVENTURES OF
Tom Sawyer
FINE LINEN DRAMA
9/26-10/5/2013
Mark Twain
's classic story comes to exuberant musical life in this Broadway adaptation of America's favorite book. THE ADVENTURES OF
Tom Sawyer
is the irresistible story of a fourteen-year-old boy growing up in the heartland of America. ThisBroadway musical version of
Mark Twain
's immortal novel is set in 1840in St. Petersburg, Missouri, a bustling town on the banks of theMississippi River. In the course of the story, Tom matches wits withhis stern Aunt Polly, falls in love with the beautiful, feisty BeckyThatcher, and goes on the adventure of his life with Becky and thatirresistible renegade, Huckleberry Finn. Along the way we meet aterrifying villain named Injun Joe, Tom's bratty half-brother Sid, andall the other boys and girls in the village - providing onescene-stealing children's role after the other!As this fun-filled musical unfolds, we share with Tom and his friendsall of the rollicking and heart-stopping adventures that we find inTwain's masterpiece, whether it's Tom tricking his friends intowhite-washing the fence ("Smart Like That"), crossing swords withschoolmaster Lemuel Dobbins ("Hey,
Tom Sawyer
"), getting lost inMcDougal's Cave ("Angels Lost"), or taking on the Reverend Sprague inchurch ("In The Bible"). Filled with foot-stomping, toe-tapping songs by Don Schiltz (THE GAMBLER), and a warm, funny book by
Ken Ludwig
(CRAZY FOR YOU, LEND ME A TENOR), THE ADVENTURES OF
Tom Sawyer
is a tale of thrilling escapes, comedy and inspiration for the whole family.
Click Here for More Information
LES MISERABLES
ALPHA PLAYERS
9/27-10/6/2013
This international smash-hit may be the most popular musical in the world. In 19th century France, Jean Valjean is released from 19 years of unjust imprisonment, but finds nothing in store for him but mistrust and mistreatment. He breaks his parole in hopes of starting a new life, initiating a life-long struggle for redemption as he is relentlessly pursued by police inspector Javert, who refuses to believe Valjean can change his ways. Finally, during the Paris student uprising of 1832, Javert must confront his ideals after Valjean spares his life and saves that of the student revolutionary who has captured the heart of Valjean's adopted daughter. His world-view shattered, Javert commits suicide, and Valjean at last attains the peace he has sought for so long.Epic, grand and uplifting, LES MISÉRABLES packs an emotional wallop that has thrilled audiences all over the world. The sung-through pop opera is ideal for a cast of exceptional singers and overflows with melodies that are already standards. A spectacle on Broadway and in London, LES MISÉRABLES is equally effective with a minimal set; it is its powerful affirmation of the human spirit that has made LES MISÉRABLES a popular masterpiece.
Click Here for More Information
FIDDLER ON THE ROOF
CHRIST MEMORIAL LUTHERAN CHURCH
9/27-10/6/2013
In the
Little Village
of Anatevka, Tevye, a poor dairyman, tries to instill in his five daughters the traditions of his tight-knit Jewish community in the face of changing social mores and the growing anti-Semitism of Czarist Russia. Rich in historical and ethnic detail, FIDDLER ON THE ROOF has touched audiences around the world with its humor, warmth and honesty. The universal theme of tradition cuts across barriers of race, class, nationality and religion, leaving audiences crying tears of laughter, joy and sadness.The show features a star turn in Tevye, among the most memorable roles in musical theatre. Original director/choreographer
Jerome Robbins
' staging is legendary, and available from MTI in a comprehensive choreographic guide. Its celebrated score by
Jerry Bock
and
Sheldon Harnick
, features songs loved the world over: "Sunrise, Sunset," "If I Were A Rich Man" and "Matchmaker," to name a few. FIDDLER ON THE ROOF is simply Broadway at its very best.
Click Here for More Information
LEGALLY BLONDE
SOUTHEAST MISSOURI STATE UNIVERSITY THEATRE
10/2-10/6/2013
Harvard's beloved blonde takes the stage by pink storm in this fun, upbeat musical about self-discovery. Based on the adored movie, LEGALLY BLONDE: THE MUSICAL stays true to form with a peppy score and playful book. This musical is ridiculously enjoyable from start to finish.Elle Woods appears to have it all. Her life is turned upside-down, however, when her boyfriend dumps her so he can start getting serious about his life and attend Harvard Law. Determined to get him back, Elle uses her charm to get into Harvard Law. At school, she struggles with peers, professors, and Warner Huntington. With the help of Paulette and Emmett, though, Elle quickly realizes her potential and sets out to prove herself to the world.This musical is relatively new to the theatre world, catering to the present-day's generation and culture. LEGALLY BLONDE: THE MUSICAL is perfect for high school and community theatre, featuring a large ensemble and several big song-and-dance numbers.
Click Here for More Information
MONTY PYTHON'S SPAMALOT
Springfield Little Theatre
9/20-10/6/2013
Click Here for More Information
CABARET
The Repertory Theatre of St Louis
9/11-10/6/2013
Joe Masteroff
; lyrics:
Fred Ebb
; music:
John Kander
; dir:
Marcia Milgrom Dodge
.
Click Here for More Information
THOROUGHLY MODERN MILLIE
ROYAL THEATRE COMPANY
10/3-10/12/2013
THOROUGHLY MODERN MILLIE is a high-spirited musicalromp that has all of New York dancing the Charleston. It's the zany new1920's musical that has taken Broadway by storm, winning the TONY Award for BEST MUSICAL!Taking place in New York City in 1922, THOROUGHLY MODERN MILLIEtells the story of young Millie Dillmount, who has just moved to thecity in search of a new life for herself. It's a New York full ofintrigue and jazz - a time when women were entering the workforce andthe rules of love and social behavior were changing forever. Based onthe popular movie, the stage version of THOROUGHLY MODERN MILLIE includes a full score of new songs and bright dance numbers.Filled with frisky flappers, dashing leading men and a dragon-lady of a villainess audiences will love to hate, THOROUGHLY MODERN MILLIEis a perfectly constructed evening of madcap merriment. And with therole of Millie Dillmount, musical theatre has found a new heroine forthe ages in THOROUGHLY MODERN MILLIE!
Click Here for More Information
I DO! I DO!
EXCELSIOR SPRINGS COMMUNITY THEATRE
9/27-10/16/2013
The story of a marriage is at the center of I DO! I DO! - an intimate and nostalgic work by
Harvey Schmidt
and
Tom Jones
(THE FANTASTICKS).The show begins with Michael and Agnes on their wedding day. Their vows behind them, they look forward to spending the rest of their lives together. We watch as they go through their wedding night jitters, raise a family, and negotiate mid-life crises. Michael eventually admits to his infidelity, and although Agnes is angered by his actions, she forgives him and the couple reconciles. They re-discover how much they really need each other. Then, after 50 years of marriage, the couple leaves their house to the next pair of newlyweds.This touching story of two soul mates navigating the perils of life is set to the strains of a tuneful, charming score. With minimal set and costume requirements, this show is ideal for regional theatre companies on a limited budget and smaller troupes.
Click Here for More Information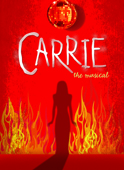 CARRIE THE MUSICAL
Egads Theatre Company
9/27-11/2/2013
Carrie White is a misfit. At school, she's an outcast who's bullied by the popular crowd, and virtually invisible to everyone else. At home, she's at the mercy of her loving but cruelly over-protective mother. But Carrie's just discovered she's got a special power, and if pushed too far, she's not afraid to use itMusic by
Michael Gore
; Lyrics by
Dean Pitchford
; Book by
Lawrence D. Cohen
; Based on the novel by
Stephen King
Click Here for More Information
View All Show Listings for St. Louis
Click Here to View BroadwayWorld.com St. Louis Calendar