Now Playing Onstage in St. Louis - Week of 10/06/2013
View All Show Listings for St. Louis
Click Here to View BroadwayWorld.com St. Louis Calendar
DISNEY'S HIGH SCHOOL MUSICAL JR
GRAIN VALLEY MIDDLE SCHOOL
10/11-10/12/2013
This page is for the Broadway Junior Version of Disney's HIGH SCHOOL MUSICAL JR..
Click Here for More Information
THOROUGHLY MODERN MILLIE
ROYAL THEATRE COMPANY
10/3-10/12/2013
THOROUGHLY MODERN MILLIE is a high-spirited musicalromp that has all of New York dancing the Charleston. It's the zany new1920's musical that has taken Broadway by storm, winning the TONY Award for BEST MUSICAL!Taking place in New York City in 1922, THOROUGHLY MODERN MILLIEtells the story of young Millie Dillmount, who has just moved to thecity in search of a new life for herself. It's a New York full ofintrigue and jazz - a time when women were entering the workforce andthe rules of love and social behavior were changing forever. Based onthe popular movie, the stage version of THOROUGHLY MODERN MILLIE includes a full score of new songs and bright dance numbers.Filled with frisky flappers, dashing leading men and a dragon-lady of a villainess audiences will love to hate, THOROUGHLY MODERN MILLIEis a perfectly constructed evening of madcap merriment. And with therole of Millie Dillmount, musical theatre has found a new heroine forthe ages in THOROUGHLY MODERN MILLIE!
Click Here for More Information
YOUNG FRANKENSTEIN
AVILA UNIVERSITY
10/10-10/13/2013
IT'S ALIVE! From the creators of the record-breaking Broadway sensation THE PRODUCERS comes this monster new musical comedy.With such memorable tunes as "The Transylvania Mania," "He Vas My Boyfriend" and "Puttin' On The Ritz," YOUNG FRANKENSTEIN is scientifically-proven, monstrously good entertainment"?and the only place you'll witness a singing and dancing laboratory experiment in the largest tuxedo ever made.
Click Here for More Information
THE GLORIOUS ONES
WILLIAM WOODS UNIVERSITY
10/10-10/13/2013
THE GLORIOUS ONES, based on the novel by noted author
Francine Prose
, was hailed by the New York Times as "a valentine to the actor's life--joyfully naughty, with buoyant music by
Stephen Flaherty
and a bawdy book by
Lynn Ahrens
." It is a backstage musical about the lives, loves, ambitions, and art of the performers in a 16th century comedia dell'arte troupe in Italy of the late Renaissance. Both slapstick and serious, the musical tells how the troupe came to be and how it captured the public's adoration with its bawdy comedy, before changing artistic fashion altered its way of life. It follows seven archetypal characters--the charismatic leading man, the sly harlequin, the quack doctor, the old miser, the voluptuous leading lady, the devoted dwarf, and the elegant Moon Woman--as they search for immortality and love. In their search for glory and fame, the characters are thrown out of France by the religious court because of their "lewd" performances. The leading man, Flaminio, struggles with the court's decision and how it it affects his life as a performer. Smutty, nutty, yet sentimental and deeply moving, THE GLORIOUS ONES has "one hand on the crotch, and one hand on the heart."More Ahrens & FlahertyFor complete information on this and other Ahrens and Flaherty shows, as well as links to purchase CDs, vocalselections and other publications, please go to www.AhrensandFlaherty.com.
Click Here for More Information
PIRATES OF PENZANCE
UNIV OF CENTRAL MISSOURI
10/9-10/13/2013
A fresh take on one of Gilbert and Sullivan's most popular comic operas, this updated version of THE PIRATES OF PENZANCE took New York by storm when it premiered in Central Park in 1980, leading to a subsequent smash-hit Broadway run. Wacky, irreverent and as entertaining today as it was when it first opened in 1879, THE PIRATES OF PENZANCE spins an hilarious farce of sentimental pirates, bumbling policemen, dim-witted young lovers, dewy-eyed daughters and an eccentric Major-General, all morally bound to the often-ridiculous dictates of honor and duty. The beauty, wit and whimsy of Gilbert andSullivan's classic score is suffused with a modern sensibility, making this version an excellent choice for opera and light opera companies looking to expand their audience base. The sheer number of memorable roles makes it perfect for community and school groups. And with production requirements consisting of only two sets and a medium-sized orchestra, it should be considered by any company featuring comic actors with excellent singing voices.
Click Here for More Information
SPRING AWAKENING
UNIV OF MISSOURI - COLUMBIA
10/9-10/13/2013
Winner of 8 Tony Awards, including Best Musical, SPRING AWAKENING is a rock musical adaptation of
Frank Wedekind
's 1891 expressionist play about the trials and tribulations, and the exhilaration of the teen years.It's Germany, 1891. The beautiful young Wendla explores her body and asks her mother where babies come from. Elsewhere, the brilliant and fearless young Melchior defends his buddy Moritz -- a boy so traumatized by puberty he can't concentrate on anything. One afternoon in the woods, Wendla and Melchior discover a desire unlike anything they've ever felt. SPRING AWAKENING explores the confusion and desperation that ensue when the onrushing tide of hormones meets the ignorance of children. SPRING AWAKENING celebrates the unforgettable journey from youth to adulthood with a power, poignancy, and passion that you will never forget.This celebration of rebellion provides the perfect opportunity to feature performers of all types, as well as the flexibility to creatively use costumes, set pieces, and lighting. Featuring a pop-rock score, this is an ideal show for talented vocalists with strong acting abilities.
Click Here for More Information
FIDDLER ON THE ROOF
ALTON HIGH SCHOOL-SPEECH & DRAMA
10/11-10/13/2013
In the
Little Village
of Anatevka, Tevye, a poor dairyman, tries to instill in his five daughters the traditions of his tight-knit Jewish community in the face of changing social mores and the growing anti-Semitism of Czarist Russia. Rich in historical and ethnic detail, FIDDLER ON THE ROOF has touched audiences around the world with its humor, warmth and honesty. The universal theme of tradition cuts across barriers of race, class, nationality and religion, leaving audiences crying tears of laughter, joy and sadness.The show features a star turn in Tevye, among the most memorable roles in musical theatre. Original director/choreographer
Jerome Robbins
' staging is legendary, and available from MTI in a comprehensive choreographic guide. Its celebrated score by
Jerry Bock
and
Sheldon Harnick
, features songs loved the world over: "Sunrise, Sunset," "If I Were A Rich Man" and "Matchmaker," to name a few. FIDDLER ON THE ROOF is simply Broadway at its very best.
Click Here for More Information
I DO! I DO!
EXCELSIOR SPRINGS COMMUNITY THEATRE
9/27-10/16/2013
The story of a marriage is at the center of I DO! I DO! - an intimate and nostalgic work by
Harvey Schmidt
and
Tom Jones
(THE FANTASTICKS).The show begins with Michael and Agnes on their wedding day. Their vows behind them, they look forward to spending the rest of their lives together. We watch as they go through their wedding night jitters, raise a family, and negotiate mid-life crises. Michael eventually admits to his infidelity, and although Agnes is angered by his actions, she forgives him and the couple reconciles. They re-discover how much they really need each other. Then, after 50 years of marriage, the couple leaves their house to the next pair of newlyweds.This touching story of two soul mates navigating the perils of life is set to the strains of a tuneful, charming score. With minimal set and costume requirements, this show is ideal for regional theatre companies on a limited budget and smaller troupes.
Click Here for More Information
DISNEY'S THE LITTLE MERMAID JR
SPRINGFIELD LITTLE THEATRE AT THE LANDERS
10/11-10/27/2013
In a magical kingdom fathoms below, the beautiful young mermaid Ariel longs to leave her ocean home to live in the world above. But first, she'll have to defy her father King Triton, make a deal with the evil sea witch Ursula, and convince Prince Eric that she's the girl with the enchanting voice. Adapted from Disney's 2008 Broadway production, Disney's THE LITTLE MERMAID JR. features the hit songs "Part of Your World," "She's in Love," and the Oscar-winning "Under the Sea."
Click Here for More Information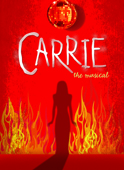 CARRIE THE MUSICAL
Egads Theatre Company
9/27-11/2/2013
Carrie White is a misfit. At school, she's an outcast who's bullied by the popular crowd, and virtually invisible to everyone else. At home, she's at the mercy of her loving but cruelly over-protective mother. But Carrie's just discovered she's got a special power, and if pushed too far, she's not afraid to use itMusic by
Michael Gore
; Lyrics by
Dean Pitchford
; Book by
Lawrence D. Cohen
; Based on the novel by
Stephen King
Click Here for More Information
View All Show Listings for St. Louis
Click Here to View BroadwayWorld.com St. Louis Calendar